The rubber plant, also known as Ficus Elastica, is common in Southeast Asian countries and tropical areas. The sap from this plant is used to make natural rubber, thus named a rubber plant. Most varieties of the Rubber plant have large sparkly, rubbery, rich green leaves. A few assortments include burgundy, pink, velvety variegated, neon variegated, and rosy dark leaves.
The leaf tone of the Variegated Rubber Plant makes it different from regular rubber plants. The leaves of regular rubber plants are dull green. However, variegated rubber plants have leaves with shades of red, yellow, cream, and green.
With legitimate consideration, these plants can become astoundingly tall with solid, strong foliage. In their natural habitat, these trees give more than adequate shade and have banyan-like aeronautical roots that originate from their trunks. Rubber plants are prevalently filled in tropical districts as decorative trees.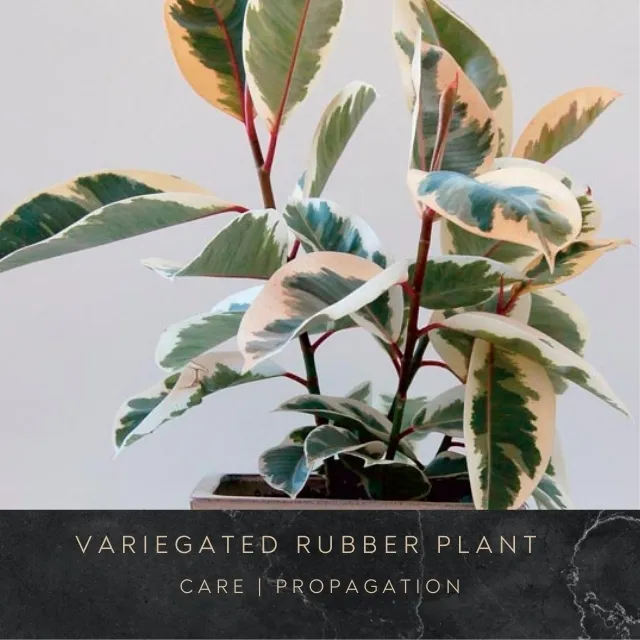 Characteristics of Variegated Rubber Plant
Variegated Rubber Tree has large, 5 to 12-inch-long, thick, elliptical light green leaves with white or yellow margins, multiple trunks, and a spreading, irregular canopy. Able to reach 100 feet in height in its native habitat.
Variegated Rubber Tree has 5 to 12-inch-long, thick, elliptical light green leaves with white or yellow edges and numerous trunks. These plants spread a lot and have unpredictable shade. In their native habitat, they can grow up to 100 feet tall.
Scientific characteristics of variegated rubber plant are as follow
| | |
| --- | --- |
| Scientific Name | Ficus Elastica Variegata |
| Family | Moraceae |
| Genus | Ficus |
| Habitat | South and Southeast Asia |
| Common name | 'Variegata' Rubber Tree, `Variegata' India-Rubber Fig |
The most common varieties of rubber plants are:
Ficus elastica "Burgundy" or "Abidjan" or "Black Prince." 
Ficus elastica "Doescheri." 
Ficus elastica "Sophia." 
Ficus elastica "Decora." 
Ficus elastica "Ruby." 
Ficus elastica "Tineke." 
Variegated Rubber Plant Care guide
Like other plants, the Variegata rubber plant also needs care for its best growth. The following guide will help you keep your plant happy. 
Watering Requirements
Variegata requires water every 5 to 7 days in the growing season. However, water less in winters. In winter, watering every two weeks is recommended.
Light Requirements
Ficus Elastica Variegata loves bright indirect sunlight.
Avoid direct sunlight; it may harm the plant. 
Also, don't place the plant in the shade; otherwise, it will lose shape. 
Temperature Requirements
Variegated rubber plants do not love warmth. They thrive in relatively low temperatures.
The ideal temperature range for best growth is 65-85oF (18-29oC).
Humidity Requirements
Variegated rubber plants do not require high humidity. Only 20-30% humidity is adequate for good growth.
Soil and Fertilizer Requirements
Well-draining and aerated soil is best to thrive variegate. The plant cannot stand being wet for a long time. It can cause the rotting of roots.
During the growth season, from spring to the end of summer, fertilize your rubber plant with diluted organic fertilizer.
Do not fertilize in fall and winter. Otherwise, the plant will become leggy.
Also Read: Complete Philodendron Melanochrysum Care & Propagation Guide
Pruning Variegated Rubber Plant
Ficus Elastica Variegata plant requires pruning from time to time as it can grow up to 6 feet.
Decide shape before pruning, whether you want a tall plant or bushy. Two new branches can emerge from each stump.
Use the cuttings from pruning for the propagation of Variegata.
When and how to Repot Variegated Rubber plant
Variegata requires repotting every two years. If the plant is root bound and needs to be watered more frequently, it indicates it's time to report. Another indication of repotting is slower plant growth.
To report Variegata, use a pot one size bigger than the current pot and the same potting blend. Make sure to add soil blend as the soil becomes depleted of nutrients with time.
Also Read: Complete Peperomia Scandens Care & Propagation Guide for Beginners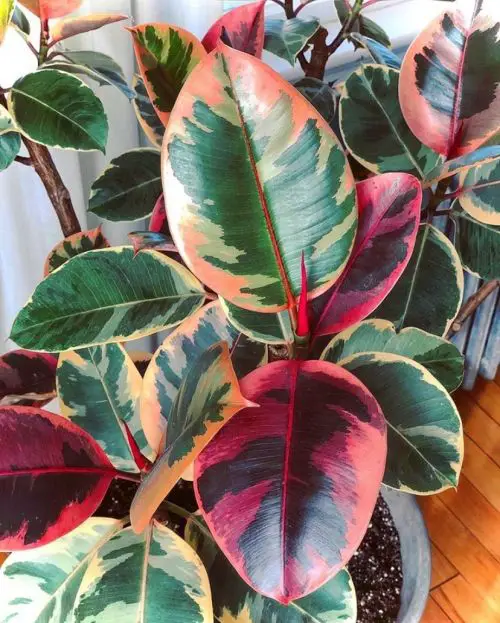 Propagation of Variegated Rubber Plant
Propagating your variegated rubber plant is relatively easy. It can take a bit of patience, but it is well worth it. 
Propagation by cuttings
For propagation of Ficus Elastica Variegata, follow these steps:
First of all, wear gloves to avoid skin irritation from sap.
Then, use a sterilized sharp knife to cut a stem with few leaves.
Each cutting should have a node under the leaf, where the roots will sprout.
Place the cutting in water. Make sure the cutting does not touch the base of the water container.
The cuttings can take several months to grow roots. Once the roots are established, the plant can be potted.
Common Problems and Solutions
Drooping leaves
Inadequate light conditions can result in drooping plant leaves. Adjusting the plant to a location with ample indirect sunlight will avoid leaves drooping.
The plant doesn't like to be relocated, so adjust the proper location once.
Crisp Leaves
If the humidity is too high or too low, the plant leaves will start to crisp. With appropriate humidity, you won't have any problems with crispy leaves. 
Improper humidity conditions can also cause spider mites infestation. 
Root rot and Fungus Gnats
In case of overwatering, Variegated rubber plants are susceptible to root rot and fungus gnats. So watering Variegata right can be a bit of a balancing act.
Toxicity
Variegated Rubber Plants are mildly toxic. The milky sap can cause skin irritation. If ingested, it will cause intestinal issues.
Keep your pets and babies away from the Variegata Rubber plant.
Conclusion
Rubber plants are widely filled in tropical districts as ornamental trees. To care for variegated rubber plants, ensure that the plant gets ample indirect sunlight and has well-drained soil.
The soil should become pretty dry between watering, especially in pots. Variegated Rubber Plant makes an excellent house plant if it is not over-watered. With appropriate growth conditions, it will thrive and enhance the beauty of your garden. Happy Gardening!!!
Frequently Asked Questions about Variegated Rubber Plant
How do I get more variegation in my rubber plant?
Variegated Rubber plant thrives in lit spots with indirect sunlight. Maintain proper lighting for more variegation.
Why is my pink rubber plant turning white?
If the leaves on your Pink Rubber Tree are pale, this could be a sign that your plant is not getting enough light. 
How many types of Rubber Trees are there?
The rubber plant family is Moraceae, a group of tropical flowering plants with over 1100 species.
What does a rubber plant symbolize?
Rubber plants represent abundance, happiness, and wealth.