A very sophisticated member of the Peperomia family, the Peperomia Polybotrya is a simple to-really focus plant with heart-molded foliage. The Peperomia Polybotrya doesn't grow more than one foot, making it a seriously ideal house plant. 
Peperomia is a Greek name that signifies 'looking like paper.' Polybotrya illustrates 'many.' The plant has a place with the Piperaceae family, otherwise known as the pepper family. They are sometimes called radiator plants.
It is a plant that you can become both inside and outside. The plant sparkles when you grow it inside, offering it an adequate measure of "supervised" light and water. With the lovely foliage and the capacity to endure a wide exhibit of environments and seasons, it's pretty simple to keep up with the plant. 
This article provides all the information required to grow and care for Peperomia Polybotrya.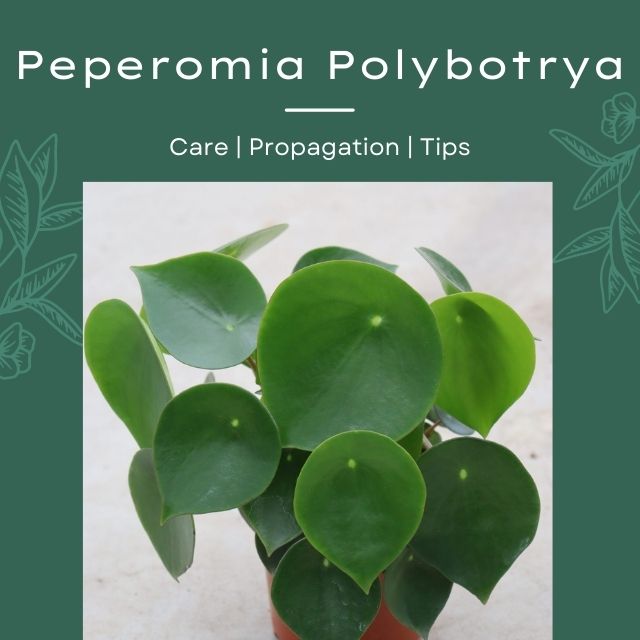 Characteristics of Peperomia Polybotrya
The primary characteristics of Peperomia Polybotrya are as follow:
| | |
| --- | --- |
| Scientific name | Peperomia Polybotrya |
| Genus | Peperomia |
| Family | Piperaceae |
| Subfamily | Piperoideaa |
| Habitat | Native to forested areas in Colombia and Peru |
| Common names | Coin-leaf pepromia, Raindrop peperomia, Coin plant, Radiator plant, Peperomia raindrop |
How to Care for Peperomia Polybotrya  
This section includes a complete care guide for Peperomia Polybotrya. 
Light
Peperomia polybotrya requires indirect bright sunlight throughout the day to thrive. The plant grows best if placed indoors near a window with indirect sunlight exposure.
Pro tip
Humidity
Peperomia Polybotrya prefers high humidity as they are native to rainforests. The ideal humidity for the plant is about 60%, but it can tolerate lower humidity too.
Temperature
The perfect temperature for the growth of the Peperomia Polybotrya plant is around 65°F to 80°F (18 to 27°C).
Water
Water the Peperomia Polybotryal plant moderately in summers. The Peperomia plants tend to indicate if watering is overdue.
If the soil is too dry, water the plant. In winters, water less as overwatering can be a problem for healthy growth.
Pro tip
Soil and Fertilizer
Good soil is essential to keep your plant happy and healthy. The draining soil that retains moisture is ideal for Peperomia Polybotrya.
The moisture retention and drainage of soil can be increased by adding a little peat moss and perlite.
In the summer season, all-purpose houseplant fertilizer is recommended. But in winter, do not fertilize your plant.
Also Read: Alocasia Black Velvet Care Complete Guide # 1
Pruning of Peperomia Polybotrya  
Pruning Peperomia Polybotrya promotes new and healthy plant growth. Pruning is necessary if the plant has grown leggy or has unhealthy leaves. It is a simple process; just cut the infected leaves.
Pro Tips
While pruning, guarantee that you are utilizing clean shears to try not to acquaint any microbes with the plant.
Assuming you choose to prune your plants from stiff stems, keep the cuttings and propagate them.
Consistently investigate the underside of the leaves of your plant to check for fundamental diseases or pests. While you are checking the plant, clean the leaves as well! This helps the plant photosynthesize better.
When to Repot Peperomia Raindrop?
Peperomia Polybotrya is a slow-growing plant, so under optimized growth conditions, it will require repotting after a couple of years.
When repotting, gently loosen the soil around the roots. In the first few years, the root system is a bit shallow. Changing the soil around the plant provides new nutrients essential for good growth. 
The new pot should be larger than the old pot, at least 2 inches.
How to Propagate Peperomia Polybotrya 
Two methods can propagate the plant; stem cutting and leaf cutting. Propagation by stem or leaf can be done in water or soil as the plant can grow well in both mediums.
Step wise guide to propagating the plant with both methods is provided in this section. Stay tuned.
1. Propagation by Leaf Cuttings
Before cutting the leaves for proliferation, ensure you have the plant pots prepared to utilize ahead of time. Additionally, use a blend of perlite and prepared compost.
Ensure all gardening tools that are being utilized are sterile since parasitic illnesses could inhibit the propagation of peperomia 
Cut a healthy leaf.
For better and faster outcomes, it's suggested you cut the leaf across its width in two. However, the entire leaf can also be used.
Subject the leaf's sliced edges to a rooting powder to support new root development.
Create a little passage in the fertilized soil utilizing a spoon or blade, which would assist with embedding the cutting a centimeter or two profound into the gardening soil.
The cutting should be embedded, ensuring the leaf's cut edge enters the soil first. When embedded, firm the preparing blend around the cutting. Water the soil completely.
Cover the cuttings with either a covered plate or some polyethylene pack. Remove the cover at regular intervals for an hour to moderate excessive humidity development, which could result in fungal disease.
After a few days, possibly when you take the cover off for the first time, new roots may have developed from the leaf's cut edges. After some time, a fresh shoot and leaves would start growing.
Once numerous leaves have been created, the new plant could be moved to its own pot.
Do not repot the plant too soon as raindrop peperomias can have shallow roots.
2. Propagation by stem cuttings
Propagation of Peperomia Polybotrya by stem cuttings is pretty similar to propagation by leaf cuttings
Cut a good stem of the peperomia. The stem ought to, in a perfect world, have a few leaves.
Remove the leaves at the lower part of the stem with the goal that a short section of the stem is uncovered.
Put the cut end into a portion of that powder.
Place the cutting into the preparing media and firm the soil close to its cutting.
Water the fertilized soil completely.
Plant the cut stem or leaf in a relatively small pot with moist soil. 
Ensure the fresh cuttings receive a decent amount of shaded sunlight. And the soil should remain moist too. You can expect small leaflets to show up within a week or two.
These leaflets will grow pretty soon and become plants of their own. After multiple weeks, when the leaflets start to form a cluster, transfer them to separate containers.
Also Read: Complete Philodendron Hastatum Care & Propagation + Growth Guide
Peperomia Polybotrya Common Problems and Solutions
1. Pests
The Peperomia Polybotrya may be infested with mealy bugs and spider mites. These pests draw the sap out of the leaves that create yellow sport on the leaves. The affected leaves lose their moist in some time and fall off.
Mealy bugs can be removed by wiping the leaves with Q-tips dipped in alcohol. This will dehydrate these pests.
Spider mites are more troublesome than mealy bugs. Neem oil or pesticide spray can be used to get rid of these pests.
2. Leaf spots and rotting roots
Peperomia Polybotrya can also suffer from leaf spotting and root rots. Stagnant water and overwatering are the reasons behind these issues.
Proper water and draining can keep the plant safe.
3. Peperomia Polybotrya leaves curling
Underwatering and low humidity can result in the curling of plant leaves.
Optimal growth conditions should be maintained to overcome this problem.
Conclusion
The Peperomia makes an excellent houseplant for beginners because it's pretty forgiving and can withstand a decent amount of neglect.
It's low-maintenance as it can withstand adverse growing conditions such as minimal light. The plant can grow alone or group with other varieties for interest. Happy Gardening!
Frequently asked Questions about Peperomia Polybotrya
Is Peperomia Polybotrya Chinese money plant?
Peperomia Polybotrya is also referred to as Chinese money plant since the two have similar looks.
Does Peperomia Polybotrya need sunlight?
The optimal conditions for the plant to grow are indoors, close to the window in bright light. However, the plant can grow outdoors too.
Is Peperomia Polybotrya easy to care for?
Featuring heart-shaped leaves with a maximum growth of just one foot, the Peperomia polybotrya is an easy-to-care-for and low- maintenance houseplant. 
Is Pilea Peperomioides same as peperomia Polybotrya?
The leaves of Pilea Peperomioides and the Peperomia Polybotryaare slightly different shapes. The Pilea always has round leaves, while the Peperomia Polybotrya has pointy heart-shaped leaves.
Can you propagate peperomia Polybotrya in water?
Yes! Peperomia polybotrya can be propagated either in water or soil.
Can you propagate peperomia Polybotrya from leaf?
Peperomia can be propagated through stem or leaf cuttings. The plant can grow new ones from a leaf propagated in soil or water. 
Do Peperomia like small pots?
The plant prefers small pots than too big pot.
Is Peperomia Polybotrya toxic?
A Raindrop Peperomia Polybotrya is a safe, non-toxic plant for pets and humans. Coming in contact with the sap or even by ingesting the leaves won't harm you or your pet. The leaves may taste bad, but they are certainly not hazardous.