The plants of the Alocasia genus are known for their large, heart-shaped, and tropical appearance. Black velvet in this aspect is much smaller and grows slowly. The plant blooms occasionally, but it is not famous for its flowers. 
The white inflorescence is relatively unobtrusive. Velvety dark green foliage that almost appears black with silver veins makes it the most eye-catching and irresistible addition to the houseplant. It is also referred to as jewel alocasia.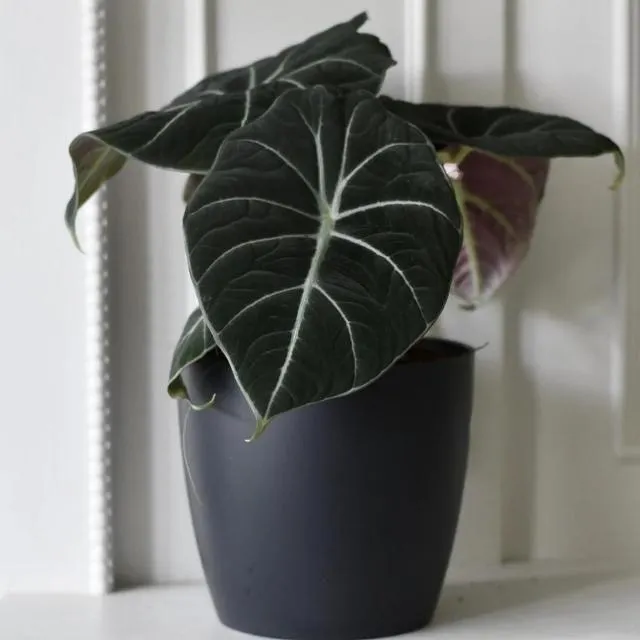 Classification of Alocasia Black Velvet
The scientific classification of the Alocasia Black Velvet is as follows:
| | |
| --- | --- |
| Botanical name | Alocasia reginula |
| Family | Araceae |
| Genus | Alocasia |
| Species | A. Regina |
| Cultivar | Black Velvet |
| Common names | Queen alocasia. The Little queen, Alocasia velvet, Black velvet elephant ear plant |
Basic Care Tips for Alocasia Black Velvet 
This section provides basic tips for the care and growth of this beautiful little gem, "Alocasia Black Velvet."
Following these tips, you can have a happy plant that adds beauty to your garden.
Light Requirements
Alocasia Black Velvet grows well in bright indirect sunlight. Avoid direct sunlight, and an artificial light source at least 15 inches above the plant can be used in case of insufficient light.
Water Requirements
Alocasia Black Velvet plants are not water lovers. They cannot tolerate a consistent wet environment. Infrequent and moderate watering is recommended.
Pro-Tip
Temperature Requirements
The ideal temperature range for Alocasia black Velvet is 12-30 degrees Celsius (55-86F).
Humidity Requirements
The plant does appreciate high humidity. The ideal humidity for best growth is 40-70%. In case of low humidity, a pebble tray or humidifier can be used to keep the plant happy.
Soil and Fertilizer Requirements
A tropical mixture of sand, bark, and loam is an excellent choice. Avoid high absorbent potting mix. A loose and well-drained potting medium should be used.
Fertilize once a month during the spring and summer seasons. Only a dilute dose of any organic fertilizer is recommended.
Pruning
New leaves grow from the middle of the plant, and older leaves let go with new growth. Pruning is relatively simple. Just trim the dead leaves or gently tug the sprawling leaf if it's detached from the plant. 
Pro Tip
Potting and Repotting of Alocasia Black Velvet
Alocasia Black velvet requires repotting only once in a couple of years due to its slow-growing nature. The plant likes to be somewhat rootbound.
Repotting tips
The best time to repot is the spring season.
Repotting is the ideal time to remove and replant offsets germinating from the plant's base.
Only increase one pot size each time.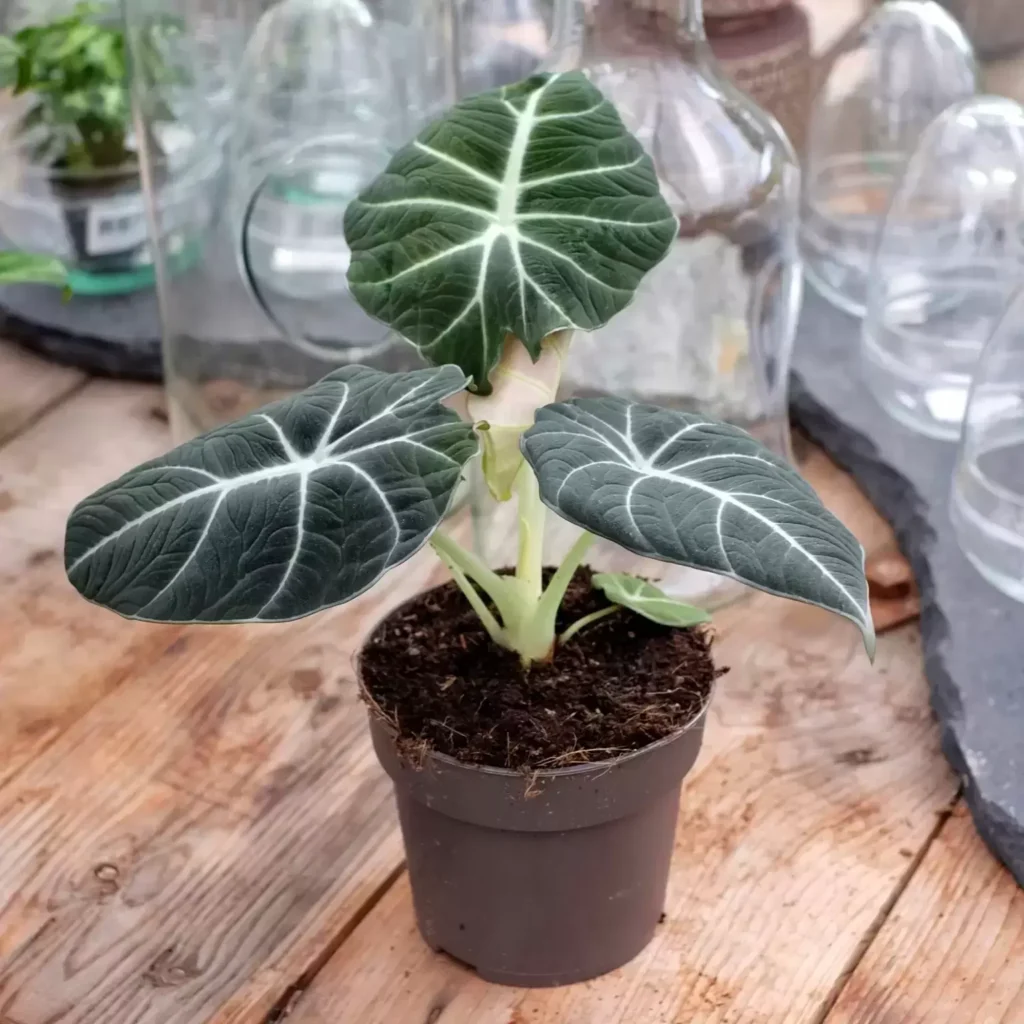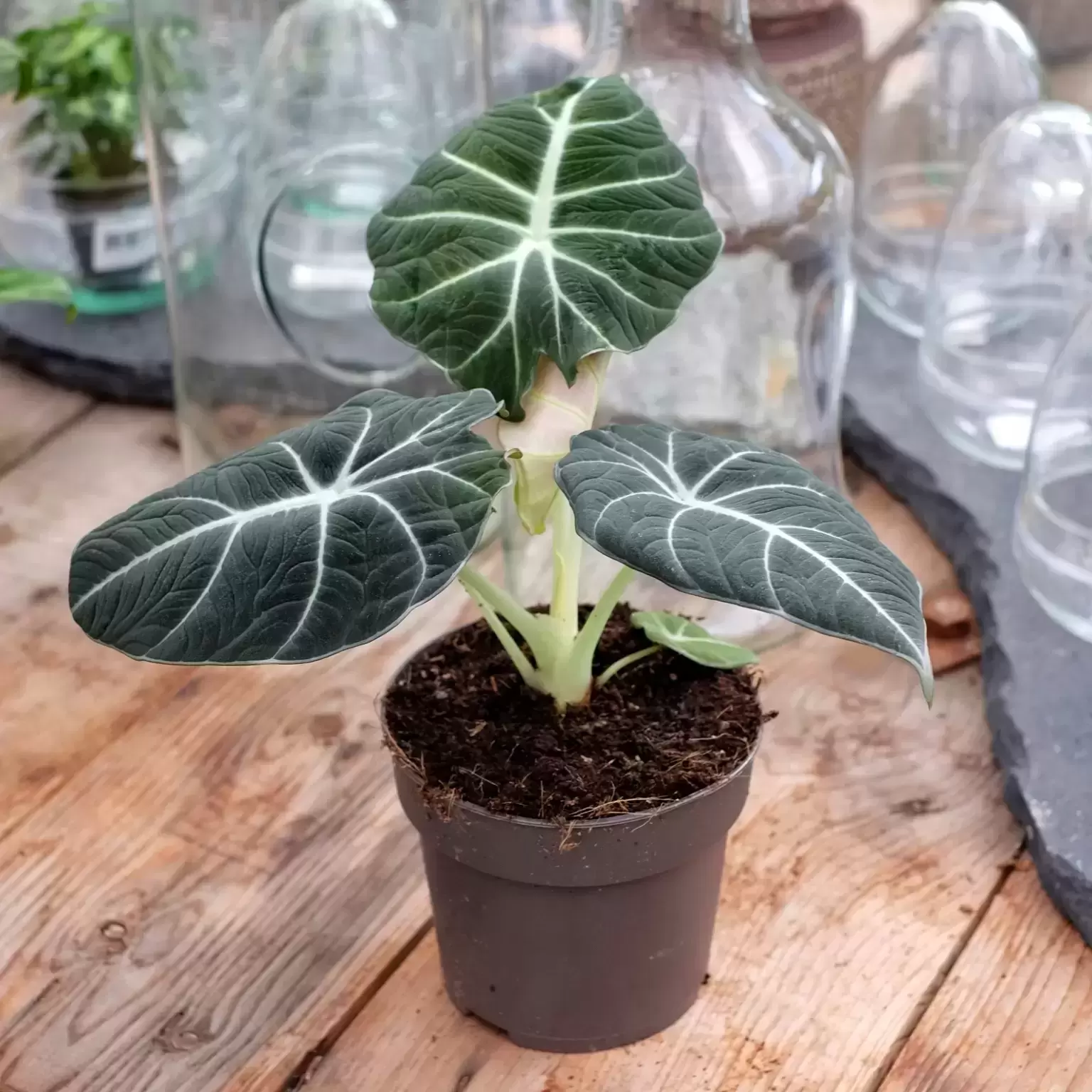 Also Read: Ficus Shivereana Care with Propagation Tips
How to Propagate Alocasia Black Velvet?
Alocasia Black Velvets cannot be propagated by leaf or stem cuttings. The propagation of the plants can be done by seeds, offsets, or rhizome division.
Propagation by Seeds
Remove seeds from the berry and soak them in distilled water overnight. Then plant the seeds immediately for germination.
This propagation method is slow and may be unreliable.
Propagation by Offsets
Remove the offsets and plant them in a small shallow pot. Use the loose, fluffy soil the parent is growing in.
Keep the soil slightly moist until the plant is established.
This is the easiest method for Alocasia Black Velvet propagation.
Propagation by Rhizome division
Gently unpot and divide the rhizome. Each section should have a sprout or growth node.
Plant in their parent's mix and place in a damp spot with indirect sunlight.
Alocasia Black Velvet Dormancy
The plant can have periods when it seems to sulk. It may have slipped into dormancy due to stress. Be patient and let it rest and be waterless. It can come back better than before.
Your Black Velvet may go dormant in cool temperatures if the light drops or the soil becomes too dry. If you don't want the plant to enter dormancy, keep the same conditions during the growing season.
Most Common Problems and Solutions
Caring for Alocasia black velvet, like other plants, may also lead to certain challenges. The most common problems associated with this plant and their solutions are provided here for cultivating a healthy and happy plant.
Yellow leaves
Both under-watering and over-watering can cause yellow leaves. 
Proper water conditions are necessary to avoid this condition.
Curling leaves
The curling of leaves is a sign of too much direct light and underwatering.
Water the plant generously and provide proper light.
Brown edges
Brown edges of the plant leaves may occur either due to fertilizer burn or improper watering conditions. 
If the edges are also dry and brittle, the plant is underwatered. Water the plant properly and use organic and diluted fertilizer to avoid brown and crispy edges.
Pests 
The Alocasia Black velvet is prone to spider mites if grown in pots. So, isolating any new plant is suggested before adding it to the terrarium.
To combat the spider mites increase the humidity and moisture level. Increased humidity is one of the most effective ways to keep plants happy and spider mites away.
Conclusion
Alocasia Black Velvet is considered relatively easy to moderate regarding the level of care. This plant is somewhat particular and thrives when kept in a place that mimics the tropical warm, bright, and humid conditions it favors.
The plant can be kept happy and healthy by following the care and growth tips. Happy Gardening!
Frequently Asked Questions about Alocasia Black Velvet
Is Alocasia Black Velvet rare?
Native to Borneo, this plant is seldom found in the wild. Because of its developing ubiquity, more expert nurseries are currently cultivating Alocasia Black Velvet for the commercial market. However, finding the plant in standard garden centers is still pretty rare.
Is a black velvet a Philodendron?
Yes, it is one of the blackest plants in the philodendron family.The leaves of this plant look more like a lump of charcoal than a plant.
Is alocasia black velvet an indoor plant?
Alocasia Black Velvet is the perfect houseplant to make a big impression in small spaces.
Does black velvet Alocasia bloom?
The flowers of Alocasia black velvet grow occasionally. Albeit, this isn't the principal justification behind buying the plant. The Alocasia species is valued for its beautiful leaves, and none are maybe pretty much as striking as those on the Black Velvet.
Is black velvet toxic?
The Alocasia Black Velvet contains toxic oxalic acid. Ingestion of these plants may lead to serious health issues. Always keep your kids and pets away from the plant.