Calathea Medallion plant, also known as Calathea veitchiana, is seemingly one of the most lovely low-light plants. They are well known to establish admirers due to their huge, "medallion"- like leaves: a splendid green pattern on top. The backs of the leaves are a dark red-purple, adding to its tropical appeal.
Notice your Calathea Medallion plant during the evening since some Calathea Medallion assortments fold up marginally during the evening, uncovering the bright undersides of their striking leaves.
This plant can develop from 6 to 36 inches. However, taking care of Calathea Medallions requires more skill and perseverance than other indoor varieties. Stay tuned for a comprehensive guide to caring for Calathea Medallion.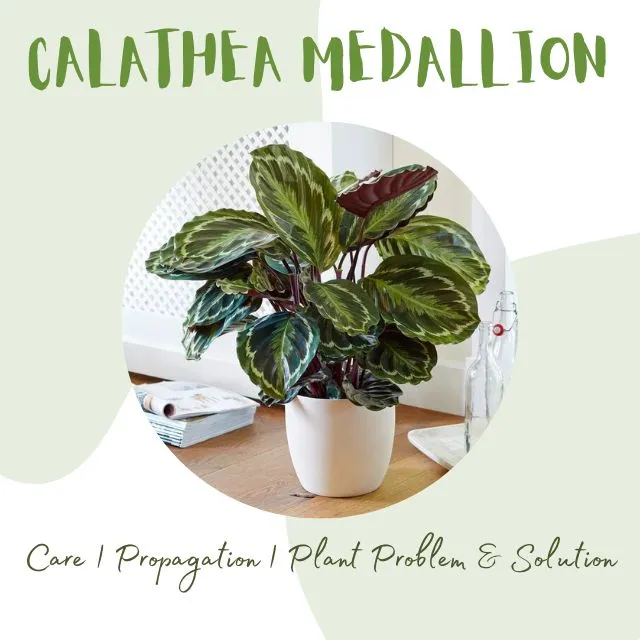 Characteristics of Calathea Medallion
The basic characteristics of the Calathea Medallion are as follow:
| | |
| --- | --- |
| Botanical name | Calathea veitchiana |
| Family | Marantaceae |
| Genus | Calathea |
| Habitat | Ecuador and Peru |
| Common names | Medallion Calathea, Prayer Plant |
Varieties of Calathea
Orbifolia prayer plant (Calathea orbifolia)
Pinstripe calathea (Goeppertia ornata syn. Calathea ornata)
Rattlesnake plant (Goeppertia insignis syn. Calathea lancifolia)
Rose-painted calathea (Goeppertia roseopicta syn. Calathea roseopicta)
Zebra plant (Goeppertia zebrina syn. Calathea zebrina)
Calathea Medallion Care Guide
As a plant lover, I know watching your plant thrive gives the feeling of peace and uttermost satisfaction. This section details all the growing conditions to keep your Calathea Medallion happy and healthy.
Light Requirements
Direct sunlight is not favorable for the growth of Calathea Medallion. Medium to bright indirect sunlight is best for the excellent development of the plant.
Temperature Requirements
As Calathea Medallion is endemic to warmer regions, it enjoys warmth. The optimal temperature for the plant's growth is 18-230C (64 -73 F).
The plant is sensitive to temperature changes. The leaves start to curl in hot temperatures. While in cold temperatures, the plant may be damaged permanently.
Soil and Fertilizer Requirements
The soil for the growth of Calathea Medallion should be porous with good drainage. Charcoal, orchid bark, and coco coir make an excellent potting mix for the plant.
A dilute dose of nitrogen-rich fertilizer twice a month or iron-rich fertilizer once a month is recommended during the growing season.
Humidity Requirements
Caltha Medallions are tropical plants, and they prefer high humidity to thrive. The humidity level should be maintained at around 50% to keep the plant happy.
Pro Tips
Here are the best care tips to guarantee high humidity
Fill a shower bottle with purified water. Mist the plant with this water. Try to avoid spraying directly onto the leaves.
A humidifier can also help to increase humidity levels.
Humidifying tray can be used to increase humidity. Put pebbles in a tray and fill it with water so that half the pebbles are dipped.
Gathering tropical houseplants can establish the ideal humid climate for them to flourish.
Water Requirements
Maintain a regular watering schedule for Calathea Medallion care. It is advised to keep the plant moist but doesn't let the plant soak in water.
Pruning and Cleaning
Calathea Medallion being easy to care plant, rarely requires pruning. Pruning may be required to clean and remove damaged leaves.
Use sterile gardening tools to prune the plant. It would be best if you cut the unattractive leaf stem where it gets together with the primary stem.
Also Read: Complete Calathea Fasciata Plant Care & Propagation Tips
When and How to Report Calathea Medallion
Calathea emblems seldom need repotting and should just be repotted a limit of one time each year. Sometimes, a calathea fills nicely in the same pot for quite a long time.
Repotting a Calathea in spring permits you to revive the preparing blend, give more space to develop, and resolve any dirt parasitic issues.
The best chance to report calatheas is not long before the developing season.
To report the plant, simply follow the instructions below.
Choose a container at least 2 inches wider than the previous pot and fill one-third of the pot with fresh potting soil.
Gently remove the plant from the previous pot and clean the roots to remove excess soil.
Check the roots for signs of disease or decay and trim them as necessary.
Now put your plant in the new pot and fill the pot with potting mix.
Thoroughly water and put it in a bright location.
How to Propagate Calathea Medallion
Three methods can propagate Calathea Medallion; Propagation by seeds, propagation by cuttings, and propagation by Rhizomes.
Propagation by seeds and cutting is complex and can be unreliable. The plant should be propagated in the early growing season.
Propagation by Rhizomes
The propagation by rhizomes is done by dividing the roots. Tips for propagating the plant are:
Pick a completely developed and sound plant – stay away from ones that are very young or struggling to grow.
Turn the pot over and take out the mother plant, the rhizome, or the underground root growth.
Tenderly unscramble the stems and roots.
Isolate a whole stem system with leaves and roots attached. Cut it with a sharp, cleaned blade.
Replant the recently removed segment in a new pot with the equivalent gardening soil combination as in the mother plant – this will make it generally pleasant for the new plant.
Water the soil entirely and make sure that the drainage is appropriate.
Place this plant in a dark place, away from direct sunlight, in a slightly cooler area than a grown-up plant. Keep the humidity level high, use stones under the plant, and conceivably a plastic cooler pack to dial back dissipation. Mist depending on the situation.
New leaves should grow in a few weeks, indicating that the new Calathea Medallion is now stabilized and ready to assume its place beside your other plants.
Also Read: Calathea Rufibarba Care # 1 | Best Tips to Grow
Calathea Medallion Common Problems and Solutions
Calathea Medallion is an easy-to-care plant. But like every plant, the Calathea needs to be checked as it may face a few problems during growth.
Curling Leaves or Drooping Plant
The leaves of the plant may be curling. This is due to underwatering. However, overwatering may cause root rot of Calathea Medallion.
A proper watering schedule should be maintained to avoid this situation. Don't let the soil dry, and don't allow excess water to stay for a long period in the pot.
Yellow Leaves
Overwatering or pest damage can cause yellowing of Calathea Medallion leaves.
Check the plant for any infestations and water the plant properly.
Brown Edges
The Brown or crisp edges of the leaves are due to excessive direct sunlight.
The plant requires indirect bright sunlight to thrive to avoid sun burnt edges prevent direct sunlight, and place the plant in a place with indirect light.
Brown Leaves
Brown leaves may be a sign of poor plant nutrition or pest infestation.
Use diluted nitrogen-rich fertilizer and repot the plant when needed. Also, regularly check the plant for pests.
Pests
Calathea Medallion plant is prone to spider mites, thrips, aphids, and mealybugs.
To get rid of these pests, wipe down the leaves with a wet cloth or use an organic insecticide like neem oil.
A Common Calathea Medallion Disease
Many common Medallion diseases may arise from fungal infestations due to moisture and watering. Signs of white mold could signify such damage. In such a case, scrape off the mold and avoid watering further till the top layer of the soil has dried off and the fungus dies down.
Conclusion
Calathea Medallion plants are one of Mother Nature's most beautiful creations. The plant is admired for its attractive foliage. Grow the calathea in well-draining potting soil and water the plant enough so the soil is moist.
The plant thrives in medium light, away from direct sunlight, with high humidity at 50%, and average room temperatures between 18°C – 23°C.
The plants may face some problems during their growth, but they will stay happy and healthy under optimized growth conditions and regular inspection for pests and diseases. Happy Gardening!!
Frequently Asked Questions about Calathea Medallion
Is Calathea medallion an indoor plant?
Yes, it is an indoor plant. Like many tropical indoor plants, your Calathea Medallion prefers a spot with ample humidity.
Are Calathea medallions easy to care for?
Calathea Medallion is a popular houseplant that is easy to care for.
Does Calathea clean the air?
Calathea Medallion is also called an air purifier. It purifies the surrounding air, filtering out a multitude of more or less poisonous compounds.
Why do Calathea leaves standing at night? / Do All Calatheas Close at Night?
All Calatheas can close their leaves at night, no matter the species. It's an innate response that has evolved to help plants conserve energy during periods when they're less active and exposed to lower light levels like those found in the evening or on cloudy days.
Why is my Calathea not closing at night?
Having your plant exposed to too much light and for too long during the day may make the Calathea stop moving its leaves.
Why is a Calathea called a prayer plant?
This hardy indoor plant earned its common name because the leaves tend to fold together at night, like a pair of praying hands. Most prayer plants have variegated foliage, adding to the plant's overall interest. The prayer plant produces flowers, but they're not large or showy.
Is Calathea Medallion toxic?
Calathea Medallion is a non-toxic plant for humans and pets. The plant is safe for cats and dogs.