Calatheas are incredible tropical plants with splendidly designed leaves. Calathea warscewiczii is perhaps of the most exceptional assortment, wearing extraordinary smooth two-toned foliage with green tops and burgundy-shaded undersides.
With its velvet-like leaves and staggering foliage designs, Calathea Warscewiczii is the sort of Calathea that each admirer of the plant will need to add to their always-developing plant assortment.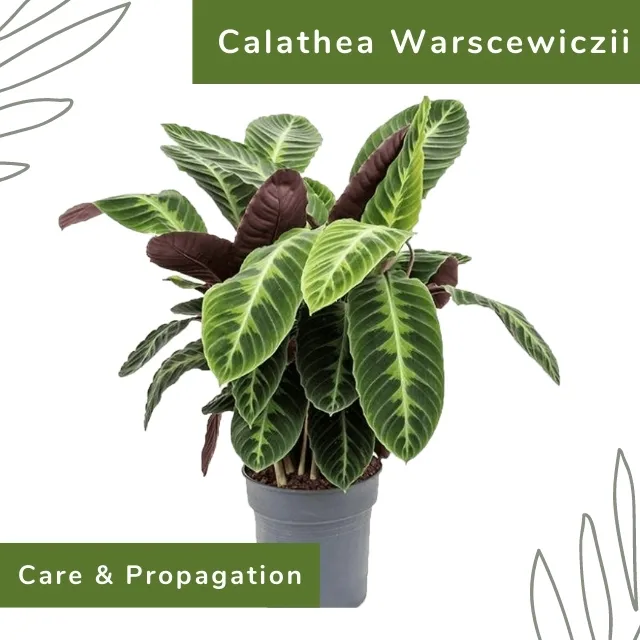 Characteristics of Calathea Warscewiczii
The Calathea Warscewiczii grows to a height of 3-4 feet and spreads to a width of 3-4 feet. It's a slow-to-moderate grower that flourishes when placed near an east or north-facing window.
Calathea Warscewiczii is also referred to as Calathea Jungle Velvet because their foliage feels like velvet to touch. Cone-shaped flowers in cream color emerge from the central stalk. The plant does not bloom inside.
It is rare that Calathea plant blossoms inside, and the houseplant instead is kept because of its striking and lovely leaves. Nonetheless, if your plant rewards you with few sprouts, it will probably be in the pre-spring or late winter, and the blossoms are little white blossoms on tall stems. Flowers will typically sprout for three to about a month.
The Calathea Warscewiczii develops to a level of 3-4 feet and spreads to a width of 3-4 feet. 
The scientific characteristics of Calathea Warscewiczii are as follows.
| | |
| --- | --- |
| Scientific name | Calathea Warscewiczii (Goeppertia warszewiczii) |
| Family | Marantaceae |
| Genus | Calathea |
| Habitat | Central and Soith america |
| Common names | Cathalea Jungle velvet, Prayer Plant or velvet Calathea |
Calathea Warscewiczii Complete Care Guide
To care for the Calathea Warscewiczii plant, check out the detailed guide.
Water Requirements
Generally, Calathea prefers a moist growing medium but the amount of water the plant will need depends on the humidity and temperature of its surroundings.
The plant needs to be watered when the top half-inch of the soil is dried. 
Avoid overwatering and always water the soil directly. Don't wet the foliage to avoid fungus infestations.
The leaves of the plant respond ineffectively to tap water due to chlorine and fluoride content. Calathea prefers filtered or purified water.
Light Requirements
Calathea Warscewiczii requires bright in direct sunlight 8 to 10 hours per day to thrive.
Direct sunlight is harmful and can scorch the leaves.
In case of low light, LED grow light can be used.
Temperature Requirements
Calathea Warscewiczii loves warm locations. The ideal temperature for the best growth of the plant is between 65-85 degrees Fahrenheit (18-29ºC).
The plant cannot stand sudden temperature changes. Also, do not use cold or hot water for watering, as it will cause roots to shock.
Humidity Requirements
To keep Calathea Warscewiczii happy and healthy, maintain high humidity. The plant grows well in humidity that is higher than 50%.
The humidity can be increased by:
Keeping the plant in the bathroom
Grouping plants for transpiration
Using pebble tray
Using room humidifier
And sometimes misting might help
Soil and Fertilizer Requirements
For the best growth of Calathea, good soil composition is an essential factor. The growth medium should be able to store sufficient water and preserve soil oxygen without being mushy.
Ideal soil composition consists of one part perlite and two parts peat or coir. Other organic amendments can also be added for additional fertility, but be aware these decay over time.
The plant can be fertilized using organic fertilizer rich in nitrogen and potassium. The fertilizer should be diluted so it does not burn the plant roots. Calathea may be fertilized every four weeks in summer.
Also Read: How to Care for Calathea Medallion with Growth Tips
How to Prune Calathea Warscewiczii?
Being slow to the moderate grower, the Warscewiczii do not require much pruning. To promote plant growth, prune old and yellow leaves to encourage plant growth.
Use a sterilized knife to simply cut the damaged leaves near the stem.
Repotting Calathea Warscewiczii
When the plant gets bigger, move the plant to a bigger pot. A fast-drying plant will let you know now is the right time to move it. Frequent watering requirements and root bounding are the indications for repotting.
Calathea Warscewiczii develops gradually and needs repotting after 2 to 3 years. Over the long haul, the soil becomes depleted of nutrients, so when you repot your plants, you should add some fertilized soil.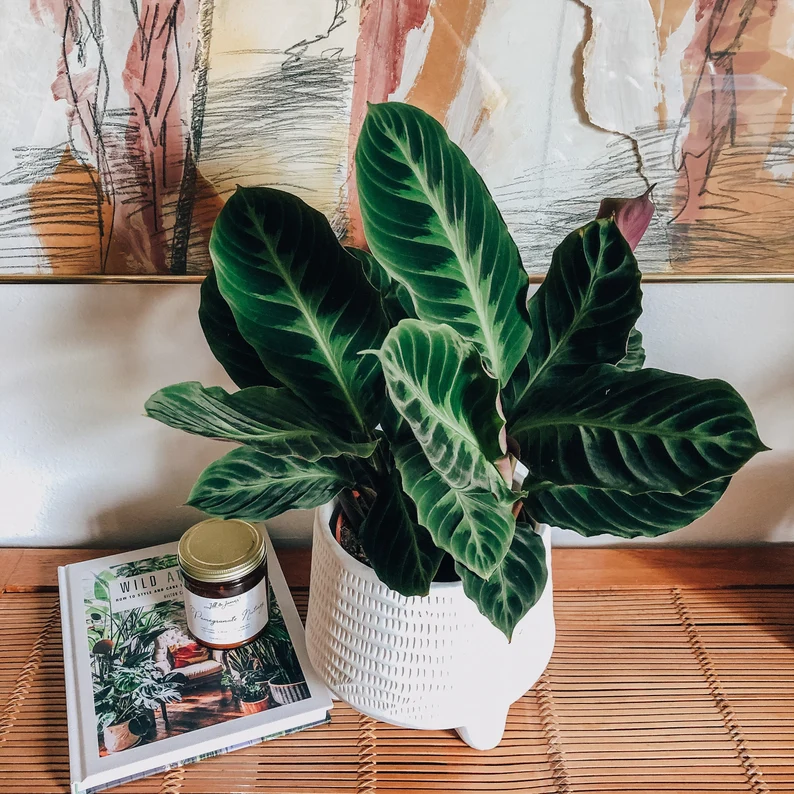 Propagation of Calathea Warscewiczii
Calathea Warscewiczii can be propagated by division. Propagate Calathea by division in spring or early summer.
Propagation by Rhizome Division
One method for developing Velvet Calatheas is to separate the stems with roots. Assuming that your Warscewiczii has crowded its pot, you can pull individual divisions separated. Unpot the plant and divide the roots into segments with one leaf each. On the other hand, separate the plant's rhizome with a clean cutting instrument. Ensure each part has roots and one leaf.
Tap on the sides of the pot with your little digging tool to get the soil out of the vessel. Pull the plant until it comes out of the pot.
Separate the stems utilizing your hands. You might have to cut the roots, yet be mindful to avoid disturbing the fundamental root balls.
Plant each section using the same soil as the mother plant
Keep the cuttings in a warm place with bright indirect sunlight. Don't overwater. Just mist occasionally.
Within a few weeks, the plant will develop.
Also Read: Complete Calathea Fasciata Plant Care & Propagation Tips
Calathea Warscewiczii Common Problems and Solutions
Pests
Calathea Warscewiczii is prone to spider mites, mealybugs, and scale insects.
Watch out for web strands on the leaves of the plant or stems. These web strands are an indication of spider mites. Maintain appropriate humidity to avoid spider mites.
Bumpy growth on stems or mold on the foliage is due to scale insects. Rubbing alcohol or neem oil can be used to prevent scale insects.
Fuzzy white dots on the plant leaves are mealybugs. They can be killed with rubbing alcohol.
Spray the neem oil solution on the Jungle Velvet Calathea foliage once a week to eliminate pests.
Diseases
Fungal diseases associated with root rot are the most common factor that affects Jungle Velvet Calathea. Overwatering or poor soil drainage typically causes roots to decay. In time, you may notice leaf spots or yellowing leaves that start to wilt.
The best way to prevent diseases from affecting a Jungle Velvet Calathea is to water it properly. The golden rule is to only water a calathea when the potting mix has partially dried.
Conclusion
Calathea Warscewiczii is a remarkable variety with velvety foliage. Warscewiczii prefers reliably soggy, well-depleting soil and brilliant to-medium aberrant light. The humidity of more than 50% keeps the plant putting its best self forward.
Give them a warm temperature all year and feed them delicately through the developing season. They could do without being upset and favor rare repotting.
Happy Gardening!!!
Frequently Asked Questions Calathea Warscewiczii
Is Calathea Warscewiczii hard to care for?
Calathea warscewiczii is considered a fussy plant because it needs higher humidity than the average home offers. 
Why is my Calathea Warscewiczii drooping?
If the soil dries out too much, Calathea Warscewiczii leaves will start drooping. Check her soil and only water if the first few inches of soil are dry. 
Is Calathea Warscewiczii toxic?
Like all the other calatheas, Calathea warscewiczii is non-toxic and pet-safe.
Should I cut off crispy Calathea leaves?
Don't trim away more than ⅓ of the living foliage in one sitting, or your Calathea may find it hard to recover.
Why do Calathea leaves curl at night?
Calathea leaves curling is a sign that the air is too dry. All varieties of calathea require high humidity to thrive. When humidity is too low, leaves can curl up, and the edges may turn brown.