The Philodendron Burle Marx comes from the Araceae family. Like other philodendron plants, it has glossy, dark green Burle Marx philodendron leaves filled with texture, donning the jungle-like and exotic foliage. The plant has heart-shaped, glossy green, narrow, and full of texture leaves. The rich texture helps the plant adapt well to various environments!
Philodendron Burle Marx plant is named after Roberto Burle Marx. Burle Marx was the first architect to use native plants in modern landscape designs.
Philodendrons have been popular houseplants for a very long time. This is because these plants are so easy to both grow and propagate and remove toxins from the air. People love this Philodendron for its' easy nature and small demeanor.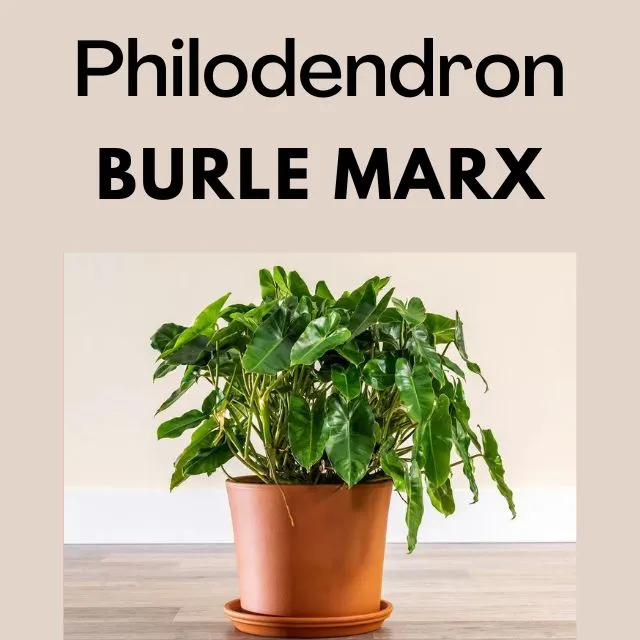 Characteristics of Philodendron Burle Marx
Philodendron Burle Marx has emerald-green elongated heart-shaped foliage attached to red-colored stems branching from one main vine. This dense plant has many glossy leaves and is full of texture. Lots of aerial roots may be seen growing from the vine. Philodendron rarely blossoms inside.
The scientific characteristics of the plant are as follow.
| | |
| --- | --- |
| Scientific Name | Philodendron Burle Marxii |
| Family | Araceae |
| Genus | Philodendron |
| Habitat | Tropical jungles of Brazil |
| Common Names | Burle Marx Philodendron |
How to Care for Philodendron Burle Marx
To keep your Philodendron happy and healthy, follow the following care guide.
Light Requirements
For the best growth of Philodemdro Burle Marx, you need to place them in a spot with bright and indirect sunlight.
The plant can grow well in medium light but avoid direct sunlight.
Water Requirements
Philodendron Burle Marx is vulnerable to overwatering. Allow the soil to dry between watering.
Ideally, water your Philodendron once a week to keep it happy.
Temperature Requirements
Philodendron Burle Marx thrives in temperatures between 60oF – 75oF (15.5oC – 24oC).
Avoid temperature draughts, and do not keep your plant at a temperature below 50oF.
Humidity Requirements
Philodendron Burle Marx prefers high humidity for development. Maintain humidity higher than 40% to keep your plant happy.
Inadequate humidity can result in the browning of plant leaves.
Soil and Fertilizer Requirements
For the growth of Philodendron, choose a potting blend that is well-depleted, loose, and airy. The pH of the soil should be in the range of 5.6-6.5.
Fertilize your plant in the growing season only. Every two to four weeks, feed your plant with diluted organic fertilizer. Fertilizers can enhance plant growth. However, the plant does not need fertilization in winter.
Pruning Philodendron Burle Max
Philodendron Burle Marx doesn't need pruning too often as they grow only about 2 feet.
However, pruning can be done to maintain the size and shape of the plant or to trim the dead plant parts. 
When and How to Report Philodendron Burle Marx
Repotting is required when the plant becomes root bound. When the plant becomes root bound, growth slows and requires much more water than usual.
When this happens, it is best to repot your plant. The ideal time for repotting Philodendron Burle Marx is spring before the growing season is in full swing.
Choose a container one size more significant than the previous container, and refresh the potting mixture to report your Philodendron.
Also Read: Complete Philodendron Melanochrysum Care & Propagation Guide
How to Propagate Philodendron Burke Marx
Propagation of Philodendron Burle Marx is very simple. This allows you to develop a more significant amount of this delightful plant at home without going out and getting them from the nursery.
Propagation by Stem-cutting
The most widely recognized strategy for the propagation of this plant is stem cutting because this method is direct and delivers excellent results.
Select a healthy stem with around 2 or 3 leaves or nodes.
Cut a 4 to 7-inch stem under a leaf hub with sterile scissors.
Prepare a potting blend and fill the pot with this blend. 
Water the soil and plant the stem cutting into the soil.
Place the plant in a warm spot that is sufficiently bright with indirect daylight. Cover the plant with a plastic sack if the humidity is low.
In around 20 to 25 days, the stem cutting ought to have fostered its underlying roots. It will take a couple of additional roots to get laid out.
Pro-Tip: 
Common Problems and Solutions
Root Rot
Overwatering Philodendron Burle Marx van result in root rot.
To examine the plant for root rot, take it out of the pot. Carefully examine, and if dark and mushy spots appear, cut them with a sterilized knife or scissors. After removing damaged roots, repot the plant.
Brown Leaves
Inadequate humidity and overwatering Philodendron Burle Marx can cause brown leaves.
Maintain proper growth conditions if brown leaves start to appear.
Wilting Leaves
Underwatering Philodendron can result in wilted leaves. The water starves from dehydration, and its leaves start to droop. Water is also required to go through photosynthesis.
Water moderately to avoid drooping leaves.
Pests
Philodendron Burle Marx is prone to pests, such as mealybugs and thrips. These pests can harm or kill the plant. 
Use neem oil or insecticide soaps to get rid of any infestations.
Toxicity
Philodendron Burle Marx is toxic to pets and humans if ingested. All parts of the plant contain calcium oxalate crystals, an irritant to the mouth and esophagus if eaten.
Conclusion
Philodendron Burle Marx is the perfect choice for people who like excellent evergreen houseplants. Moreover, it is not a challenging plant regarding planting care. They need well-depleting soil and brilliant circuitous light.
Also, their soil ought to constantly be soggy yet never doused. All it needs is sufficient separated light, moderate room temperatures from 60 to 75F, adequate humidity, and watering once a week.
It is an excellent plant for rookies with regards to propagation, too. Ensure you are utilizing the suitable instruments, and go into the experience of developing it lighthearted!
Happy Gardening!!!
Frequently Asked Questions about Philodendron Burle Marx
Is Philodendron Burle Marx a vining plant?
Philodendron Burle Marx grows in a trailing or vining pattern. It is a climbing plant and can be pointed to grow in different directions.
Is Philodendron Burle Marx an indoor plant?
Although it is an excellent ground cover or an outdoor plant, philodendron Burle Marx is also grown in pots as a houseplant.
How big can Burle Marx grow?
This variety of Philodendrons is small, with a maximum height of 2 feet and the full width of 2-4 feet.
Why is my Burle Marx not growing?
If the temperature drops below 50 °F (10 °C), your plant will stop growing.
Does philodendron Burle Marx purify the air?
Yes! Philodendron Burle Marx is an air purifier plant.
Does variegated burle marx grow fast?
In the right conditions, these plants are fast growers, and can produce multiple leaves each month.