Aglaonema sparkling Sarah is one of the popular evergreen Chinese plants which are attractive enough to increase the value of your garden bed. You can grow this plant indoors and outdoors, but most people love to grow this plant indoors.
It is an easy-to-maintain plant and survives well in low-light conditions. There are different varieties of aglaonema plants include Aglaonema Emerald Beauty, Silver Queen, and the Aglaonema Silver Bay.
Moreover, the plant is easy to care for, and it shows a clumping growth. You will love to grow this plant in your indoors due to its attractiveness. Its ornamental plantation feature will convince you to plant it.
The leaves of this plant have different colors of strips on them. These strips are of pink, yellow, or green color. The average of the plant ranges from 1.5 to 4 feet in size.
If you are also planning aglaonema sparkling Sarah at your place, this guide will help you grow and care for the plant. You will feel glad after growing this plant.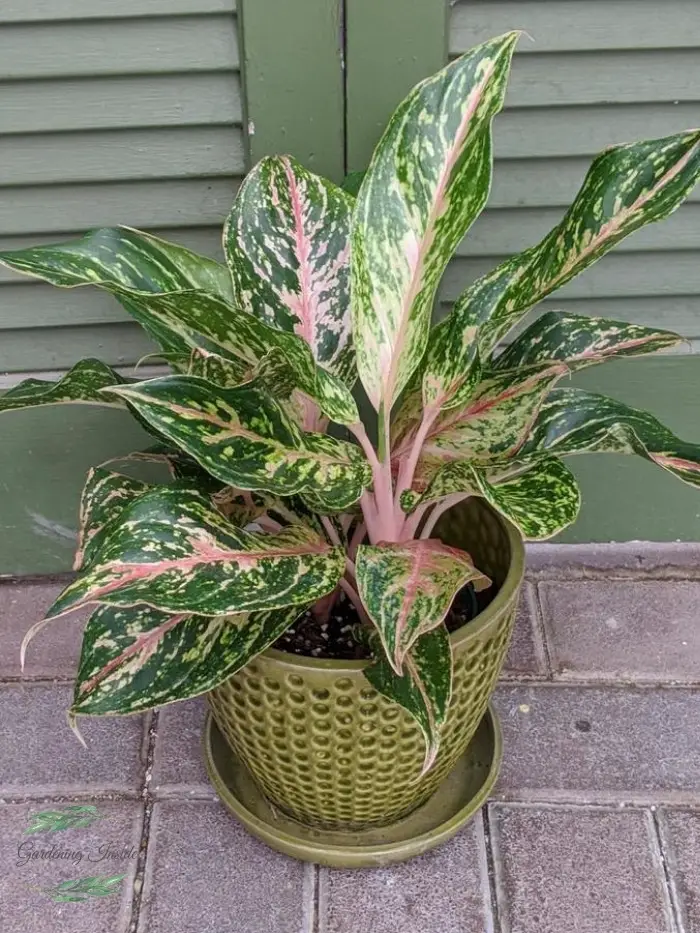 Aglaonema Sparkling Sarah Classification
| | |
| --- | --- |
| Family | Araceae |
| Genus | Aglaonemateae |
| Variety | Sparkling Sarah |
Characteristic Features of Aglaonema Sparkling Sarah Plant
Air Purification:
One of the fundamental strengths of these plants is that they are great air-purifiers. So, if you love to stay in a fresh environment, this plant is the perfect choice of yours.
It performs its functions by removing toxins like Benzene or Formaldehyde. So, freshen your air and grow unique Aglaonema plants into your garden.
Disease and Pest Resistance:
The good news is that this plant is not prone to plant diseases. So, you do not have to worry about the health of your plant. The standard issue that this plant usually faces is root rot, which occurs due to overwatering.
Other issues that this plant rarely faces include spider mites, mealy bugs, or scales. These attacks can also result in the death of your dear plant. In this situation, you need to use neem oil, bactericidal soap, or rubbing oil to control the pest's attack.
Flower:
All the members of this genus species have flowers ranging from white to pink shade. The flowers of this plant are highly appealing and attractive. These flowers grow on warm days for a relatively longer duration.  
Size:
The size of this beautiful plant depends on the environment and the growing conditions. It grows wide in an ample growing space. The average height of the plants ranges from 3 to 4 feet in size.
Toxicity:
This genus has also got a legacy of toxicity due to the presence of higher levels of calcium oxalate crystals. These crystals present in foliage can cause toxicity for both humans and animals.
Ingesting this plant's foliage can result in causing ulceration in the mouth and throat. It can also cause diarrhea and nausea. So, you must keep an eye on your children and kids to prevent them from these issues.
Leaves:
Plant leaves grow from 6 to 8 inches in length.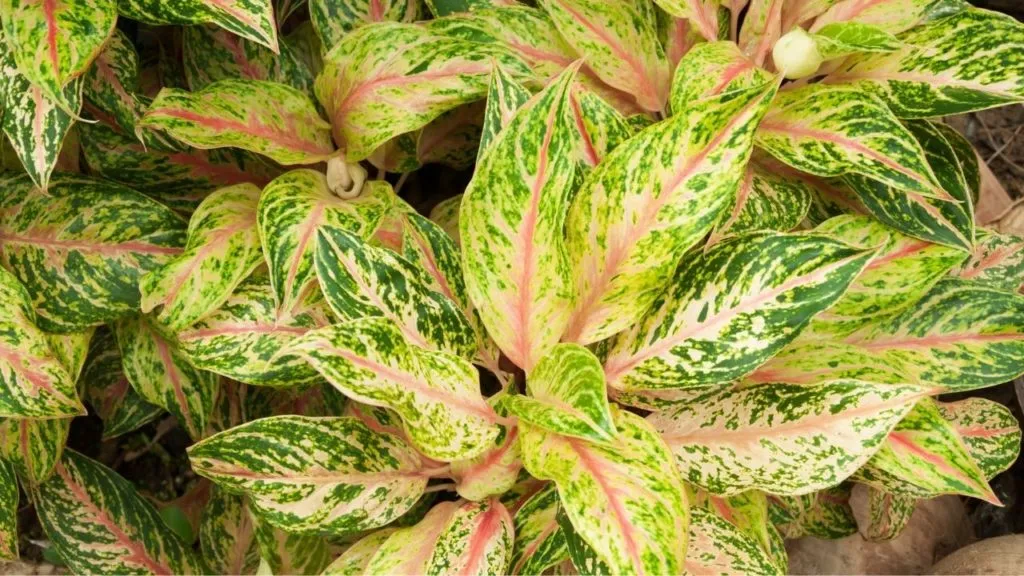 You May Also Like: Complete Cebu Blue Pothos Plant Care & Grow Tips
Aglaonema Sparkling Sarah Care
Easy to care plant and does not require much maintenance. You just need to provide it with optimum growing conditions to keep it happy. It requires a balanced amount of water, sun, humidity, and fertilizer to grow well.
All these conditions are appropriate enough to keep this plant happy. The following is a detailed overview of the care instructions:
Humidity Preferences: 
It is a plant native to the tropical and the sun-tropical regions, due to which it loves to stay in high humidity levels. The average humidity level will work best for proper growth.
In the case of dry weather conditions, you need to pay little attention to the plant. You can use misting method, pebble water tray, or humidifier to maintain the humidity level. Do not let your plant stay wet for a long time as it can increase the chances of a fungal attack.
Fertilizer Preferences:
You only need to provide the plant with mild doses of fertilizer twice a month. The right time to fertilize the plant is in spring or summer.
While in winters, the plant does not need rich nutrition as it stays in the sleeping phase this time.
Be aware that you must not fertilize the plant in the winter season as it can even kill the plant.
Light Preferences:
This Chinese evergreen sparkling plant can tolerate different levels of indirect light. The best light that contributes to the proper growth of the plant is bright indirect light. It will contribute to the healthy appearance of your Aglaonema.
So not place your plant in low light, as it can make your plant thin or leggy. If your plant is living in a quiet light environment, then you must compensate it with artificial growing or fluorescent light. This feature of the plant makes it perfect for both offices and homes.
Direct sunlight can result in the death of your plant, leading to killing its foliage. So, if you are placing your plant in a sunny spot, then the indoor point will be a perfect option.
Potting Preferences:
The right pot that will work for the perfect plant's growth is a medium-sized pot with drainage holes at the base. Aglaonema loves to stay in mild root-bound situations.
The preferred time to repot the plant is after three years.
Temperature Preferences:
Aglaonemas cannot tolerate cold or frost temperatures and they love to stay at warm temperatures. The ideal temperature for the growth of Aglaonemas range in 65 to 80 degree Fahrenheit.
So, at the low temperature,s you need to provide lower attention to your plants, especially outdoor. A warm spot will help in letting the plant grow well.
Watering Preferences:
The fantastic thing about this plant is that it requires an average amount of water to grow well. You need to thoroughly water the plant before the soil gets dried and do not let the ground dried out completely. Over-watering will result in causing root rot that can even damage your entire plant.
The watering schedule of Aglaonemas varies in different light conditions. Like in bright light, you need to water the plant when the upper part of the soil gets dried. In contrast, if the plant is in low to medium light you must wait until the soil gets dried completely.
The frequency of watering entirely depends on the temperature, weather, and light conditions. In summers, water dries quickly, due to which you need to increase the frequency of watering. While in fall, the plant takes time to dry completely, due to which you are supposed to reduce the watering routine.
Ensure that you must not over-water the plant as it can be harmful, leading to the suffocation of roots and root rot. The result can also freeze the plant leading to its death.
Soil Preferences:
Make sure to grow these plants in well-draining soil. Using a standard houseplant mixture will work well to let the plant grow well.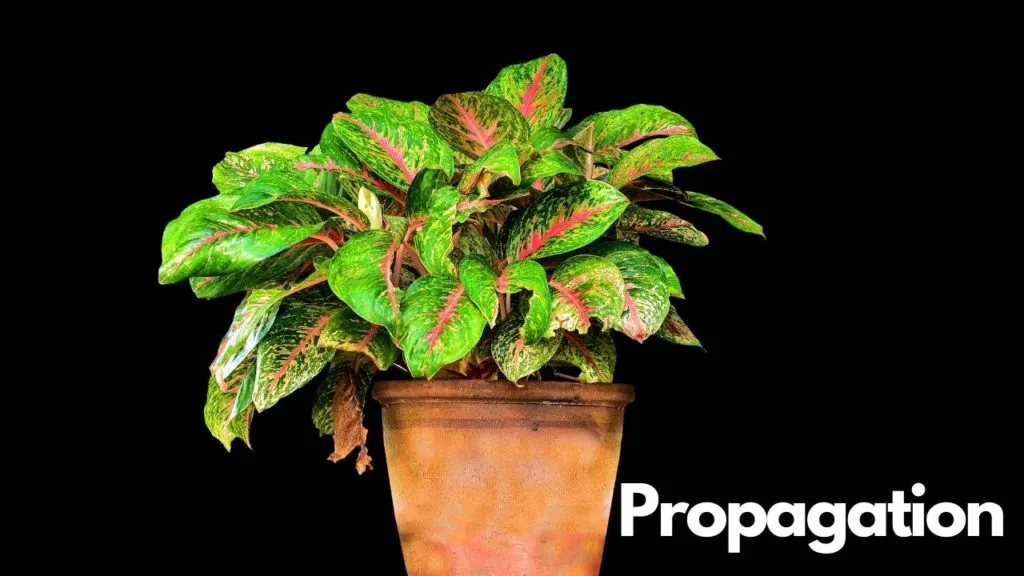 Also Check: Complete Guide Rhaphidophora Tetrasperma: How to Care & Grow
Aglaonema Sparkling Sarah Propagation
These Sarah plants are easy to grow, and you propagate them using the common propagation method. The best season to propagate the plant is in mid-spring or mid-summer. You can use the following methods for aglaonemas growth:
Root division
Propagation in water
Stem-cuttings
1. Root division:
It is the popular method to propagate the plant, and you need to follow the following steps to propagate it without any issues:
You need to select a mature plant and shove it to see the root ball.
Separate the clumps and cut the secondary or tertiary roots with sterilized roots.
After that, place the plantlets with a distance of 5 to 8cm. you can use coco-peat or cow dung.
The last stage is to water the soil and keep it in low indirect light. It will be a good option to let the plant propagate well.
2. Water propagation:
You can propagate Aglaonema in water as well. All you need to do is to place the plant divisions in a jar containing water. 40 to 50% of the pot must have water in it.
Give the plant 40 to 55 days and place it in low indirect light. You must change the water after every week to prevent it from contamination.
3. Stem-cuttings:
It is one of the simplest methods that you can use to propagate the plant. Just cut down 5 to 8 inches from the parent plant using sterilized scissors. After that, place the plant in a well-draining potting mixture.
Provide the plant with optimum growing conditions and place it in indirect light. The last stage is to identify the plant in the desired place.
Conclusion:
Aglaonema Sparkling Sarah Plant is a beautiful plant that you can grow both indoors and outdoors. The attractive foliage of the plant will freshen your environment. Its leaves are stunning with varying shade in the veins.
You can easily care for the plant by providing it with optimum growing conditions. So, introduce this plant into your garden and enhance the worth of your garden. Happy growing!
Frequently Asked Questions about Aglaonema Sparkling Sarah
Why is my sparkling Sarah yellow?
The primary reason for yellowing sparkling Sarah leaves the improper soil moisture of continuous exposure to the direct sun.
Is Aglaonema toxic to dogs?
Yes, it is a toxic plant due to the presence of calcium oxalate it. Ingestion of this plant results in causing nausea or irritation in the mouth of the gastrointestinal tract.
Should I cut the yellow leaves of Aglaonema?
Pruning the yellow leaves is essential for the maintenance of the Aglaonema plant. The presence of yellow leaves on the plant will result in causing a leggy appearance of the plant.
How do you tell if Underwatering vs Overwatering?
If the leaves of your plant are browning then it is an indication that your plant is not getting enough water. While the yellowing of the leaves is an indication of overwatering. You need to keep a balance in watering conditions to maintain the growth of the plant