Growing tomatoes is a fun and rewarding job, and you will love growing these plants. Many of the growers love to grow tomatoes as they are friendly and require little care and maintenance. Internet is one of the informative mediums that will help you grow tomatoes successfully. The plant is rewarding as a whole, and even its leaves help fight the diseases and are a cancer inhibitor. But the presence of white spots on tomato leaves can cause problems in its growth and yield.
So, grow this beautiful plant into your garden and get facilitated by its fruits and leaves. The next question is how to grow and take care of this unique plant?
Don't worry; you need to provide it with the proper growing conditions. The only thing in which the tomato plant demands your attention is pests attack. It is prone to pests attacks due to which white spots appear on the tomato leaves.
If your tomato plant is also facing the same issue, then do not worry. Follow up the guide to see causes, treatment, and prevention. Just dive into the proper treatment and let your plant grow healthily.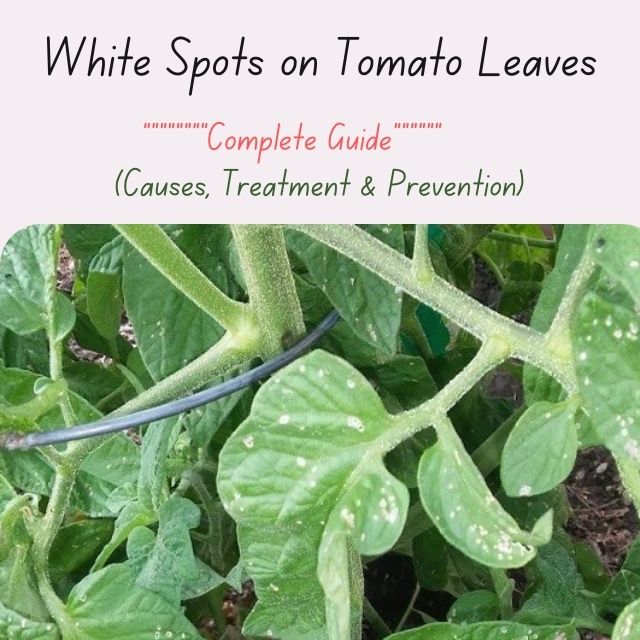 Identifying the Root Cause
Before overlooking the reasons for white spots on the tomato plant, you need to analyze your plant. You need to consider the following steps for identification of the main problem:
First of all, you need to identify the section of the plant that has been affected. Consider both the leaves and roots.
Compare the infected plant with the healthy one and note down the problems.
The third step is to look for insects (if any). The standard-issue that the tomato leaves usually face is that you will see white spots on them.
After considering the above steps, you need to figure out the causes, prevention, and treatment.
Main Causes of White Spots:
While spots on tomato leaves can occur due to multiple reasons, one of the common causes is the appearance of powdery mildews. Powdery mildews appear on the tomato due to the continuous presence of unwanted conditions like fluctuations in sunlight, air circulation, and humidity. You are supposed to provide your tomato plant with these conditions to help it survive healthily.
Don't worry if you face this issue, as these white spots will not kill your plant, and you need to treat it. The white spots will change the taste of the tomatoes and will reduce their yield as well.
You can control the issue by maintaining the proper humidity, sunlight, air circulation, and fertilization. If the roots can also get enough oxygen, it can also result in causing this issue. All these tactics will help in reversing the effects.
You May Also Like: Complete Guide Rhaphidophora Tetrasperma: How to Care & Grow
The Leading Cause of White Spots on Tomato Leaves
One of the common causes that result in causing white spots on the tomato leaves is powdery mildews. It occurs due to the fungal attack, and different types of fungi start growing on your plant.
Fungi love to grow in dark, moist, and stagnant areas. So, if you are growing your plant with a higher humidity level (>70%), then it can result in fungal growth. So, here is the answer to "what causes white spots on leaves?"
Powdery mildews attack the younger tomato plants, due to which most of the growers over-fertilize their young plants. Over-fertilization reduces the chances of powdery mildews spread. But remember, not to over-fertilize your tomato plant!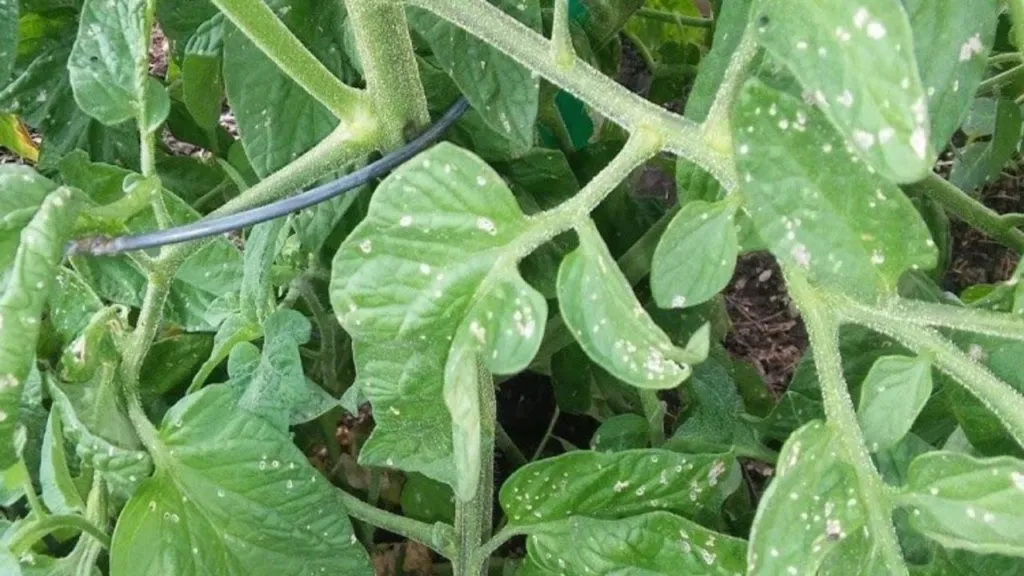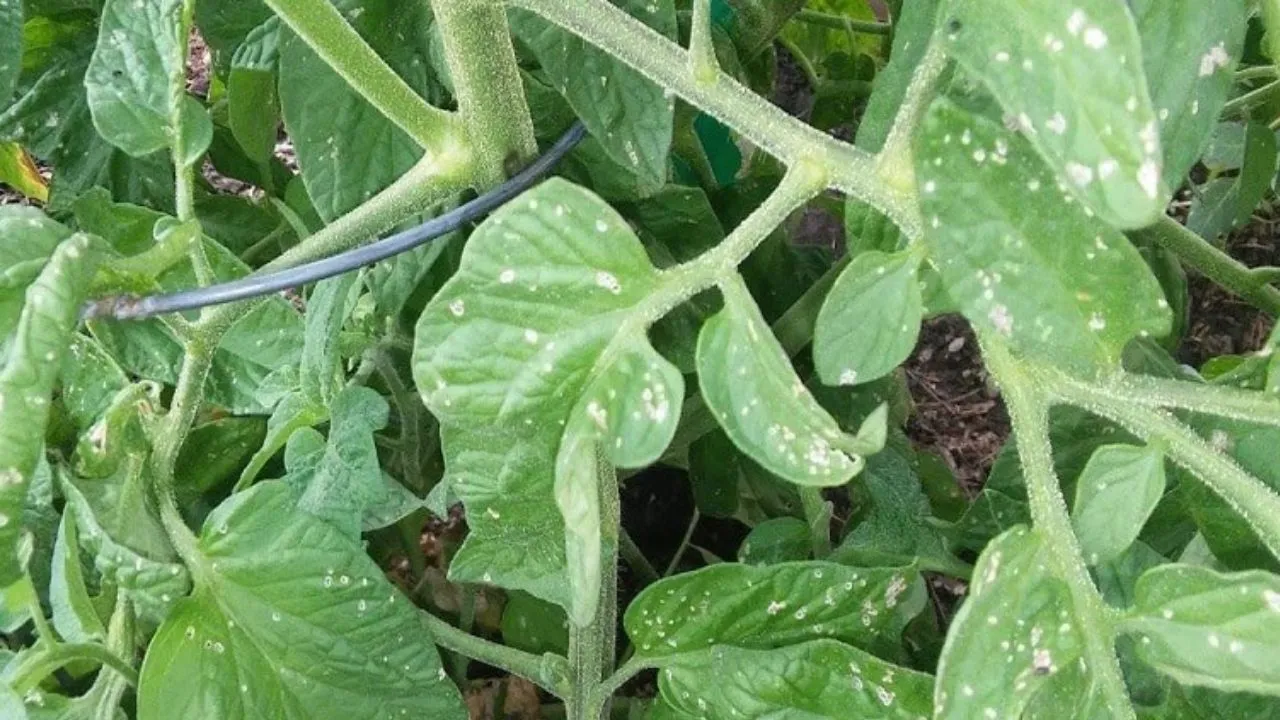 Treatment of the White Spots on Tomato Leaves
There is nothing to worry about if you are experiencing light spots on your tomato plant. You need to figure out the cause at the right time to prevent adverse effects.
Adverse effects cannot be reversed entirely, so keep a check on your plant. In this case, follow the following treatments as they will help you control the issue.
1. Pruning:
Pruning your plant encourages your plant's growth, and it can also help treat the plant against powdery mildews. You have to remove the infected leaves from your plant to prevent the further growth of the powdery mildews.
The benefit of pruning is that it will help improve the air circulation, which works best to kill the fungus growing on your plant. It would be best if you also sanitized your tools to prevent the further spread of powdery mildews.
Remember not to remove too many leaves from your plant as it can result in the death of your plant. Just remove the highly infected leaves and use fungicide for the rest of them.
2. Neem Oil:
Here's another treatment that will help you to get rid of the issue. Neem oil is an organic fungicide and insecticide which will contribute to keeping your plant safe. Another benefit of using neem oil is that it prevents the plant from mealybugs, whiteflies, and aphids. So, this treatment is a pro one to help your plant thrive.
3. Milk Spray:
It is an alternative way to treat your plant besides neem oil. You can use this method to control the spread of powdery mildews. Just combine three parts of water with two parts of the milk. It will work best to control the symptoms of the white spots.
Apply the mixture to your plant every week and see the magic. All the symptoms of powdery mildew will disappear.
Pro Tip:
You can also use insecticidal soap and a water hose here. It will also contribute to deal with the issue.
Prevention of the White Spots on Tomato Leaves:
Here are some preventive measures that can help you control the spread of the powdery mildews and the appearance of light spots on your tomato leaves.
Keep distance between each Plant:
One of the significant reasons for powdery mildews is the lack of circulation between the plants. You need to keep the plants at a certain distance and do not let them overcrowd. Overcrowding can result in damaging your tomato plants and also promotes fungal growth.
Pro Tip:
The approximate distance that you need to maintain in between plants is from 18 to 24 inches.
Proper Lightening:
Fungus usually grows in areas with low light, and it is highly essential to provide your tomato plant with eight hours of direct light. After providing the plant with the right amount, place your tomato plant in the shade.
These plants are sun-loving, and you need to place them at the point where they receive full sunlight.
Pro Tip:
If you live in a cool place, use light bulbs to help encourage the healthy growth of your tomato plant. Both the warm-colored and cool-colored light will help here.
Resistant varieties of Tomato Plants:
Some of the varieties of tomato plants are resistant to powdery mildews, which can also help control the powdery mildews' growth.
Granadero is a variety of plant that is highly resistant to powdery mildews. Hence you can choose it to prevent your plant from likely issues. It will also serve as a barrier in controlling the exposure of powdery mildews.
What are other causes of White Spots on Tomato Leaves?
Although powdery mildews is one of the common reasons, some factors still result in light spots on the tomato leaves.
Analyze if your plant is not recovered by using neem oil or milk spray, then there might be another reason behind it. Have a look at the section below!
Late blight:
One of the reasons for the white spots on your tomato plant is late blight. Late blight is a severe disease that can damage your tomato plant. The common cause of late blight is the calm and damp weather.
It can even result in the death of your plant causing the appearance of white and brown spots on the leaves. These spots occur on the fungal-infected leaves and can spread to the entire plant if not controlled.
Pro tip:
You can treat the infected plants by pruning, removing the leaf debris, applying organic fertilizers, and using commercial fertilizer.
Sun Scalding:
Sun scalding when your plant gets exposed to direct sunlight for a long time. It results in the appearance of white spots on the leaves. The leading cause is also because you keep your tomato plant first indoors than outdoors. Hence, sudden exposure to bright direct light can cause this issue.
Solution:
You can control this issue by reducing exposure to direct sunlight. Eight hours of direct sunlight is the average light that your plant needs. Also, accustom your plant with bright outdoor light first by covering it with shade and then removing it.
Pro tips to control Sunscald:
Keep your plant in the shade.
Apply mulch to your plant.
Clean and sanitize your plant.
Prefer soil drenching.
Final thoughts:
Tomato leaves are usually prone to the appearance of white spots, and negligence in it can cause the death of your plant. You need to observe your plant from time to time to prevent it from adverse issues.
One common cause is powdery mildews, and you can control it by using neem oil or milk spray. Other causes of the white spots on tomato leaves occur due to the mismanagement in the growing conditions.
"Give a follow-up to the preventive measures of the plant to prevent the appearance of white spots on tomatoes leaves. Happy growing! "
Also Check: Philodendron Gloriosum : Complete Best Guide # 1
Frequently Asked Questions about White spots on tomato leaves
What is the frequency of watering tomato plants?
The average water requirement of your tomato plant is 1 gallon per week. But you need to consider the size and age of the plant. Keep the soil of your plant moist rather than soaked. This will help to let to plant thrive.
Why are my tomato leaves turning yellow?
Many reasons contribute to turning out your tomato leaves yellow. Direct exposure to sunlight and nutrient deficiency can be one of the reasons. Nitrogen deficiency can cause these issues, and you need to provide nitrogen to your plant in this case.
Are white-spotted tomatoes safe to consume?
Yes, white-spotted tomatoes are safe to consume, but you must not consume them if the tomato leaves are white spotted. This is because white spots on leaves occur due to bacterial growth, and bacteria are unsafe to consume.
How to treat light spots on tomato leaves?
You can control this issue by using vinegary, neem oil, or by milk spray. All these sprays will help in dealing with the white spots issue on your plant. Apply one of these mixtures every week to deal with the infected plant.
What causes white spots on tomato leaves?
One of the leading causes of the white spots on tomato leaves is powdery mildew. This powdery mildew can impact your leaves, stems, and fruits. You need to control this issue by treating the affected areas of the plant.