The snake plant is a member of the Lily family and is an excellent option to introduce into your garden. This plant is a perfect option to use for decorative purposes. You can grow it in both indoor and outdoor settings at your convenience. The snake plant is sword-like with a perfect foliage design. You will love to grow this plant in your garden.
The snake plant is a slow-growing plant, and it grows only a few inches every year.
Also, only 2 to 4 leaves grow on these snake plants per season. You need to provide these plants with optimum growing conditions and consistent factors.
This guide will discuss the snake plant's growth rate and the conditions required for its development.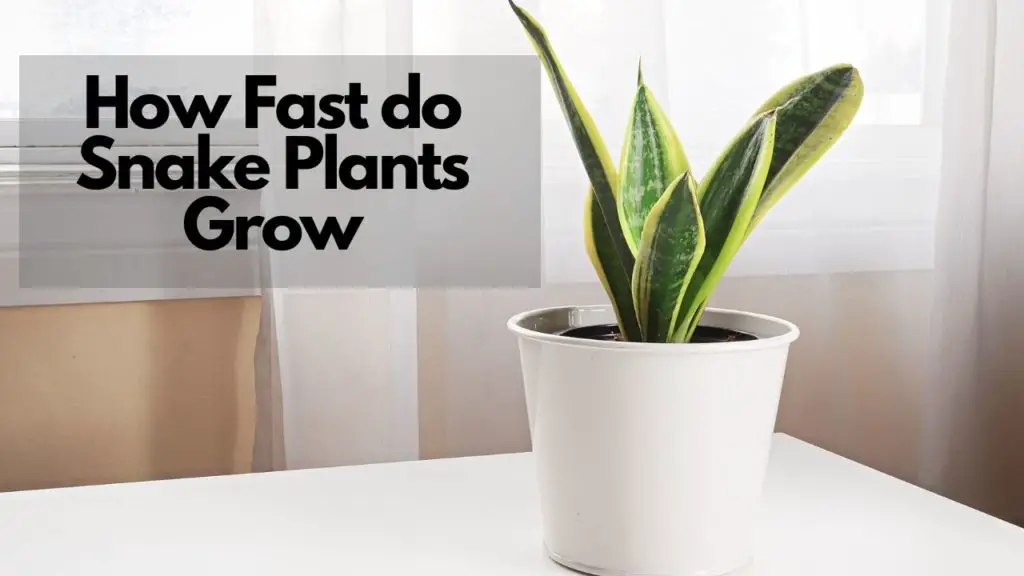 How Fast do Snake Plants Grow?
These plants are easy to grow and care for, and you need to provide the plant with optimum growing conditions. The factors on which these plants' growth depends include the intensity of light, soil, temperature, and humidity level.
Maintenance of all these conditions will help in showing rapid growth and gaining good lush green foliage. The following are a brief discussion of the factors that impact the growth rate of snake plants:
The Season for Growth:
The fast-growing season of the plant is usually spring or summer. Using the fertilizer in this season will help in increasing the growth rate of the plant.
Snake plant does not show a fast growth rate in winter, and it is dormancy period. So, if your snake plant is not growing in winters, don't worry; it's in the resting stage.
Watering Requirements:
You need to pay attention to this plant, especially in the watering case. Imbalance in the watering conditions can impact the growth rate of the snake tongue plant.
Also, you need to water your snake plant if the soil gets dried.
One can maintain the watering requirements by choosing a well-draining pot, and in case if the soil is moist, you must not water the plant. Overwatering can result in root rot with increased chances of fungal attack.
Fertilization:
Fertilization helps in the health and bushy growth of the snake plant. Snake plant does not bear negligence in fertilization. So, you need to fertilize the plant once a year to promote the prolific growth rate.
Don't fertilize the plant during the dormant stage, as it can cause issues in the growth rate. Overfertilization can result in drooping and shedding of the leaves.
Temperature and Humidity Requirements:
It is a sturdy plant and can bear minor fluctuations in temperature and humidity conditions. But continuous exposure to these conditions can impact the growth and development of the plant.
Moreover, if plants stay in bright conditions, then they may also experience leaf burn. While in the case of low light, the snake plant will not thrive well and is usually less bushy and green.
So, you need to provide your snake plant with a balanced amount of light to help it grow fast.
Snake plant does not complain regarding the fluctuations of humidity level. It can bear low humidity levels in winters, but long-term exposure will cause a stunt growth rate. Hence, it would be best to use a humidifier or misting technique to help the plant grow well.
Pests:
Exposure to pests and attacks by spider mites or mealybug can cause stunt the growth of the plant. Attack by these bugs can cause yellowing and brownish appearance on lush green leaves of the snake plant.
It is of interest to note that one can manage this issue by using pesticides or neem oil. Adherence to these methods will help in increasing the growth rate of your snake tongue.
Also Check: How Fast Does Aloe Vera Grow?
Ways to improve the Snake Plant Growth
If you decide to grow this lush green plant and bushy plant into your garden, you must maintain the growing conditions to promote the plant's growth.
The following section will discuss the requirements which will help your snake plant grow fast:
You need to ensure putting the fertilizer on the top of the soil. It will help in providing the plant with easy and quick access to nutrients. Your snake plant will show a prolific growth rate using this strategy.
Another technique that will help in improving the growth rate of snake plants is warming your indoors. It will provide the plants with greater humidity levels, which is beneficial for developing snake plants.
In warmer months, you need to place your snake plant outdoor where it can absorb a balanced amount of sunlight. So, you must leave your snake plant near your window or on the patio.
Fertilization of the plant is necessary for letting the beautiful snake plant grow well. You need to maintain the moisture level as well in the growing season. Also, fertilizing the plant once a month will help grow this lush green plant.
Keeping the water level is also necessary because excessive water can lead to root rot with the increased chances of fungal attack. You can maintain the water level by offering drainage holes at the bottom.
Pests attack can lead to discoloration, and the leaves are more likely to chew off. So, if you see any of these conditions on your snake tongue, you must use pesticides. It will help in providing a healthier look with a faster growth rate.
You May Also Like: Complete Calathea Fasciata Plant Care & Propagation Tips
Halting the growth of Snake Tongue Plant
The snake plant height ranges between 2 to 3 feet, and you can increase its size even more by providing it with the right growing conditions.
In contrast to this, you can also halt the growth of your snake plant by using different ways.
These four conditions include controlling water, less sunlight, lower humidity, and small-sized pot, as described below:
Controlling amount of Water:
Your snake plant will indicate a stunted growth in case of underwatering. Delay the watering for one or two days to let it stop growing.
Small-sized Pot:
If you let your snake plant grow in a small-sized pot, it will not allow the growth of the roots. Hence, it will result in the stunted growth of the plant.
Lower humidity Level:
These plants know to grow well in a higher level of humidity. So, it would help if you lowered down the humidity levels to halt its growth. Low humid conditions will not let your plant grow big.
Less sunlight Exposure:
Snake plant's light requirements are usually associated with direct sunlight exposure. Placing the plant without direct sunlight will lead to halting its growth.
Conclusion:
On a concluding note, the snake plants are beautiful lush green plants with yellow strips that you can grow indoors and outdoors. These plants are easy to grow and care for, so they can bear a bit of negligence.
The plant shows a slow growth rate, and it needs to provide balanced growing conditions for fast growth. It offers a fixed growth rate in the winter season, so don't worry if the plant does not show growth.
Just ensure to provide the plant with balanced sunlight, water, and humidity requirements. It will help in scaling the prolific growth. So, do not wander anymore, and grow this beautiful garden at your place. Happy growing!
Frequently Asked Questions about How fast do Snake Plants Grow?
How can I make my snake plant grow fast?
Snake plant, also known as mother-in-law's tongue, shows the slowest growth rate. But the growth of this plant can be increased by placing it in direct sunlight at a warmer temperature. Both these conditions will help in boosting the development of snake plants. So, choose an ideal growing spot and let your plant grow well.
Are snake plants slow-growing?
These plants rarely need repotting due to their slow growth rate. But if the plant is provided with the optimum growing conditions, it will help in rapid growth and development.
Do snake plants need sunlight?
Yes, these plants love to grow in direct sunlight. Choosing a bright spot with maximum sunlight helps in improving the growth rate. Choose a sunny location for your plant rather than a place with solid and direct sunlight because the latter condition can burn the plant's leaves as well. So, consider a bright shade to place the mother of law tongue plant.
Are snake plants toxic to humans?
The snake plant is poisonous and can cause health conditions if ingested. If humans consume a large dose, then it can result in causing nausea and vomiting. It can also cause swelling in the throat and tongue. So, you need to take care if you have kids or pets at home.