Euphorbia is the second largest genus of plants, with around 2200 species in the world. One of the plants' prominent features is its variable shape, size, and color in leaves, making it one of the most diverse succulents. The beautiful leaves of the plant change color with the seasons.
The branches of Euphorbia stretch and twists gracefully in a random fashion making each plant a distinctive living sculpture.
Euphorbia francoisii plant's leaf coloration and branch architecture are exceptional because they are hexaploids. It is a slow-growing species, and tubers take many years to enlarge.
If you want to grow this beautiful plant then this is the article for you with all the required information and tips to develop and maintain a healthy plant.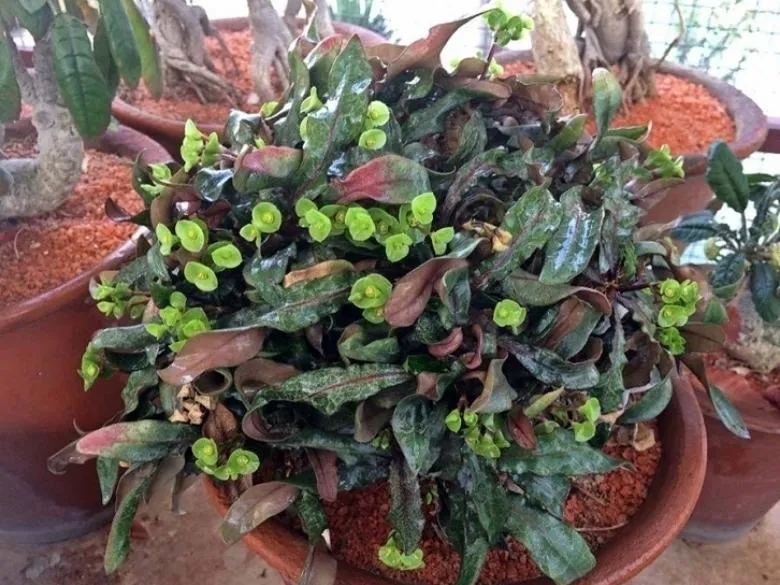 Characteristics of Euphorbia Francoisii
| | |
| --- | --- |
| Scientific name | Euphorbia Francoisii |
| Origin/ Habitat | Southern Madagascar |
| Common names | Euphorbia Francoisii Leandri |
| Genus | Spurges |
| Family | Euphorbiaceae |
| Habitat | Small extent of occurrence beneath sand dunes. |
How to Care for Euphorbia francoisii 
This section comprises of easy guide for beginners to care for Euphorbia francoisii.
Temperature
Euphorbia francoisii plants thrive in temperature range from 55-72 degrees Fahrenheit (12-22°C).
It can be grown outdoors in the summer months to benefit from direct exposure to light, especially exposure to high summer temperatures.
Humidity
The plant thrives in humidity levels between 40-70% during the warmer months. 
To prevent rot and mold growth, humidity should be lower than 40% during cooler periods.
Light
Euphorbia francoisii need full sun to light shade exposure for good growth.
In full sun, the color of the leaves is much brighter, while plant grown in the shade tends to have pale green leaves.
The plant needs at least six hours of direct sunlight per day to thrive. However, partial shade is recommended if the plant is too stressed by direct sun.
Water
Water only when the soil feels dry. 
Water should not be allowed to stand around the roots. 
Over watering can cause root rot which will lead to plant death.
Soil and Fertilizer
Euphorbia francoisii grow best when planted into potting mix of cactus with another well-draining medium such as sand or succulents fertilizer with a high potassium content.
It likes pots with generous drain holes and needs a very airy potting medium mainly consisting of non-organic material.
Repotting and Pruning
Repot every two years and trim off the dead arms.
Pruning Euphorbia is a great way to promote the health and vibrancy of your succulent.
Prune the plant once a year to stimulate new, healthy growth at the pruned site. This helps prevent insects like mealybugs from settling in on these older areas of Euphorbia plants.
Also Read: Begonia Chlorosticta Care | Propagation Hack Guide
How to Propagate Euphorbia francoisii
There are two methods for the propagation of Euphorbia francoisii:
Propagation by Cuttings
Propagation by cuttings is the easiest Euphorbia francoisii propagation method and usually produces the most successful results.
Take Euphorbia francoisii plant cuttings in early spring before new growth starts.
Cut just below a leaf node on a stem with at least two leaves.
Place them into the soil, then mist it until it is moist.
Place in bright light and keep damp.
The cuttings should have embedded in about two weeks.
After a month, pot the cutting into their own container with soil and mist lightly until they are well established.
Propagation by Seeds
Another method for Euphorbia francoisii propagation is from seeds.
Sow the seeds in well-drained containers with soil just barely covering them.
Keep moist until they develop, then keep moderately watered but not overly wet.
Water only when the Euphorbia francoisii starts to look dry at its surface.
Place in bright light with a temperature of about 65 F (18 oC).
Keep moist and away from direct sunlight during this process while waiting for Euphorbia francoisii seeds to sprout into seedlings and once they reach about two inches tall they can be planted outdoor.
On average, the propagation process should take "six weeks" for Euphorbia francoisii seeds.
Euphorbia francoisii " 3 Tips for Winters "
Euphorbia francoisii thrives in moderate temperatures. Three tips to help the plant stay active during growth mode and survive in cold weather are:
If possible, bring the Euphorbia francoisii inside and place it near a warm place like a window or fireplace. In case of harsh weather, consider a heated propagation mat.
In winter, the plant needs less water, so water the plant carefully.
Temperature fluctuations can lead the plant to rot. Protection in a warm greenhouse in the middle of the winter will significantly increase the survival rate.
Euphorbia Francoisii Common Problems and Solutions
Toxicity
The latex/sap is poisonous and can cause skin itching, rash, and general discomfort. Handle with caution, particularly when pruning, and avoid contact with the sap.
Rotting
Plant rotting is only a minor problem with Euphorbias if the plants are watered correctly.
If the light and temperature requirements are not fulfilled, fungicides won't help much. It is implausible to lose this plant from root rot from excessive water.
Pests and Diseases
The plant is prone to aphids, mealybugs, scale insects, crown rot fungus, and root rots.
Aphids, mealy bugs, and scales can be dealt with water or insecticidal spray. However, in case of root rot, cut off the plant at the base.
Conclusion
Euphorbia francoisii is one of the most diverse succulents with unique sculptures. This eye-catching plant is easy to grow and doesn't require any typical maintenance.
The article presents complete information about the plant, from its characteristics to species, with an easy care guide for beginners.
The plant can be propagated using different methods, and common problems associated with this plant are also discussed with the solutions.
Frequently Asked Questions about Euphorbia Francoisii
Is Euphorbia francoisii a succulent?
The Euphorbia francoisii is a succulent that has become popular recently due to its unique look. 
How do Euphorbia francoisii pollinate?
As euphorbia seeds have a limited shelf-life, they are rarely offered commercially. Pollination can be achieved using a brush with fine hair and transferring the ripe pollen from one cyathium (flower) to another plant's stigma.
Is Euphorbia francoisii toxic?
The sap of the plant is toxic and can cause general discomfort.