Most gardeners love to grow pothos indoors as they result in creating an appealing and attractive look. The snow queen pothos is relatively easy to grow plants, and they are stunning enough to improve the look of your garden.
You will love to grow these snow queen pothos at your place as they are durable and hearty and requires a little attention. You can quickly grow these plants in your garden, as they are easy to maintain.
Snow queen pothos benefit in improving our health and atmosphere as they remove unwanted toxic materials. You can also support these plants by training them to grow on a pole. So, care for this excellent plant and benefit yourself with its unique features.
The specialty of these plants is that they have beautiful white patterns on their leaves with a heart-shaped structure. The leaves of these plants make them a perfect selection to grow indoors.
If you are deciding to grow this unique plant in your garden, then do not go anywhere. The following guide will provide detailed instructions that you can follow to care for these plants.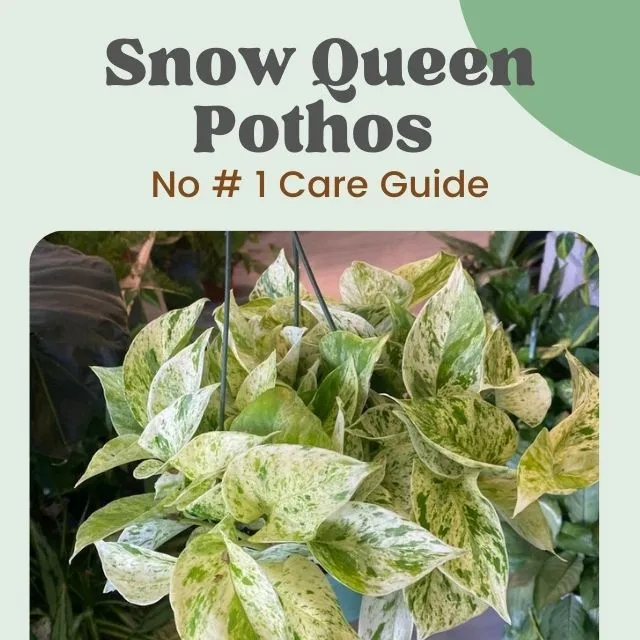 A quick guide to Snow Queen Pothos Care
Here's a quick guide that you can follow to let your snow queen pothos well:
Place your snow queen pothos in bright and indirect light. The right place to keep these plants is in the east or west-facing window. Direct light can damage the leaves of your plant.
The right time to water your plant is when the soil of your plant gets dried completely.
You need to develop the right well-draining soil to help these plants grow fast. Prepare the soil by choosing one part of perlite and two parts of the soil.
The ideal temperature range for snow queen pothos is from 60 to 80 degrees Fahrenheit.
Fertilization is not necessarily required for these plants as they can grow well without that. However, using a seaweed fertilizer once or twice within two months is not an issue.
The good news is that you can propagate the plant quickly using cuttings.
The plants are toxic and can cause health issues to your pets or kids if ingested.
Let us dive deep into the care and growth of these plants.
Stey by Step Snow Queen Pothos Care
 Here are some of the caring instructions that you need to consider to grow your attractive snow queen pothos.
1. Soil Preferences:
Snow queen pothos does not require much attention and care, so you do not have to worry about it. It is well-draining soil and can grow amazingly in high-quality soil.
Please do not place your plant in high moisture as it can even result in causing root rot. You can choose a well-draining pot to prevent your plant from these conditions.
The optimum pH of these plants ranges from 6.1 to 6.5. These plants grow well in this pH. The fantastic thing about these plants is that they are friendly enough to grow excellently in minimum care conditions.
Pro Tip:
Let me share a pro tip that will help you to examine the excellent results of plant growth. You have to mix two parts of soil with one part of perlite to let them grow well.
2. Light Preferences:
The best light to let these plants grow thriving ranges from partial shade to indirect light. Keep your plant in this condition and visualize it grow exceptionally. Make sure that you must not place your plant in the direct light as it can damage the entire plant.
So, keep them in the indirect light, and they will work amazingly likewise. You need to maintain the right amount of light because the low light can result in causing leaf variegation and can also fade the colors of the leaves.
Pro tip:
The average amount of indirect light that will contribute to the perfect growth of this plant is about four hours. This will help in letting this beautiful plant grow well.
3. Fertilizer:
The good news is that these plants do not need much fertilizing and can grow well without this. This means that if you are a working person and cannot give enough time to your plants, this is the right choice.
Just fertilize your plant in the growing season, and once in the month will be perfect.
Pro tip:
You can use seaweed fertilizer as it highly contributes to proper growth.
4. Watering preferences:
These plants are not water-loving, so you need to place them in a dry environment. Snow queen pothos grows well in almost dried soil. So, do not overwater your plant and let your plant flourish beautifully. Mismanagement in the watering conditions can also result in impacting the beautiful color of these leaves.
Check the soil of your plant before watering to prevent your plant from overwatering conditions. Also, if the leaves of your plants are drooping, then it is the right time to water them.
Pro tip:
Choose a pot with holes in the bottom, for it will help prevent your plant from overwatering.
5. Humidity:
It is the fact that all varieties of the pothos plants are from tropical and subtropical forests, which means that they can grow well in the mid humidity conditions. It would be best to keep an eye on maintaining humidity between these plants; otherwise, it can cause challenges for you.
The optimum range of humidity in which these plants grow thriving ranges from 50% to 75%. So, let your plant be pleased and provide it with the right growing conditions.
Pro tip:
Humidifiers or mist must be used every week or after ten days. It will be an optimum range of humidity. However, do not over humidify your plant as it can result in causing fungal issues.
6. Temperature:
Here is the most crucial thing that you need to consider for maintaining the fast growth of your plant. The temperature of the snow queen pothos ranges from 85 degrees to 65 degrees. Keep your plant in this temperature range.
A fantastic thing about these plants is that they can even bear higher temperatures if protected from the sun's harsh rays.
Also Check: White Spots on Tomato Leaves: (Causes, Treatment & Prevention)
Snow queen Pothos Propagation
You can quickly grow snow queen pothos by propagation by using stem cuttings. Just choose a stem having a node on it and propagate your plant in water. After observing the growth of the roots, place these plants in the pot with well-draining soil.
Snow Queen Pothos Growth:
These plants can reach a maximum height of six to ten feet if provided with the proper care and growing conditions.
Snow queen pothos is an invasive species, and you can propagate it quickly. Also, you need to change the pots from time to time because of their fast growth.
Potting and repotting requirements
Repotting is not a necessary condition for the pothos to grow as they love to stay root-bound. It would help if you chose a pot with drainage holes at the bottom, which will keep the soil well-draining.
The right time to repot these plants is when the root bounds completely. It will promote the growth of your plant and help the root to excess soil nutrients and proper aeration.
How to do Snow queen pothos Propagation by cuttings?
The first step is to take a stem from the cutting by using a sharp, sterilized knife. Make sure that the stem has one or two nodes on it.
After that, place the cuttings in the water and provide it with the right growing conditions.
Let the root grow in the water, and after that, place it in the well-draining pot containing soil.
You will observe the growth of leaves after some time.
Finally, here's your beautiful cloned baby snow queen pothos.
Also check: Monstera Siltepecana Care | Propagation | Plant Problems ( Best Guide)
What are the common snow queen pothos problems?
If snow queen pothos is not provided with the right growing conditions, they can face specific challenges that can negatively impact the appearance of these plants.
1. Common pests
The two common pests that can attack these plants are mealybugs and thrips. It would help if you kept an eye on these plants in case of any pests attack. These pests can destroy your plant and can even kill it. Spotting the issue at the right time can help you control it.
Solution:
The most appropriate solutions to help you deal with these pests include using insecticidal spray or neem oil. Spraying both these on your plant will help it to control the pest's attack.
2. Snow queen pothos brown spots:
One of the common causes of brown spots on pothos leaves is root rot. Root rot occurs if your plant is overwatered. Fungal attacks can also cause this issue resulting in the black or brown appearance on the leaves.
Solution:
You can control this issue by reducing the frequency of watering. Also, remove the parts of the plant that are highly impacted. It will help your plant to thrive well.
Bacterial wilt
Another issue that is faced by snow queen pothos is bacterial attack. This issue happens during the propagation, and if the nodes get impacted, you can't grow the plant. The bacterial wilt issue can impact the veins of the plant that turns black. Also, it can impact the root hairs of the plant.
Solution:
This issue occurs during propagation and removing the water will help.
Final thoughts:
Snow queen pothos is a beauty that you won't regret growing indoors. This is a low-maintenance plant, and you can easily manage to grow it indoors. You need to consider light, temperature, and watering preference to let it flourish well and improve its overall look. You can also grow the plant indoors for ornamental purposes. It will be a perfect choice for you.
Finally, snow queen pothos will be a perfect choice of yours and will improve your indoors look. Growing it will never disappoint you. Happy growing!
Frequently Asked Questions about Snow queen pothos
Is snow queen pothos toxic to cats?
Yes, snow queen pothos is toxic to your pet animals or kids due to the presence of oxalate crystals. So, it would be best to keep an eye on you because ingestion of this plant can impact health and even cause allergic reactions.
Why is my snow queen pothos leaves turning yellow?
The primary reason the leaves of the snow queen pothos turn out to be yellow is the lack of light. Lower light conditions can impact the appearance of your plant resulting in a yellowish appearance.
How to maintain the watering preferences of snow queen pothos?
You need to keep an eye on the watering requirements of these plants, as overwatering can result in root rot or fungal attacks. Also, they can grow in somewhat dry soil. Use your index finger before watering your plant and water it when the soil is almost dry.
Where can I buy snow queen pothos?
You can buy this beautiful plant easily from the nurseries near your town. This plant does not demand a memorable trip from you. Also, you can order it online from Amazon or eBay. The average price of these plants is $10, which means they are not expensive.
Is snow queen pothos variegated?
Sometimes snow queen pothos appears to be variegated, and the variegation appears on the edges of the foliage. In some cases, the white sections of the plant also appear to be green or silvery grey tones.