Sansevieria Cylindrica is an African spear plant, which is succulent and has gray-green striped leaves. The plant is also known as the cylindrical snake plant, and its leaves are cylindrical.
You will love to introduce this plant in your garden due to its unique and appealing look, especially when you provide the plant with optimum growing conditions. It blooms tiny white flowers. These flowers are delicate and attractive, and you will love to see them bloom.
The right time to grow these plants in your garden is spring, and it is usually slow-growing in nature. So, if you are addressing the slow growth of your plant, do not worry, as it is the nature of the plant.
The good thing about this plant is that it is low in maintenance and does not need much care.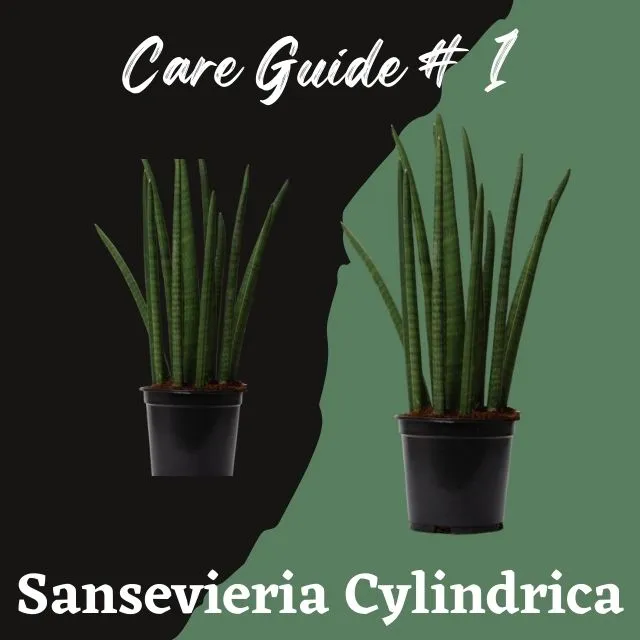 Let us look at the detailed discussion of the care and growth of this beautiful Sansevieria Cylindrica!
Sansevieria Cylindrica General Characteristics
| | |
| --- | --- |
| Botanical name: | Sansevieria Cylindrica |
| Common names: | Spear Cylindrica, African spear plant, cylindrical snake plant. |
| Native area: | Africa |
| Hardiness zone: | 10-11 (USDA) |
| Plant Type: | Succulent |
| Mature Size: | 4 to 6 feet tall and 1 to 2 feet wide. |
| Sun exposure: | Sometimes complete and usually partial |
| Soil type: | We-drained and sandy soil |
| Soil pH: | Neutral |
| Bloom time of the plant: | Sporadic |
| Flower color: | White |
| Toxicity: | Toxic to both pets and humans |
Sansevieria Cylindrica Care
The plant does not demand much from you, and you can quickly grow it at your place. Hence you can say if it is low-maintenance. Also, the plant can easily survive even if not provided with water, as it has a succulent nature.
These hardy plants do get attacked due to diseases or pests. But still, you have to keep an eye on these plants to make them happy, especially in the growing season.
These plants love to grow in occasional fertilizing and semiregular watering. But in winters, these plants love to get fertilized and need a minimum amount of water.
So, apply this routine to your plant and let it stay happy and healthier. Now let us have a look at how you can care for your African spear plant.
What are the caring Requirements of Sansevieria Cylindrica?
1. Light preferences:
These plants can tolerate both low and full sunlight without causing issues. But they love to grow in the full sunlight and bright filtered light. So, if you have Sansevieria Cylindrica at your place, you prefer to place it outdoors to receive full sunlight.
But in contrast to this, if you have grown your plant indoors, choose a north-facing window. It will be a perfect location to promote the growth of your beautiful plant.
Keep this thing in mind that you are not supposed to place the plant in full sunlight, as it can also turn down the leaves yellow. While too little light can result in stunt growth of Sansevieria Cylindrica.
2. Soil preferences:
It is perfect for growing this plant in sandy soil with a perfect drainage level. Make sure that your soil does not retain water for so long as it can result in causing root rot.
Pro tip:
It would be best to prepare a perfect potting mix, as it is the ideal choice for the succulents to show fast growth.
3. Water preferences:
Sansevieria Cylindrica does not need much attention in water, as they are succulents and can easily survive prolonged periods of drought. Also, if you provide the plant with too much water, then it can result in causing root rot.
The perfect thing that you can do for this plant is to let the soil dry in between waterings.
Also, choose a well-draining pot so that it drains all the excessive water. It is a precautionary measure to deal with fungal attack issues and root rot.
Also Check: Snow Queen Pothos vs Marble Queen Pothos: Complete Difference
Pro tip:
In general, water the plant once within a week and reduce watering in winters. In winters, watering the plant once a month will be more than enough, and your plant will stay happy in this condition.
4. Temperature and humidity:
 Sansevieria Cylindrica is native to the hot and dry climate, and they thrive happily in this environment. While if these plants are placed in cold temperatures, then it can surely result in the death of the plant.
So, choose a warm place to grow your plant and let it stay happy and away from the cool drafts.
You do not have to do much to maintain the humidity level as it is not an issue unless the soil is not saturated. 
5. Fertilizer preferences:
Sansevieria Cylindrica only needs fertilizer in the growing season; other than this, they do not need much fertilizer. It usually stays happy when you frequently fertilize the plant in the growing season.
The right time to fertilize the plant is from spring to autumn, dilute it to half of its strength, and let your plant stay happy.
6. Potting and repotting:
The right time to repot these plants is in spring, as it is the growing season and roots of the plant get crowded in this season. Sansevieria Cylindrica can also be left undisturbed for years as well.
You need to check the plant's roots, and if you see that our roots are bound, then it is an indication that your plants need repotting.
It would be best if you chose a larger pot at the time to repot your plant, and repotting is highly essential, and root-bound can also damage the roots of the plant.
So choose the right pot and provide your succulent with the room to grow well.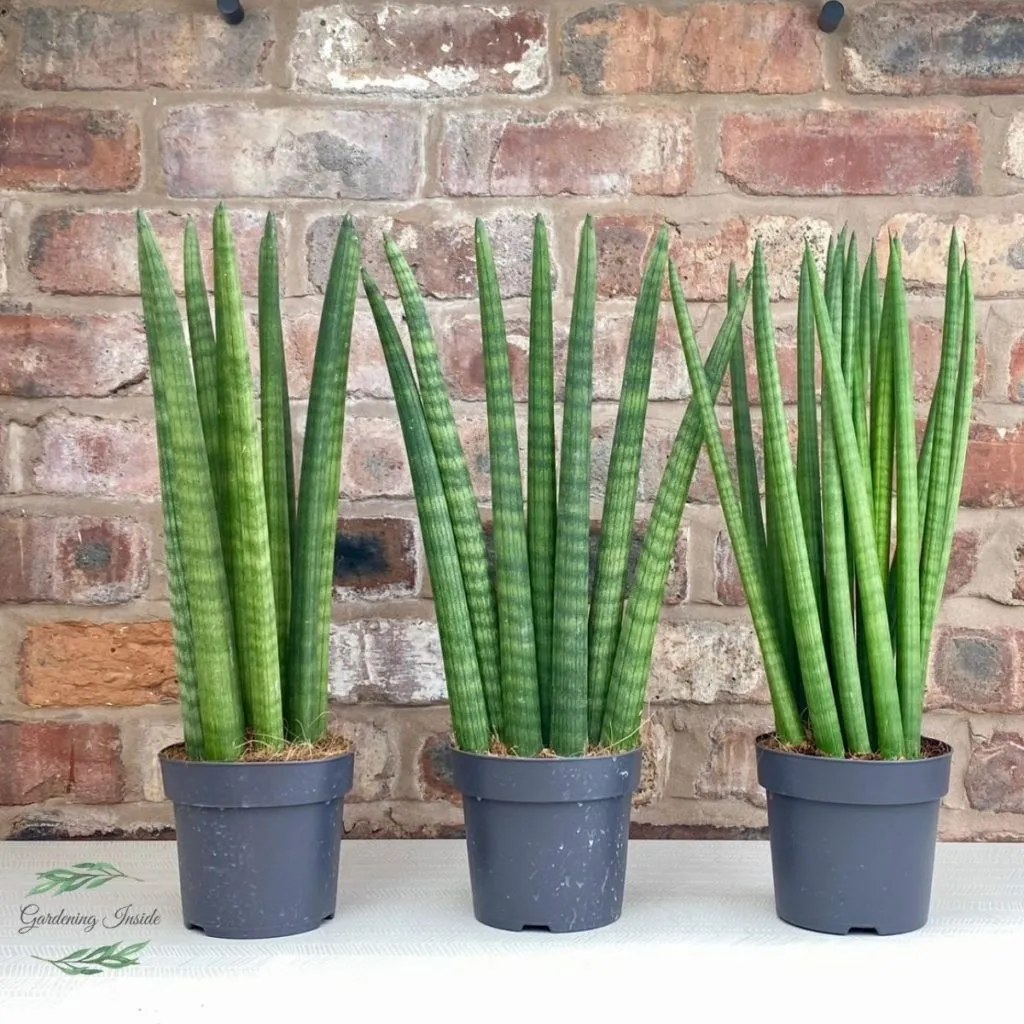 Sansevieria Cylindrica Propagation
If you are deciding to clone your Sansevieria Cylindrica, then you must know that these plants grow with rhizomes, and you can only divide it when it has various spears.
Let your spears reach 6 inches in length, as it will be a perfect option to propagate your plant.
After that, the next step is to untangle the spears and let them heal (which usually takes a couple of days).
When your plant becomes ready, place the cutting inside the soil having the same potting mix as the parent plant.
Sansevieria Cylindrica Leaf Cuttings
You can also propagate Sansevieria Cylindrica by leaf cuttings as well, but it is a traditional method.
First of all, you have to take a sharp knife to cut down the leaves.
Make sure that your leaf should be 2 to 4 inches, and after that, place that leaf in the pot.
Please choose the right potting mix and provide it with the right growing conditions.
You will observe the growth of the plant after some weeks.
Pro tip:
It would help if you considered this thing in mind that leaves must be cut down from the roots as it will help in ideally cloning Sansevieria Cylindrica.
You May Also Like: Plumosa Fern Care Guide | Propagation | Problems | Tips
What are the common problems faced by Sansevieria Cylindrica?
Although the plant is hardy, it might sometimes cause specific problems due to different fluctuations in the growing conditions. Both the soggy soil and prolonged exposure to the cold temperature can result in the death of the plant.
This section will address different problems that Sansevieria Cylindrica usually faces.
Why is Sansevieria Cylindrica Turning Yellow?
The two primary reasons for turning Sansevieria Cylindrica to yellow color are overwatering and prolonged exposure to the sunlight.
Both these conditions can impact the appearance of your plant. So, it would help if you chose an appropriate solution to deal with this issue.
Solution:
The tip that will help you eliminate this issue is to cut down the yellow leaves of Sansevieria Cylindrica and then place the plant in a warm and dry place. It will control the yellowing of leaves.
Curling Leaves:
This is another issue faced by the plant, especially when you underwater the plant. If the plant does not receive the optimum amount of water, then it can cause this issue.
So, if you are facing this issue, it indicates that your plant is not happy, and you need to provide it with the right growing environment.
Solution:
Water your plant the right way, and watering once a week will be highly beneficial. So, water it right away and provide it with a friendly growing environment.
Sansevieria Cylindrica Dry tips:
Sometimes if you observe your Sansevieria Cylindrica, you might see dry brown tips on the leaves.
If you also experience this thing, then find out the leading cause of this issue. In most cases, the dry tip is usually due to water problems, over-chlorinated water, pests attack, and the low humidity level.
Solution:
You can deal with this by analyzing the watering preferences of the plant. Also, use soft water rather than hard water. It will help in dealing with the issue.
Sansevieria Cylindrica Turning brown:
It is another issue your Sansevieria Cylindrica, and the leading cause is over-chlorinated water and improper watering.
Solution:
Water the plant the right way (once a week), and rainwater or distilled water will be a perfect choice.
Is Sansevieria Cylindrica Toxic to cats?
These plants are toxic, so you need to keep an eye on your pets and children. Ingestion of this plant can result in causing swelling to the pets and can also cause numbness. It is due to the presence of oxalate crystals.
Conclusion:
Sansevieria Cylindrica is one of the typical ornamental houseplants preferred by most growers. If the plant is provided with the right growing conditions, it also blooms beautiful white flowers.
The plant has only a few demands, and it is relatively low maintenance. While it requires less attention in winters and you do not fertilize it, watering once a month will be perfect.
Sansevieria Cylindrica needs to grow in bright and direct sunlight, keeping the plant happy. Also, these optimum conditions will let the plant reward you with its mesmerizing fragrances.
Frequently Asked Questions about Sansevieria Cylindrica
How can I care for my Sansevieria Cylindrica?
You can care for your Sansevieria Cylindrica by providing it with the right temperature, location, and water. Also, you need to fertilize the plant in spring to keep it happy.
What are the two tips for propagating your Sansevieria Cylindrica?
1. By using the rhizomes.
2. By using leaf cuttings.
What are the three common African spear plant varieties?
Sansevieria cylindrica 'Spaghetti.'
Sansevieria cylindrica' Skyline.'
Sansevieria cylindrica 'Patula.'