Here comes a stunning plant that you will love to grow in your indoors. Philodendron Pedatum is a beautiful plant having firm leaves and lush green foliage. It is a fan-shaped plant that you will love to grow indoors. Also, it has a climbing nature indicating an appealing look.
The fantastic thing about this plant is that it is easy to care for and maintain due to its adjusting to the habitat. Philodendron Pedatum can flourish indoors, showing a stunning look and exotic internal environment.
The best thing about Philodendron Pedatum is that it is purifying properties, so growing this will also benefit you. So, just grow this beautiful plant for ornamental purposes using attractive baskets.
Believe me; Philodendron Pedatum will never disappoint you. So, just buy the fantastic plant from your nearby nursery and enjoy its mesmerizing beauty.
Here's a detailed guide that you can follow to care for and grow Philodendron Pedatum at your place.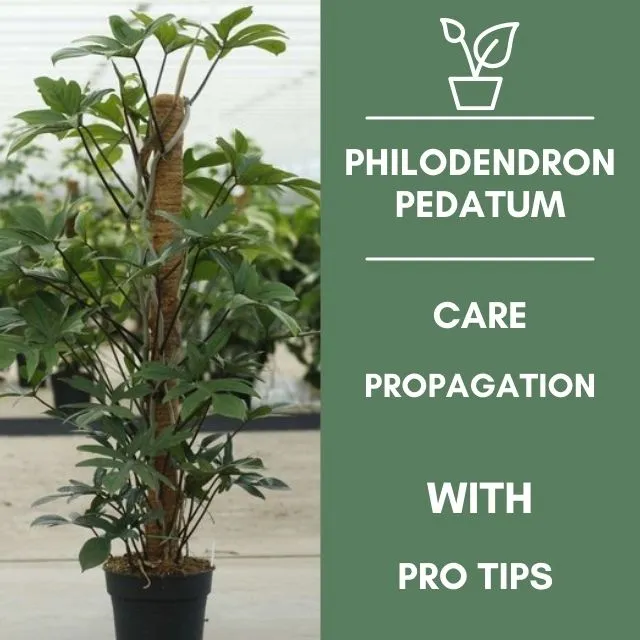 Philodendron Pedatum Classification
Family: Araceae
Subfamily: Aroideae
Tribus: Philodendreae
Genus: Philodendron
Species: Philodendron Pedatum
What are other names of Philodendron Pedatum?
Oakleaf Philodendron
Philodendron laciniatum
Philodendron quericifolium
Philodendron amazonicum
Philodendron laciniosum
Quick overview on Philodendron Pedatum Plant
If you want to have a quick look at plant care and its characteristics, have a look at the table below.
| | |
| --- | --- |
| Features | Plant's properties |
| Origin of the plant | Brazil |
| Habitat of the plant | Vine and herb |
| Category | Climber, perennials, tropical |
| Life cycle | Perineal |
| Sunlight preferences | Dappled shade |
| Water preferences | Mesic |
| pH preferences | Slightly acidic and neutral |
| Leaves | Evergreen (lush green foliage) |
| Resistance | Can tolerate humidity |
| Toxicity | Toxic to both animals and humans |
| Propagation | Seeds, air layering, and stem cuttings |
| Containers | Extra drainage |
What are the characteristic features of Philodendron Pedatum?
Philodendron Pedatum is a fantastic climber and can do well in indoors reaching to the maximum height of 3 meters.
The leaves of Philodendron Pedatum get more extensive and mature with time.
The flower structure of the plant is unique, and you will love growing it in your gardens.
Leaves make Philodendron Pedatum attractive, and they have medium to dark green color. Also, they have both brown and maroon tinge that makes them even more attractive.
Philodendron Pedatum is prone to pests attack and other plant diseases if not provided with the right growing conditions.
The presence of crystals raphides and calcium oxalate makes the plant toxic to both animals and humans.
They have an air purification feature and actively remove pollutants from your place.
How to do Philodendron Pedatum Care?
The fantastic thing about Philodendron Pedatum is that they are easy to care for and can grow well indoors and outdoors. So, you can keep your plant happy just by fulfilling its key requirements. It is highly essential to duplicate the natural habitat of the plant.
Here are the care requirements of your Philodendron Pedatum:
1. Fertilizing preferences:
These plants do not need much fertilizer, and you have to give them a few doses in the growing season. The perfect season to fertilize your Philodendron Pedatum is in spring or summer. Also, do not fertilize these plants in winters.
They love to get a high feed of nitrogen fertilizer in their growing season, and failure to fertilize your plant in the growing season can impact the healthy appearance of the plant.
2. Humidity preferences:
Philodendron Pedatum is native to Brazil, which means that they love to grow in a warm and humid environment.
The optimum humidity in which these plants stay happy is 60%. So, you need to keep the humidity level up to this.
A higher level of humidity will result in the healthy growth of your plant with shiny foliage.
3. Potting preferences:
The perfect potting mix to grow Philodendron Pedatum is well-drained soil with drainage holes at the bottom.
Make sure that your soil must not be too compact, as it can result in a stunted growth rate. The perfect mixture that you can use to prepare potting mix is peat perlite and peat vermiculite.
Pro tip:
Using 100% of the sphagnum moss will be a perfect option to promote fast growth. Besides this, using rotten leaves and cotton fibers will also be an excellent option to keep your Philodendron Pedatum happy.
4. Repotting:
The right time to repot the plant is when Philodendron Pedatum's root starts to come out of the pot.
It would be best if you chose a larger pot at the time of repotting. Summer and spring are the perfect seasons in which you can repot your plant.
You have to repot your plant in a bigger pot and provide it with the right growing conditions.
5. Temperature preferences:
The recommended temperature in which your Philodendron Pedatum will stay happy is between 65 to 78 degrees Fahrenheit. Temperature preferences of Philodendron Pedatum decrease to 60 degrees at night.  
6. Sunlight preferences:
Philodendron Pedatum loves to grow in a medium to bright light, and sometimes they also love to grow in dappled light (8 to 10 hours). Too much direct sun can impact the appearance of these leaves, making them turn yellow.
However, the leaves of older age turn out to be in yellow color, so you don't have to worry in this case, as it is natural.
It can also grow well in low light conditions but long time exposure to this dim light can make the leaves leggy.
Pro tip:
If you live in a low area where your plant is not receiving enough light, then buy artificial light. It will keep your plants happy.  A mixture of fluorescent and incandescent light will do the wonder.
7. Water preferences:
The general rule of every plant also applies here on Philodendron Pedatum, and you are supposed to water the plant when the top inch of the plant gets dried.
Philodendron Pedatum does not love to grow in moist or soggy soil. So, do not overwater your plant, as it can also cause root rot, due to which your plant becomes prone to a fungal attack.
Also Check: Best Sansevieria Cylindrica Care Guide # 1
How does overwatering impacts Philodendron Pedatum?
Keep this thing in your mind that if you overwater your plant, then it can result in causing your leaves to turn in brown or yellow color. Also, sometimes the leaves of Philodendron Pedatum become droopy.
So, just keep an eye on your plant and if you see likely symptoms, then recheck on the watering schedule.
Pro tip:
The tip that will do the wonder to grow your Philodendron Pedatum is to use filtered or rainwater to water your plant. Just follow up on the pro tip and thank me later!
Philodendron Pedatum Propagation Guide
Propagation of Philodendron Pedatum is relatively easy to propagate, and you can use any method at your convenience.
Propagation by Seeds:
Although it is a slow propagating method, you can propagate your plant using seed propagation.
The first step is to place the seeds 1/3 inches of the soil, and after that, cover the pot and keep the soil moist.
Please do not soak the seeks before sinking them into the sand.
Give your pot the right growing conditions, and your seeds will start generating in 2 to 8 weeks.
Propagation by Stem Cutting:
The first step is to cut a stem from the parent Philodendron Pedatum. '
Cut about 3 inches of the stem below the joint. 
Place the stem cutting in a container in soil or water.
After that, place the pot or jar in medium light and let it grow well.
You need to choose a pot with a drainage hole at the bottom to prevent root rot or to overwater.
What common problems does Philodendron Pedatum face?
Sometimes, if you fail to provide your plant with optimum growing conditions, it can create a challenging environment.
Philodendron Pedatum Leaves Curling:
The leading cause of the results to curl your Philodendron Pedatum's leaves is when the plant is not receiving enough water. Lack of watering can also turn your leaves in brown color, and they also start curling.
Solution:
Philodendron Pedatum Yellow Leaves:
The two leading causes due to which Philodendron Pedatum turns yellow are overwatering and exposure to direct sunlight.
Solution:
Final thoughts:
Philodendron pedatum is an exotic typical household plant that you will love to grow at your place. It is a gorgeous plant, and you will never regret growing it.
Just provide the plant with the right growing conditions and let your plant bloom. Believe me, it will be a dramatic entry to your garden.
Philodendron pedatum loves to grow in a warm and humid environment, and it will also benefit you by removing toxic chemicals from the air.
Also, Check Different Philodendron Family Plants:
Frequently asked questions about Philodendron pedatum
Is Philodendron Pedatum toxic?
The presence of crystals raphides and calcium oxalate makes the plant toxic to both animals and humans. So, you need to keep an eye on your kids and pets.
How to care for philodendron pedatum?
You just need to mimic the Brazilian environment at your place. This includes the development of the warm and humid light where you plant receives enough bright indirect light.
How to propagate Philodendron Pedatum?
The three standard methods that you can choose to propagate your pedatum include stem cuttings, seeds, and air layering. The most convenient and effective method is stem cuttings?