The Philodendron Luxurians are perfect indoor plants. These plants are known for having large and heart-shaped leaves. The leaves are dark green with a velvety and dull surface, giving this plant an alluring appearance. The pale-reddish leaf and bright, thick yellow-white leaf veins provide it with elegance. 
Philodendron Luxurians is a rare plant species belonging to the Araceae family of the plant world. This magnificent foliage requires proper care and attention, and thus, it is a high-maintenance plant.
In this article, we will discuss this rare Philodendron species. We will likewise find out about its essential requirements and how to develop it inside.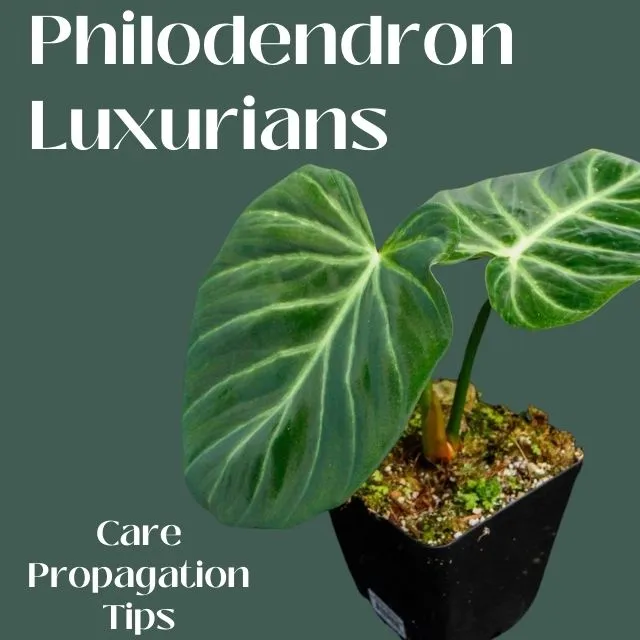 Characteristics of Philodendron Luxurians
The notable characteristics of the plant are as follow.
| | |
| --- | --- |
| Scientific Name | Philodendron luxurians |
| Common Names | Philodendron "Chocó" or P. gloriosum "Terciopelo Redondo" |
| Tribe | Philodendreae |
| Genus | Philodendron |
| Family | Araceae |
| Habitat | Chocó, Colombia |
How to Care for Philodendron Luxurians?
Philodendron Luxurians grown indoors, it is essential to figure out how to focus on them. 
Lighting Requirements
This Philodendron species needs medium sunlight to keep up its reasonable growth rate. Direct Scorching rays can be harmful, so sunlight must be diffused. The optimal daylight hours required for Philodendron Luxurians is about 14 hours.
Pro Tips
The ideal location for the placement of this plant is a spot that is 6 feet away from a window. Southern windows are not recommended because they receive too much direct sunlight all day.
Suppose you want your bush to be very lush and spectacular. In that case, it will have to be supplemented with fluorescent lamplight. Philodendron Luxurians develop within the normal range under fluorescent lamps.
Temperature Requirements
Philodendron Luxurians love warmth. During summer, it requires a reasonable temperature of between 20°C and 25°C (68F-77 F), and in winter, it requires 18°C to 20°C (64F – 68F). 
Pro Tips
The room should not be colder than 16°C since the plant may die due to low temperatures. 
To protect Philodendron Luxurians from drafts and sudden temperature changes, it is necessary to ventilate the room very carefully, avoiding the cold air masses ingress on a plant.
Humidity Requirements
The humidity in the room must be more than 60 percent. During the summer season, It will not be possible to increase the air humidity in the apartment to that level by simple spraying.
Additional measures will then be required to achieve the required humidity level. The plant can be placed near a home fountain or an open container filled with water.
Along these lines, an extensive and sufficiently bright bathroom will be the best spot for Philodendron Luxurians. 
Watering Requirements
Philodendron Luxurians is local to the rainforests of Ecuador and Columbia, and that implies it gets a ton of water because of the continuous downpours there.
When developed inside, you can't water it plentifully like in its local environment. This plant doesn't have as great a wind stream and depleting soil inside as in the rainforests to ingest all the water. So over-watering can lead to root decay without much of a stretch.
You ought to water this plant after a day or two in summer. Then again, the dirt gets some margin to dry during winters. Hence, you ought to water this plant just once weekly.
Soil Requirements
The ideal soil blend should be somewhat acidic or impartial. To set up the dirt blend, you're expected to join leaf, peat soil, humus, and coarse sand. Additionally, adding a measure of cleaved bark to this mixture is suggested. 
You can either use a regular houseplant potting mix for Philodendron Luxurians or make a potting mix yourself. During planting, do not forget about good drainage at the bottom of the pot, which will help protect the plant from liquid stagnation.
Fertilizer Requirements
Fertilizer is fundamental for this plant's legitimate development. Without the essential minerals in its soil, your plant will become dull and inert with hindered development.
Therefore, you should add fertilizer to it once every month. During intensive growth, fertilizer is carried out twice a month. The best fertilizer for Philodendron Luxurians is a balanced NPK fertilizer. 
Pro Tips
Winter fertilization does more harm than good to this plant because the plant is dormant and does not require any mineral supply.
Use the fertilizer diluted to half of its strength.
Repotting Requirements
If the soil has lost its fertile layer or the roots, it has begun to sprout outwards. Caring for the indoor Philodendron Luxurians will not bring the desired results.
This is the indication for repotting. It is best to carry out the procedure in the spring during the growing season. A repotted Philodendron Luxurians in cold weather will not take root well.
Transplanting will require a slightly larger pot than the previous one. The plant is carefully removed and the old soil and placed in a new pot.
The leftover space is loaded up with the new earthen blend. Little shoots can be found at the shrub's base during repotting. This is a youthful development that flags the chance of partitioning the shrub for propagation.
To do this, separate the shoots with the root from the fundamental shrub and put them in a different pot. During their development, giving warm conditions will be necessary. The Philodendron Luxurians breeding technique is the easiest at home.
Pruning Requirements
For the Philodendron Luxurians to ultimately develop and look sound, it is pruned periodically (every few years). But during the growing season, it is not recommended to do it. Exceptions are cases when a Philodendron Luxurians is sick and needs urgent rehabilitation. 
Pro-Tip
Also Read: String of Turtles Care & Propagation – All in one Guide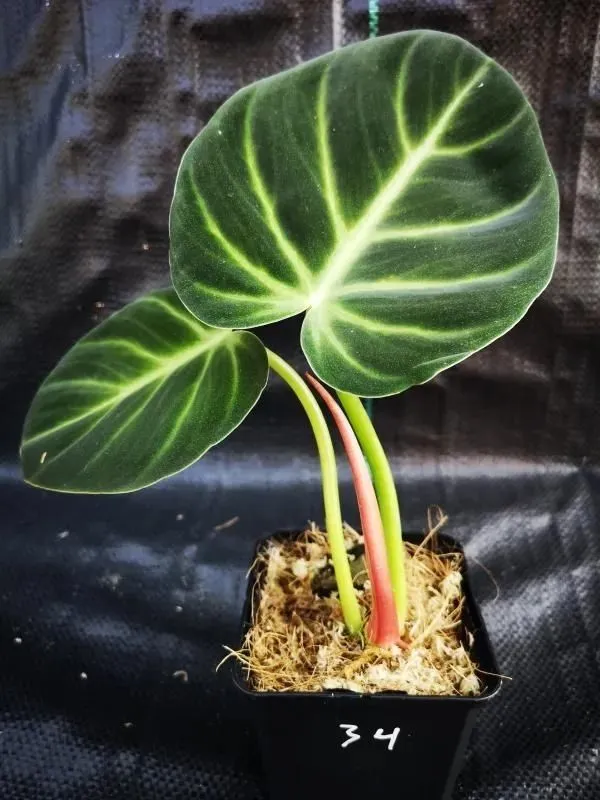 How to Propagation Philodendron Luxurians Plant
This Philo makes an excellent houseplant. So, when it gets bigger, you can propagate it to increase your plant collection. Philodendron Luxurians can be propagated by cuttings and by offspring.
Propagation by Cutting
To propagate Philodendron by cutting, follow these steps:
Utilize disinfected scissors or shears to cut solid stem cuttings from this plant.
The stem cutting ought to be 3-6 inches long. You ought to cut it just underneath the node and above another leaf. Also, it ought to have 2-3 leaves on it.
Place this stem cutting in fertilized soil or water for specific days.
The roots will require three months to shape. Relocate them into a pot whenever new roots rise out of the stem cutting.
Propagation by Offspring
Step by step guide to propagating Philodendron Luxurians by offspring is as follows.
Take a bowl, fill it with a light substrate and place it close to the greenery pot.
Select 1 leafless shoot (mustache), take it aside, and afterward dig it into the pre-arranged holder to a profundity of 5 to 8 mm, while it's top ought not to be covered.
Until the offspring develops roots, ensure that the dirt combination in the holder is continually somewhat moist.
Inevitably, young shoots are shaped by the offspring.
Partition from the parent Philodendron Luxurians is completed solely after the bushes get more grounded, after which they are planted in a different pot.
Drought Tolerance and Dormancy
It is a drought-tolerant plant, so you do not have to worry about it drying up. Suppose your plant goes dormant due to too little watering. In that case, you can bounce it back to life by watering it thoroughly and regulating its watering schedule.
There is no specific dormancy period for this plant. However, it does slow down its growth rate in too much cold. You can reverse this period by moving its pot to a well-lit, warmer spot.
What are Philodendron Luxurians Common Problems and their Solution?
The common problems faced during the care and growth of the plant, along with the possible solutions, are discussed below.
Diseases
Root decay and cold injury are typical issues of Philodendron Luxurians. Root decay comes about because of overwatering, which additionally prompts other pest issues.
To keep your plant healthy and away from disease, you ought to forestall overwatering.
Yellow Leaves
One more typical issue of this plant is the yellowing of its leaves. This happens when you use chlorine-containing water to water your plant.
Chlorine draws in nematode bugs to the roots and soil, which then, at that point, harms the root foundation of this plant. You ought to utilize rainwater or filtered water to water this plant along these lines. Other factors to consider to avoid the yellowing of leaves are:
Scale back watering
Inspect the root ball of the plant
Ensure removal of excessive water
Ensure the potting soil is well-draining
Brown and Drooping Leaves
Leaf edges or the entire leaf of Philodendron Luxurians may turn brown with a curly appearance. This problem is under watering, too much sunlight, cold temperature, and low humidity. To overcome this problem, you should:
Make sure to keep the soil evenly moist.
Locate the plant in bright indirect sunlight.
Trim sunburnt brown leaves
Make sure temperature and humidity conditions are appropriate.
Pests 
Aphids and scale bugs are the two common pests that attack Philodendron Luxuriant. Assuming your plant has any of these two pests, you ought to:
Utilize a pesticide or insecticidal cleanser to keep the pests off.
The possibilities of pest invasion are high in a humid climate or when the foliage stays wet excessively. Hence, you should constantly wipe the leaves after watering or showering your plant.
Toxicity
The plant contains sharp needle-like insoluble calcium oxalates. So, all plant parts are toxic to humans, cats, dogs, and other pets. Ingestion will cause severe burning, swelling and irritation, and redness of the tongue, lip, and mouth.
Other signs are excessive drooling, swallowing difficulties, lack of appetite, etc. To avoid toxic reactions:
Keep your pets away from this plant.
Conclusion
Philodendron Luxurians is a tropical, evergreen plant that is likewise developed inside as a houseplant. It has dim green, heart-formed leaves that can grow up to 20 inches.
Because of the huge size of its leaves, you can develop this Philo as a deck or hall plant. Likewise, you can put it in your family room corner as scenery for your other little plants.
It is a high-upkeep species, yet it turns out not difficult to focus on once you find out about its fundamental necessities. Since you have a simple consideration guide for this plant, you can get one for yourself and develop it in your home.
Also Check Other Philodendron Plants:
Frequently Asked Questions about Philodendron Luxurians
Why does Philodendron Luxurians Have Dry Specks on Leaves?
Dry spots on the foliage or leaf surface area because of an excess of direct sun. It implies your plant leaves are getting burned by the sun. You ought to move it to an obscure spot in such a condition. You can likewise put it in a location that gets backhanded daylight.
Is Philodendron Luxurians a Rare Plant?
Indeed, an intriguing plant fills in the Colombian and Ecuadorian timberlands. Assuming you have one of these Philos in your home, you can develop your assortment by proliferating its stem cuttings.
When Should I Repot Philodendron Luxurians?
This Philodendron develops at a quick rate. It pairs its size in 1-2 years. This way, it ought to be re-pruned once at regular intervals. It is ideal to move it to another pot that is twice greater as the past one. You should likewise prepare the plant when repotting it and change its gardening soil.