You can never come across the exotic beauty of this amazing Monstera Siltepecana. Monstera Siltepecana has unique, attractive leaves, mainly blue-green foliage, and silver markings on it. Along with its growth, these silver markings started fading, and the leaves started to make holes, known as fenestrations.
Monstera Siltepecana is one of the most exciting species of the Monstera plant. The good news is that this plant is easy to grow and care for. You need to provide the plant with the right growing conditions.
Monstera Siltepecana needs a bit of care in light, watering, soil, and humidity conditions. Just provide the plant with the right growing conditions and get mesmerized by its undeniable beauty. Monstera Siltepecana can grow well in both indoors and the terrariums.
If you decide to grow this fantastic monstera in your garden bed, the guide will help you out with its care and propagation.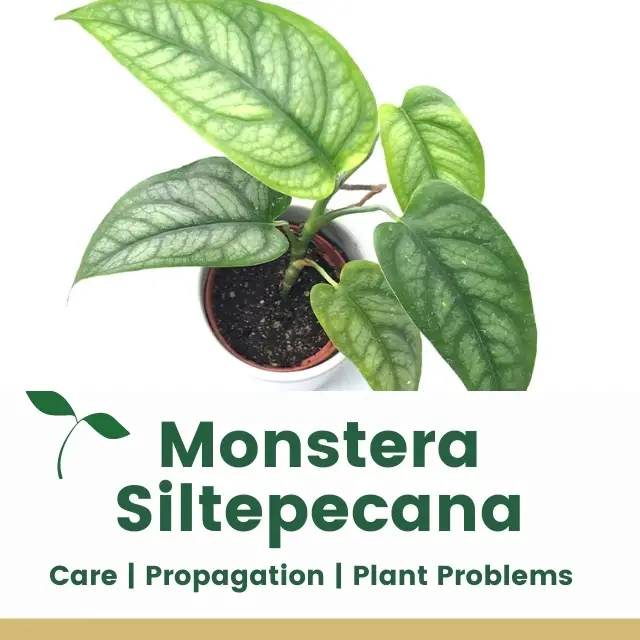 Specialties of Monstera Siltepecana
The plant is native to the South and the Central American regions, and the specialty of the plant is that it is a strong Viner. It adopts the view that the plant loves to climb.
Also, it loves to grow by climbing on any support. This is why Monstera Siltepecana is a happy-growing terrestrial plant and has the feature of epiphyte as well.
If you want to let this plant grow fast, provide it with rigid support like a large branch or a moss pole. So, it would be best to grow this attractive plant near support.
Monstera Siltepecana Classification
Let us have a look at the classification of this beautifully growing plant:
| | |
| --- | --- |
| Order: | Alismatales   |
| Clade: | Tracheophytes, Angiosperms, Monocots |
| Family: | Araceae |
| Genus: | Monstera |
| Species: | M. Siltepecana |
Monstera Siltepecana Care
The attractively growing plant presents faster growth if provided with the right conditions. This leaved trailing plant will blow up your mind due to its undeniable beauty. The following section will dedicate to the optimum care of the plant:
1. Fertilizer preferences:
A house plant fertilizer will contribute to the growth of Monstera Siltepecana. Dilute the fertilizer to half of its strength and let your plant grow fast. Another alternative method that you can use to let your plant grow fast is a slow-release fertilizer.
Pro Tip:
Choose a fertilizer that has the correct ratio of macronutrients, including nitrogen, phosphorous, and potassium. Also, fertilize your plant in the growing season in spring and summer and reduce the fertilizing percentage in the winter or autumn season.
2. Humidity preferences:
Monstera Siltepecana loves to grow in high humidity levels, so you need to concentrate on the humidity requirements of your plant. If you grow your plant indoors, choose the kitchen or bathroom, as these areas usually have a higher humidity rate.
Ways to increase Humidity Level:
You can also use a humidifier and mist for meeting the optimum range of humidity. These will help to let Monstera Siltepecana grow fast, as explained below:
Placing the plants together densely will help in increasing the humidity.
Use a pebble tray filled with water and place it near your plant. It will also increase the humidity level.
Use a humidifier and spraying on the leaves will also help.
Using these methods will help in the better and the more significant growth of Monstera Siltepecana.
3. Soil preferences:
Monstera Siltepecana needs a well-draining soil that helps in the fast growth. It would help if you used the right potting mix for fast growth. The best potting mix you can use is a general aroid mix, including the correct ratio of perlite and pumice. You can also use the bark pieces to make the potting mix.
The best thing is that you can make a potting mix at your home, which will also help retain the required humidity level.
Using the sphagnum moss will serve as an ideal potting mix that you can choose for your Monstera Siltepecana. Also, it would be best if you chose chunky bits or air pockets because they need oxygen for proper growth.
Pro Tip:
Do not let your plant grow in dense soil, as it can result in causing problems for your Monstera Siltepecana.
4. Light Preferences:
Place your Monstera Siltepecana in bright indirect light as it is the best one for your plant's growth. The good news is that placing your plant in few hours of direct sunlight is not a problem, especially in the mornings. But make sure your plant is placed in the east-facing window.
Monstera Siltepecana also performs well in both the partial and complete shade. But if you want to let your plant grow fast, then choose bright indirect light. It will be the best option.
Prevent your plant from direct sunlight, as it can cause lead burn, due to which your plant will not be able to grow well.
5. Temperature Preferences:
The optimum range of temperature that contributes to the plant's fast growth is from 50 to 95 degrees Fahrenheit. You can grow this plant in the USDA hardiness zones between 9b to 11. Do not place your plant in a temperature go beyond this range.
6. Watering Preferences:
Monstera Siltepecana is native to tropical forests and needs the right amount of water to thrive well. Water your plant based on its watering schedules, and do not let the soil become soggy. Soggy soil can result causing root rot that can be deadly for your plant.
The right time to water your plant is from slightly moist to dry. Also, do not let the topsoil of your plant dry completely.
Make sure that your plant is slightly moist before watering it again. Generally, Monstera Siltepecana needs water once every week.
Use your index finger to check if the plant needs water, and decrease the watering schedule if you live in a cold place.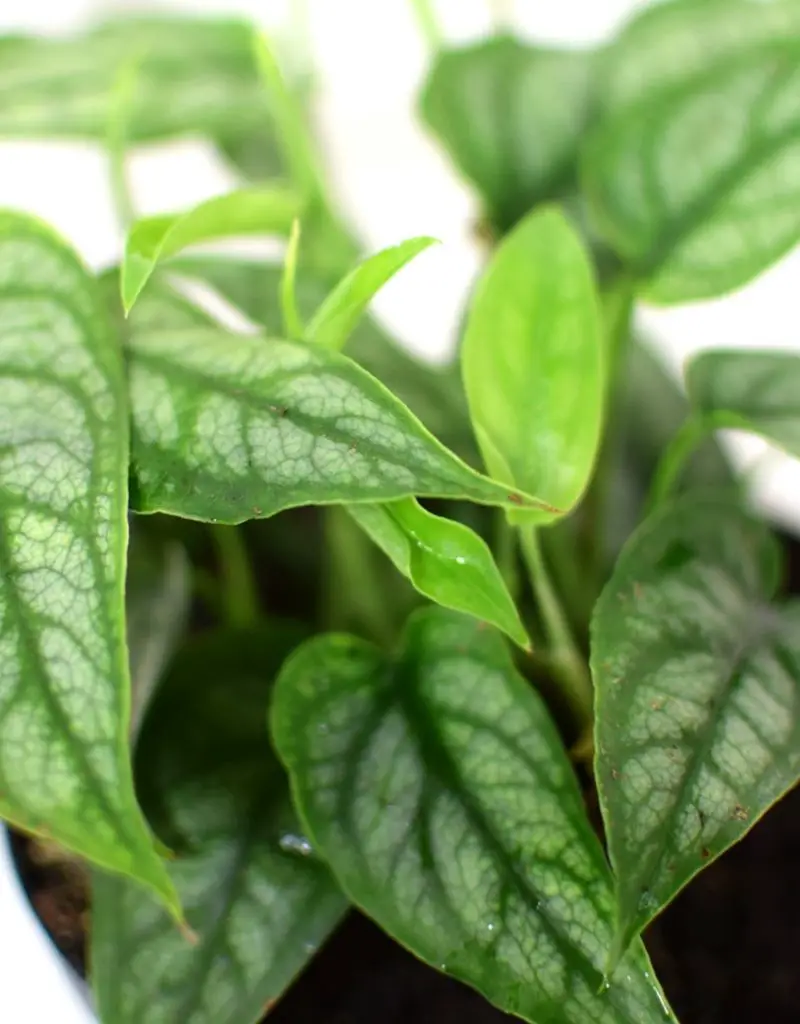 Monstera Siltepecana Propagation
Monstera Siltepecana is easy to propagate and does not require much effort. The easiest method to let your plant propagate is by using stem cuttings. Make sure that your plant has at least one node on it.
The plant can propagate without a leaf but not without a node, but it is recommended that your plant have at least three leaves and a node. The best ways that you can choose to propagate your Monstera Siltepecana are by water, soil, stem cuttings, and perlite.
Also Check: Complete Guide Rhaphidophora Tetrasperma: How to Care & Grow
Monstera Siltepecana Propagation Techniques:
Choose a stem cutting with a node and three leaves on it to help properly propagate Monstera Siltepecana. The following techniques will help:
1. Water Propagation by Monstera Siltepecana Cuttings:
You can process your plant pretty well by using the water propagation method. The following is a step-by-step procedure that will help in the propagation of your plant:
It would help if you chose a sterilized knife to obtain the cuttings of your Monstera Siltepecana. After that, rub the alcohol on the part that has been cut to prevent your plant from contamination.
Make sure your cutting has a node on it.
After that, prepare a vessel at room temperature, and using rain or distilled water will be perfect.
Place the cuttings straight in the water and do not let the leaves submerged in the water. Change the water every couple of days and place it in the right conditions.
When the roots grow, place the plant in the soil. This is how you can propagate your plant quickly.
2. Soil Propagation:
You can clone your plant by using this method, but it is a hard way to propagate. The plant is hard to propagate because it can result in rooting of the plant and root rot. You need to follow the above tips to propagate your plant.
Tips for Soil Propagation:
You can choose a cloning gel or rooting hormone to fasten the growth of the roots.
Use well-draining and moist soil.
Water the plant regularly and provide it with the right conditions. Do not overwater it as it can result in root rot.
Monstera Siltepecana Variegated
You can also grow a variegated monstera at your place by purchasing a cutting from the mature plant. Seeds usually don't work for Monstera Siltepecana variegation as sometimes these seeds do not sprout.
It is usually rare to buy and can cause complications due to the mutation and the lack of chlorophyll pigment.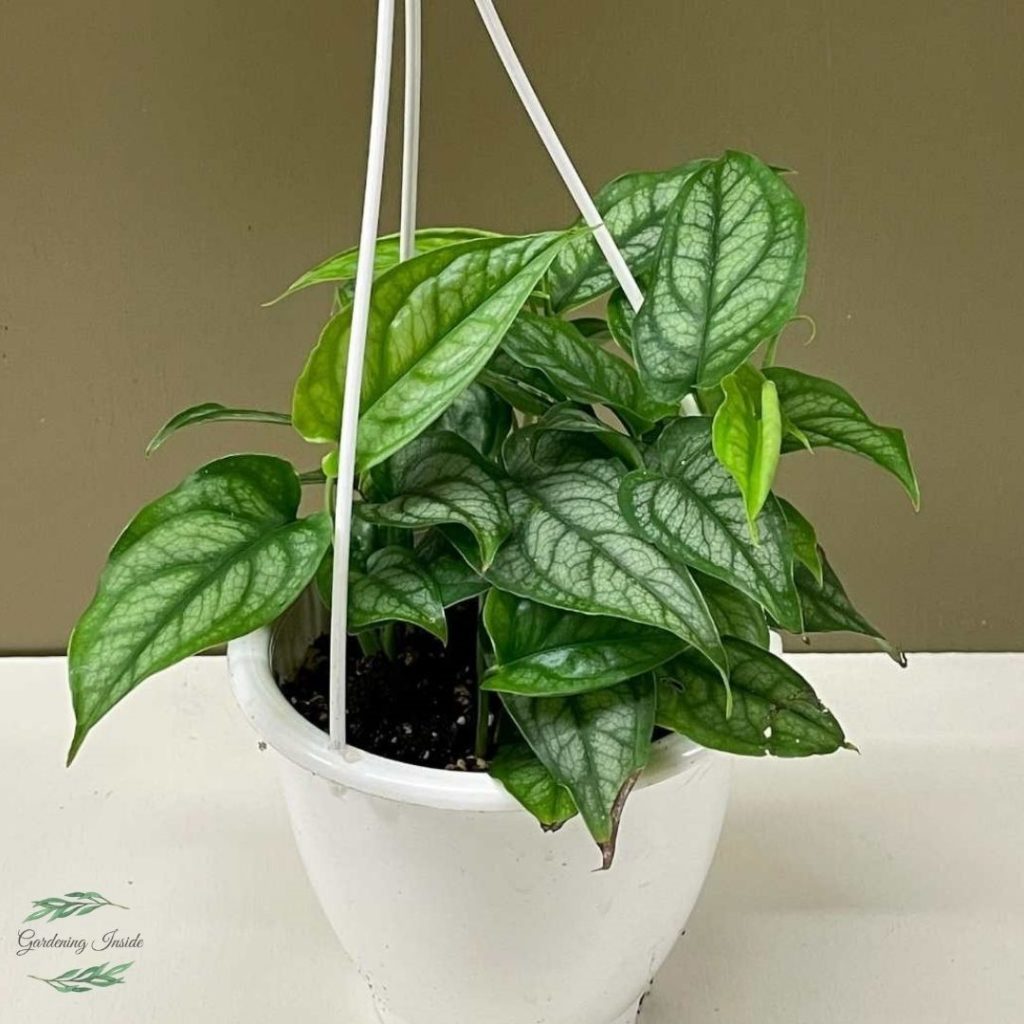 Monstera Siltepecana Growth Tips
Let us look at the growth tips that you can use to let your plant grow healthy and fast. The following are some tips that you can follow:
Place your plant in medium to bright light and do not let it get exposed to direct light.
Do not let the soil dry completely, and water the plant when it is moist.
They are fast growers, so you need to provide them with the right growing conditions.
Monstera Siltepecana needs 2 to 3 years to reach the maturity level.
Support your plant to grow well.
Monstera Siltepecana Problems
The plant is prone to pests attacks. Hence, it would help if you kept an eye on your plant's growing conditions.
Some of the common pests attack your plant might suffer include aphids, spider mites, scales, or mealy bugs. Here are the tips that might help you out:
Check your plant thoroughly once a week.
Examine the look of your leaves and stems, and if you see any spots, it is a trigger warning. Your plant will be suffering from the pests attack.
Let your plant grow healthily and use pesticides to prevent the emergence of pests attacks.
The solution to Pests Attack:
The following remedies will contribute to controlling the prevalence of the pests attack:
Wash both the upper and lower sides of the leaves and hose your plants deep in the water.
Rub water-diluted castile soap on the upper and lower parts of the leaves.
Use alcohol to wash the plants with a cotton swab. It will control the further growth of pests.
Neem oil will also help to get rid of these bugs.
Monstera Siltepecana Yellow Leaves
One of the major causes that can result in the yellowing of leaves is overwatering. Overwatering does not let the roots get enough oxygen, which can result in decay or root rot. But if the leaves are older, then they get yellow naturally.
Solution:
You need to check on the soil, and if it stays soggy for a longer time, you need to change the potting mix. Also, do not overwater your plant to prevent it from root rot. These remedies will help you regain the health of your plant.
Monstera Siltepecana Black leaves
The primary cause of the blackening and browning of your leaves is the lack of enough sunlight and mismanagement in watering. Both these conditions can result in the death of your plant as well.
Solution:
Do not place your plant in the direct light for a long time, and ensure your plant is getting bright indirect light. Properly position the plant and provide the required water level and only water if the soil is moist.
Final thoughts:
Monstera Siltepecana is a beautifully appealing and exotic plant and is a perfect choice to grow in your gardens. Potting this plant will not disappoint you. Ensure your plant grows in the right growing conditions, including humidity, soil, water, and light. The above guide has provided you with a detailed overview that will help you to let your plant grow well.
Monstera Siltepecana is an undeniable plant due to its exotic beauty needs balanced light and humidity requirements to grow fast. Believe me, this semi-epiphytic species is the best one.
Frequently Asked Questions about Monstera Siltepecana
Is Monstera Siltepecana rare?
Yes, Monstera Siltepecana is a rare species of the Monstera plant, primarily due to the silvery green leaves. The dark green leaves and the edges and veins create a unique look like that of Dubai.
Is Monstera Siltepecana fast-growing?
Yes, the plant can grow fast as it belongs to Aroid or Araceae plant family. Just provide the plant with the right growing conditions and see the magic!
What is the frequency of water Monstera Siltepecana?
The right time to water your Monstera Siltepecana is when the plant's soil is almost dry or slightly moist. Generally, water your plant once a week to prevent it from root rot.