Lemon lime philodendron has bold and attractive foliage with a bright neon yellow color. This classic part will be a beautiful addition to your garden bed. You will find this plant relatively easy to grow than the other plants.
Its prolific growth feature makes the plant easy to cultivate, and lemon-lime philodendron is tolerant to low light.
You can also grow this plant into hanging baskets as it is a cascading plant and has a climbing feature. Other than this, the plant's foliage is of attractive size if given space to climb. You will love to grow this plant in your garden.
The length of the plant is about 10cm, while its vines are 15cm long. You need to provide the plant with optimum growing conditions to help it grow fast. Believe me, adding this plant into your garden will make your place attractive.
So, if you are also deciding to grow this plant into your garden bed, then do not go anywhere; this guide will help you in proper care and growth.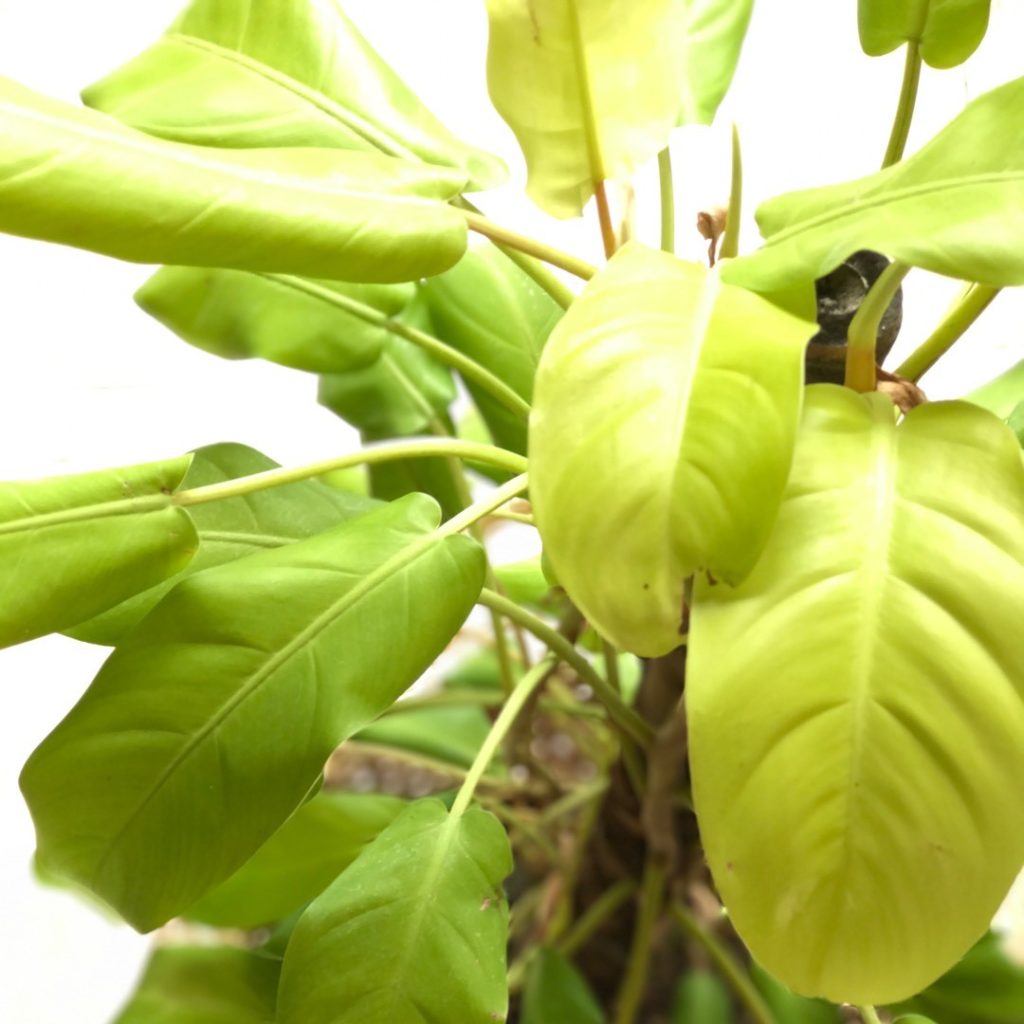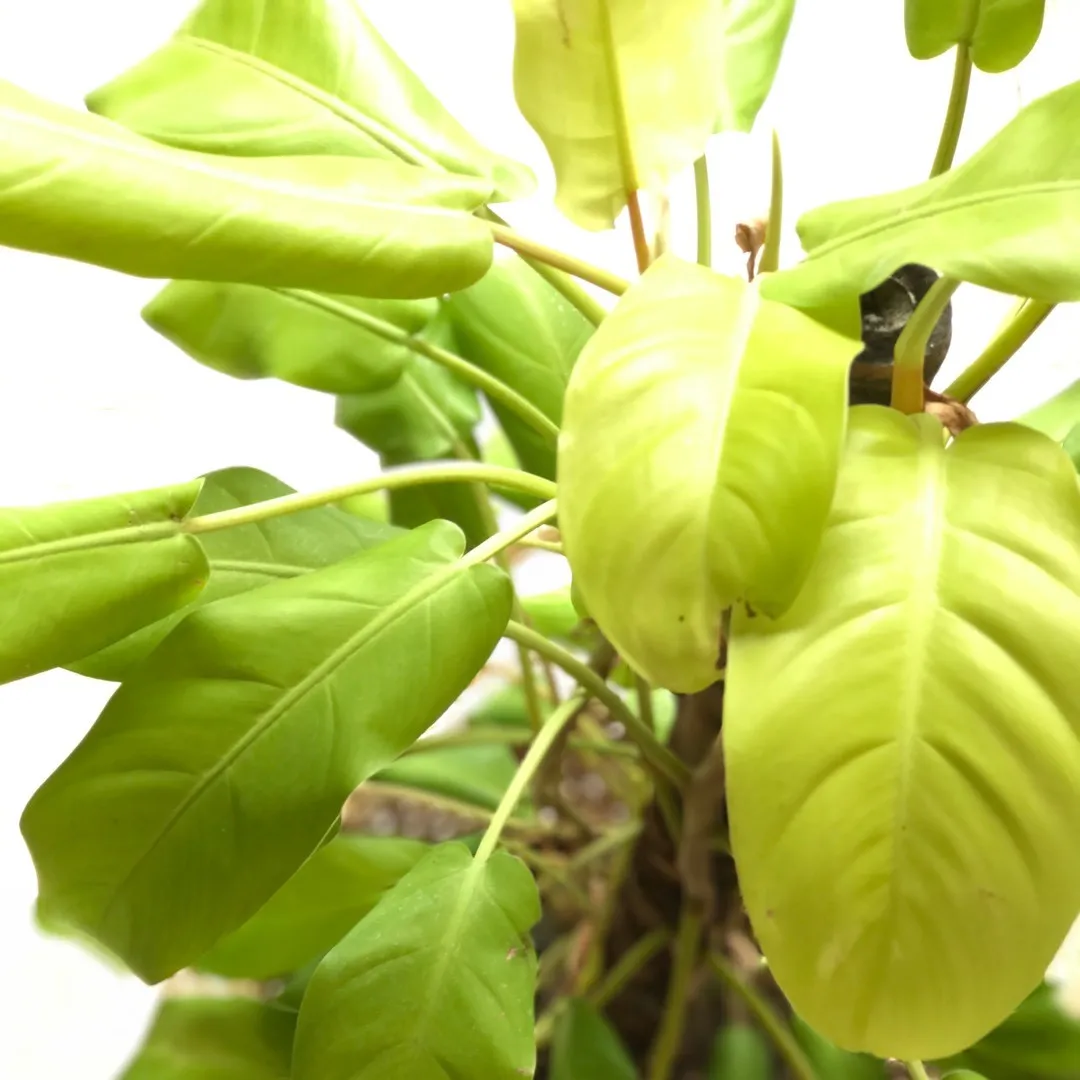 Essential information of Lemon Lime Philodendron
| | |
| --- | --- |
| Botanical name | Philodendron hederaceum Lemon |
| Common name | Philodendron |
| Blooming color | Insignificant |
| Foliage color | Yellow |
| Light requirements | Bright indirect or low light |
| Height | 12-24" |
| Water needs | Average |
| Plant type | House plant |
| Zone | 10 |
Characteristic features of Lemon Light Philodendron
1. Evergreen:
The characteristic feature of the plant is that it appears to be evergreen and remains fresh and beautiful for a longer time. Seasonal change does not impact the evergreen part of the plant.
2. Foliage and Stem:
The size of the laves is  7 to 10 inches with a width of 2 to 3cm, but in open spaces, they can grow even fast. Newer plants of lemon lime philodendron give the parent plant a relatively healthy outlook, offering more leaves.
If we talk about the structure of the leaves, then they are thin and heart-shaped. Other than this, the foliage of the leaves is solid bright with a pinkish-yellow experience. But with the progress of time, these leaves turn out to be neon and lime green.
Moreover, if you provide the plant with a rigid support, it grows even faster while sustaining the vines for a longer time.
3. Temperature Preference:
The plant cannot survive at extreme temperatures, especially if the temperature is too harsh in winters.
You need to take care of the temperature requirements of this plant to maintain its length in a particular size. Continuous exposure to inappropriate climate conditions slows down the growth as well.
4. Flowers:
In most cases, these lemon lime philodendrons usually do not bloom, but sometimes they bloom beautiful white pearl flowers.
These flowers are not long-lasting, neither do they change their appearance with time.
5. Growth:
The growth rate of lemon lime philodendron is relatively good, and optimum growing conditions help the plant grow faster.
Mainly, the growth of these plants depends on the soil type, water, temperature, and other factors, but it varies from the plant type. You need to make sure that your plant is growing in a healthy environment.
6. Height:
The stem of the plant's leave is quite long, but it is a plant of average medium size. The average height of the plant is between 10 to 12 inches and can also grow even longer. You can also trim the plant to maintain its appropriate shape and size.
7. Disease Susceptibility:
You do not have to worry about the susceptibility to diseases, as they are pest-resistant plants. Also, they do not get infected by the diseases ever.
This is the fantastic thing about this attractive lemon-lime philodendron.
8. Humidity Preference:
You do not have to worry about the humidity level of these species of plants, as they are very lenient to it.
Other than this, the plant can survive amazingly in dry conditions, but the addition of water in its growing environment is suitable for the plant's growth.
If you are deciding to grow the plant indoors, then room humidity will also work.
9. Toxicity:
This plant also has toxicity in it, due to which you need to make your children and pets stay away from it.
The plant has calcium oxalates in it. Hence, if any living being swallows this plant, it can cause allergic reactions, vomiting, or lip swelling. So, be aware of this plant!
10. Maintenance level of the Plant:
The plant does not require much maintenance and effort. Hence, if you do not give your plants much time, it is your perfect choice. Lemon line philodendrons thrive happily in moderate temperature and humidity levels.
Philodendrons Lemon Lime Care
Every plant needs proper care to help it thrive well. Lemon-lime philodendron also requires moderate temperature with bright light.
At the same time, the optimum temperature range of this plant is between 65 to 80 degrees Fahrenheit. Here are some of the instructions for philodendron lemon-lime care.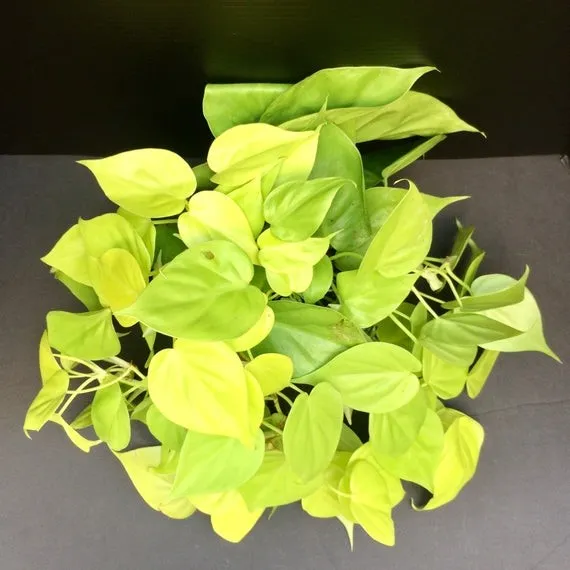 Also Check: Bloody Mary Philodendron: Complete Care & Growth Tips
Soil Considerations:
Lemon-lime philodendron grows properly in moist and well-drained soil. In comparison, you must try to increase the plant in standard potting mixtures, substrate, or the cactus mix. The textures in which the plant shows stunted growth include dry, wet, and sandy soil.
Pro Tip:
Water Requirements:
The plant grows well in low water conditions, and in the summer or spring season, you need to water the plant when the soil is semi-dry. But in winters, you must ensure that topsoil is 50% dry for tit compromises in the optimum growth of the plant.
Keep this thing in mind that an extreme shortage of water can cause yellowing or browning of leaves. Do keep a balance in water preferences.
Philodendron Light Requirements:
The average light exposure of the plant within a day ranges between 75-80%. You must make sure that the plant is placed in bright light rather than direct light. In comparison, you can also place your plant in a shady area.
If you are growing this lemon-lime plant indoors, keep the plant in the windowpane or on any shelf near a door or window. It will be the optimum light area to let these plants grow fast.
Precautionary Measure:
Fertilizer Considerations:
You can use an essential household fertilizer to promote the growth of this plant—the diluted fertilizer with suits your plant's growth with bright lime color in the leaves. But in case if you feed this plant improperly, then I can also cause a drastic slow down in its development.            
The plant requires more caring conditions in the winters as the growth rate usually slows down. You need to fulfill the fertilizer requirement within this time to let it grow optimally. Also, do not overfeed this plant, as it can result in the burning down of the leaves
You May also Like: 15 Best Plants for Aquaponics | Most Profitable Plant
Growth of Lemon Lime Philodendron
Re-pooting:
You must keep an eye on the plant's growth, and when it reaches the maximum root growth, it gets ready to get re-potted. Re-pooting the plant will help grow the new leaves, and the usual time is at the end of winter or spring.
Pruning:
Pruning the plant regularly also gives rise to the growth of new foliage. If the lemon-lime plant's vines are overgrowing, you must decrease its volume by cutting it.
It will result in fast development as well as the plant's spread. You can also cut down the dried or the discolored leaves to allow the new foliage to grow.
Some tips for the Propagation of the Lemon Lime Plant:
Lemon lime philodendrons propagation is relatively easy, and you need to consider the following points in mind to promote its growth. It will also suit philodendron lemon-lime care.
Here are the instructions that you must consider to grow this plant appropriately, specifically in the spring and summer seasons:  
You must cut down the upper part of the stem with sharp scissors to help it grow properly.
Placing the plant's stem in moist soil will also promote its growth. '
Ensure that you plant your lemon lime philodendron in a warm environment but not in direct sunlight.
Using the root stem method will also help in its growth and development.
Conclusion:
Lemon lime philodendron is an attractive plant that will add life to your garden bed. The plant is easy to care for, and you need to provide the plant with optimum growing conditions.
Also, make sure that your plant stays away from direct sunlight and overfeeding. Following the above guide will help you become a better garden for this mesmerizing lemon-lime philodendron.
Frequently Asked Questions about Lemon lime philodendron
How big does a lemon-lime philodendron get?
The leaves of the plant will stay the same, and it is an evergreen plant. The average length of the leaves is between 7 to 8 inches, while the stem is 1 inch wide, reaching 12 inches. This indoor plant can grow 12-24 inches wide and 10-12 inches tall.
Does lemon lime climb philodendron?
Yes, lemon lime philodendron's yellow, green foliage has a climbing capacity. The prolific growth feature of the plant let is it grows fast with long dangling vines.
Why is my philodendron lemon lime dying?
The primary reason for the death of your plant would be in the case if it received too much or too little water. Other than this, direct sunlight and overfeeding can also be a reason for the plant's death.
Is philodendron lemon lime trailing?
This easy-to-grow plant is responsible for bringing foliage in the shades with bright yellow to chartreuse. The plant is highly appealing, and its stem can reach 12 inches in length. You need to trim the plant till it comes to its desired height.
Is philodendron lemon lime an indoor plant?
It is a commonly grown plant indoors, as it requires low maintenance and is not recommended to grow in direct sunlight. The growth habit of the plant is easy to manage as well.