If you love to introduce unique plants in your garden, your hoya retusa must be your priority. This plant is attractive enough to gain the admiration of the growers. It is an evergreen flowering plant with long and thin vine-like stems.
The attractiveness of the plant increases with the star-shaped creamy and pink flowers. It has a lemon-like scent and adds up a freshness factor within your garden.
Hoya retusa plant is an Indian native plant, due to which it does not bear sunlight and temperature fluctuations. You need to take care of these significant fluctuations to help it bloom perfectly.
It also grows beautifully indoors with little effort only., as it requires little maintenance. If you also decide to add hoya retusa to your plant family, this guide will help you out.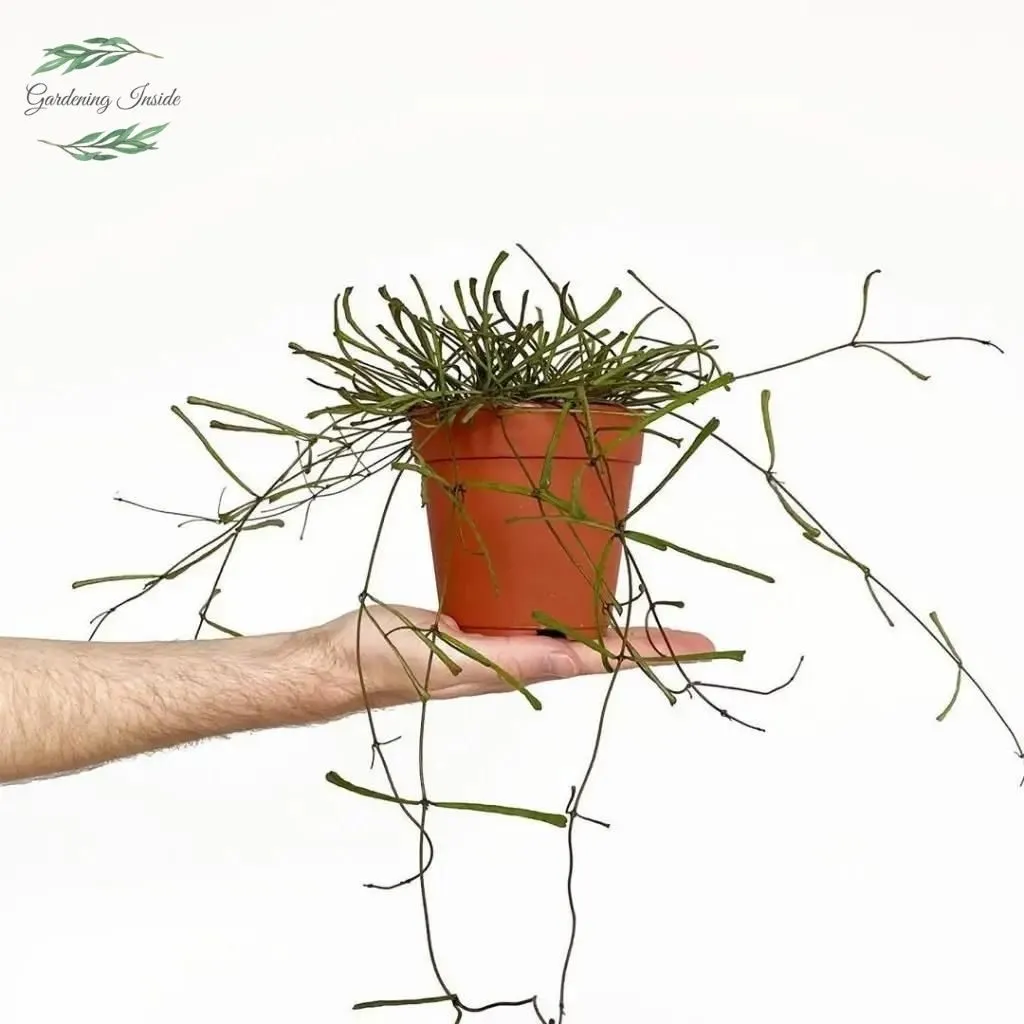 Classification of the Hoya Retusa Plant
Family: Apocynaceae
Genus: Hoya
Species: H. retusa
Common names of the plant: Grass-leafed hoya, wax plant, porcelain plant
Features of the Plant
Hoya retusa Height and Structure:
The average length of the plan is between 15 to 20 inches, while the leaves are about 3 to 5 inches.
Hoya retusa has a large number of leaves that grow in clusters on the stems. These leaves are flat, thin, and cylindrical.
The body of the plant consists of vine-like unorganized, and thin stems.
Flower:
The specificity of these flowers is that they are different from another genus of Hoya.
The flowers of Hoya retusa can bloom both singly and in clusters. However, other typical hoya flowers also bloom in clusters.
The average size of these flowers is 0.5cm with off-white and reddish color.
Hoya retusa flower blooms from spring to fall and produce a lemon-like fragrance. It will add freshness to your garden bed.
Toxicity:
Hoya retusa is toxic due to the milky latex present inside the leaves. It would be best if you took care of your pets and kids to prevent them from the toxicity of this plan.
The milky latex results in causing severe allergic reactions, and ingestion of the leaves is way much dangerous
You May Also Like: Pilea depressa Plant Care | Baby Tears Plant Care & Grow
Hoya Retusa Care
These plants are the easiest ones to grow, but still, you need to consider various points in mind for their ideal growth and development.
1. Fertilizer Considerations:
It is a low-maintenance plant and does not require much fertilizer to promote its growth. But you can fertilize the hoya retusa plant in the late spring, as it will help promote the prolific growth rate.
The best one will be the organic fertilizer. Using coffee grounds and tea as a fertilizer will also help to feed the plant.
Do not fertilize your plant in winters, as it does not need many nutritional requirements.
2. Humidity Considerations:
Hoya retusa is native to tropical areas due to which it loves humidity. Besides, the plant can also grow well in the domestic humidity level. About 40% of the moisture will be enough for its growth.
But if you notice stunt growth or change in the leaf's color, you must use a humidifier or a pebble tray. Using these strategies will help in maintaining the humidity level.
Moreover, another thing that can help maintain the humidity is to put your plants in bunches. In this situation, you must consider regular air circulations within the plant.
3. Growth Zone:
The ideal growth zone of the hoya retusa plant is the USDA zone from 10 to 11.
4. Pot Requirements:
Hoya retusa loves to grow in terracotta pot, as it has ample drainage holes at the base. This pot will help in promoting its growth rate. The plant likes to dry the soil quickly and cannot survive well in the soggy ground.
5. Pruning Considerations:
Hoya retusa care also needs pruning, and you need to remove the unhealthy leaves from it the time. It will keep your plant healthy with an admiring appearance.
6. Soil:
A well-draining soil mix is the perfect one to let this plant bloom well. You can include peat moss, coco coir, or some perlite in your soil to prepare a fantastic growing mixture.
If you feel your soil is dense, then adding perlite or coarse will help maintain drainage and aeration. Make sure to add an equal ratio of these mixtures in the ground for Hoya.
7. Hoya light Requirements:
The ideal condition of this plant's growth is bright sunlight. However, you can also grow the plant in medium and artificial light.
Hoya retusa does not love to grow in low light, and it also impacts the growth and appearance of this plant.
Lack of sunlight maintenance will result in the lumpy, discolored, and unhealthy growth of the plant. So, keep our eye on the light availability both indoors and outdoors.
8. Temperature Considerations:
Hoya retusa is a low-temperature-loving plant, and they do not like more significant fluctuations in temperature.
But in the blooming season, the optimum temperature required by these plants is around 50 degrees Fahrenheit.
While in daily routine, the average temperature to let this plant grow is between 50 to 80 degrees Fahrenheit.
Negligence in managing the temperature will not help prolific growth, and hoya retusa cannot survive well. Too cold temperatures can also cause yellowing of the leaves and can also result in stunt growth.
9. Water Considerations:
The water considerations of this plant differ with different seasons. It requires a medium amount of water, and in summers, you need to water the plant twice or thrice a week.
Check the upper three inches of soil, and if it gets dried, your plant needs water. While in winters, watering the plant twice a week will be enough.
The substrate is another factor on which water requirement depends. If your soil is lightweight, then frequent watering will work, while if it's heavy, you need to be waterless.
But make sure that you do not overwater your plant. Over-watering can cause increased chances of fungal attacks and root rot. Hoya retusa hates to grow in soggy soil.
Also, try to use room temperature water with the absence of heavy metals.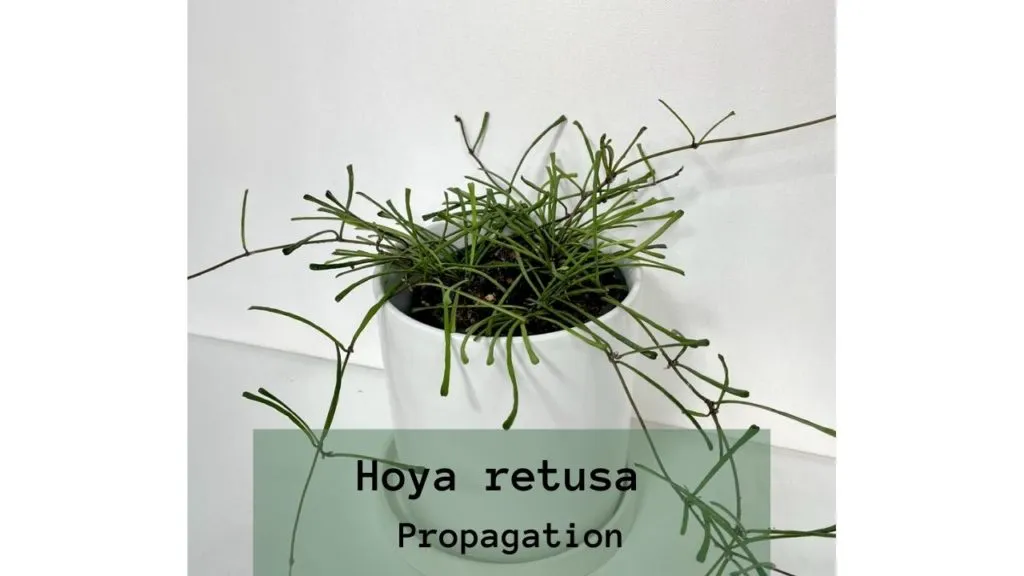 Also Check: Alocasia Regal Shields Plant | Elephant Ears Plant | Care Guide
Hoya Retusa Propagation
Are you about to propagate your hoya retusa plant?
Don't worry, and it's the easiest thing to do! Propagate your Hoya retusa plant by cutting the stem tip in the growing season.
The following are the steps that you need to follow for Hoya retusa propagation:
Try to use a sterilized sharp knife for cutting a 7-inch long stem of the hoya retusa plant.
Water the stem cutting generously and wait for a day.
Plant the stem cutting in a well-draining soil mix with the right intensity of humidity and indirect light.
Water Propagation:
Follow the above steps for stem cutting and place it in a water jar. But you must fill the pot with water the night before, as it will help settle down the chlorine and other hard minerals.
Change the water after every one week, especially when it gets murky.
Conclusion:
Hoya retusa is a beautifully admiring plant with lush green leaves and unique foliage. The thin cylindrical leaves of the plant and heart-shaped intend at the top enhances its attractiveness.
It is a low care and maintenance plant, and you need to maintain the bright indirect light, humidity, water, and temperature. Let your plant grow happily by providing it with these conditions.
Also, do not forget to keep an eye on the kids and pets, as it is relatively toxic, and do not let them mingle.
Frequently Asked Questions about Hoya Retusa
Is Hoya Retusa a fast grower?
The plant shows a prolific growth rate in the growing season, with a surprising growth rate. While in winters, the growth rate is not fast.
How often should I water my Hoya Retusa?
The plant requires a medium amount of water to bloom perfectly. Check the above three inches of soil, and if it gets dry, you must water the plant. Also, in summers, you must water two to three times a week, while this water demand decreases in winters.
Can you propagate Hoya Retusa in water?
Cut a cutting from the stem of the hoya retusa plant and cut in the water at room temperature. Keep the water in a bright and warm place. After some time, you will see roots in the cuttings, and it is the right time to transplant them into the soil.
Why is my hoya retusa yellowing?
If you are over-watering your plant, then it is a sign of yellowing of the leaves. So, you must choose a drainage pot to keep the soil dry. If hoya soil stays moist most of the time, it can result in stunt growth. Continuous exposure to direct sunlight can also result in this.