Begonias are an all-season flowering favorite amongst gardeners, known for their floral yet not frilly appearance. Simple to keep up with and frequently with shining silver spots on their leaves, they offer an incredible approach to presenting pops of variety among the primarily green foliage out there
A lovely evergreen tropical shrub stays green and new over time. Its leaves don't get all-brown pre-winter and don't tumble off the branches. It is an exquisite pot plant for house passageways.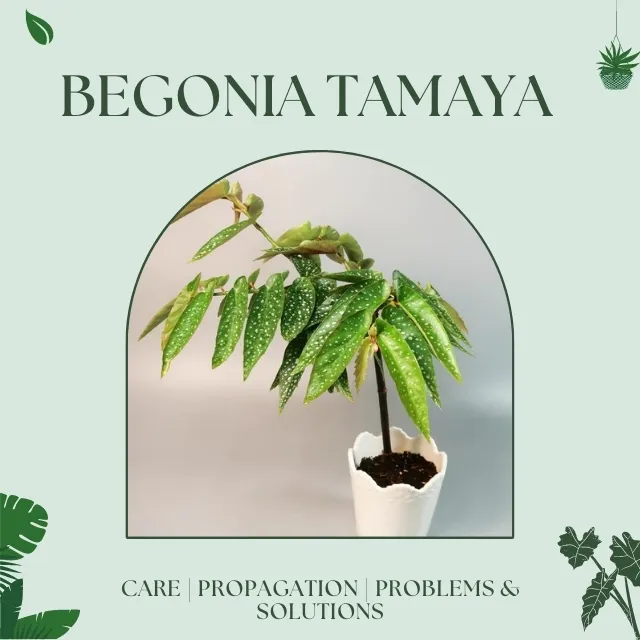 Characteristics of Begonia Tamaya
Begonia Tamaya has fresh elliptical green leaves with white spots on them. This plant has a thick stem that gives it a little tree-like appearance. Begonia Tamaya 'White' or 'Pink' blossoms in different seasons. Its flowers are white in variety and hang underneath the foliage—these fill-in bunches on the meager, green branches.
This plant achieves a height of one meter. Its foliage and stem develop straight upwards and occupy more height than space. Scientific characteristics of the plant are as follow:
| | |
| --- | --- |
| Scientific name | Begonia Tamaya |
| Family | Begoniaceae |
| Genus | Begonia |
| Habitat | Brazil's tropical forests |
| Common names | Begonia Corallina Bamboo Begonia |
| Varieties of Begonia | 2000+ |
Begonia Tamaya Plant Care Guide
Being a plant lover and gardener, you never want your plant to look dull and die due to lack of care. So this guide provides all the necessary information to help you grow healthy and happy Begonia Tamaya.
Light Requirements
Bright indirect sunlight is ideal for the growth of the Begonia Tamaya plant. Direct sunlight in the morning is also good for the plant, but direct sunlight is harmful during the day.
Temperature Requirements
The ideal temperature for the healthy growth of Begonia Corallina Tamaya is 20°C. The too hot or too cold temperature will affect the plant growth.
Humidity Requirements
Begonia Tamaya plant being a tropical plant, require more than average humidity to thrive. The humidity level should be maintained between 60-80% to preserve the freshness of the foliage.
If humidity levels are lower than the desired range, then a pebble tray or humidifier may be used to increase humidity.
Water Requirements
Begonia Tamaya requires water twice weekly in summers, but water requirements decrease in winters. Water only when the top layer of soil is dried. Water logging can cause root rot.
Soil and Fertilizer Requirements
Well-draining, slightly acidic soil is recommended for best plant growth. Begonia Tamaya can grow in soil with a pH of 5.2 – 6. The ideal potting mix for excellent plant growth contains perlite, peat moss, and potting soil
Fertilize Begonia Tamaya every two weeks in the growing season, Spring-Summer. Diluting organic fertilizer with all necessary nutrients will result in a happy plant.
Pruning
Pruning and trimming dead leaves is essential to stimulate plant growth and give it a lovely appearance. Yellow or drooping leaves should be trimmed regularly to avoid pests and diseases.
Whenever you see any shriveled blossoms, remove them with scissors or hands. This will advance more blossoms.
Always use sterilized gardening shears to prune the plant. 
Only prune the plant in the growing season,
Also Read: Complete Begonia Melanobullata Care & Propagation Guide 101
Repotting Begonia Tamaya
Repotting should not only be done to change the pot but to renew the soil as with time, the soil becomes deprived of nutrients. That is how repotting enhances plant growth.
Repot the plant when the roots occupy all the space, or the plant gets root-bound. The plant needs repotting every 2-3 years in one size bigger pot.
The plant will remain in relocation shock for specific days and begin developing afterward.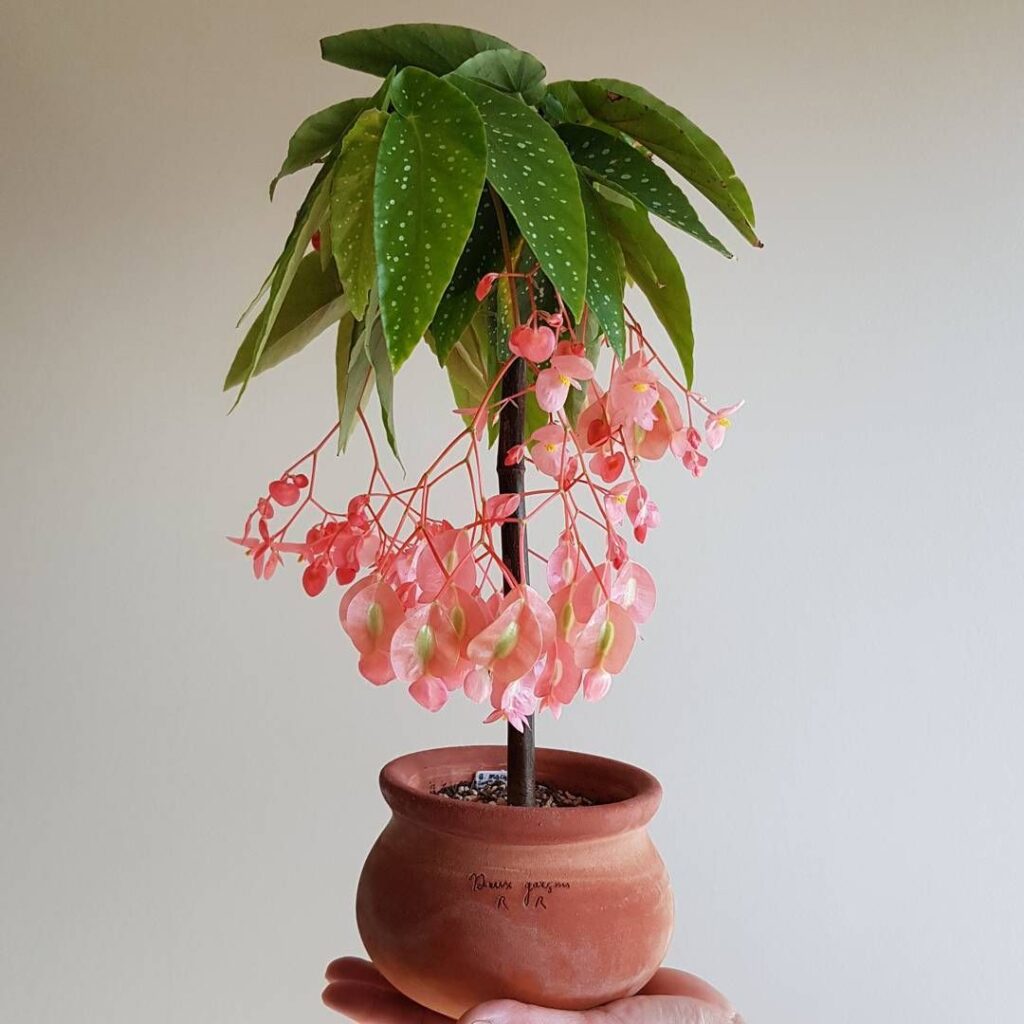 Propagation of Begonia Tamaya
Propagating Begonia Tamaya spread is an easy process. Assuming you know the fundamentals, you can do it without help from anyone else. Propagation through stem cuttings is the best method.
The plant should be propagated during the dormancy period when the growth is slow. Here is a simple step-by-step guide for your assistance.
Take some scissors and sterilize them.
Use them to cut a stem cutting that has a few notes on it.
Ensure there are no blossoms on the stem.
Remove the base leaves.
Place the cutting in a bowl of water.
Wait until new roots develop from the cutting.
Move the slicing to a pot with a legitimate preparing blend.
Continue to water it. Begonia will start to grow in only a little while.
The plant can also be propagated by leaf cuttings and seeds, but stem cutting is the easiest and most reliable method.
Also Read: Begonia Chlorosticta Care | Propagation Hack Guide
Begonia Tamaya Common Problems and Solutions
Pests and diseases
Begonia Tamaya plant is prone to Mealybugs, black vein weevil, and thrips. These pests can attack the plant foliage and hurt the plant.
To avoid pests, keep the foliage dry and use insecticides.
Root rot and Bacterial leaf spots are common Begonia Tamaya plant diseases. The plant infected by these diseases cannot be treated, so it's better to avoid them. 
The best way to avoid root rot is by regulating water frequency. However, brown leaves or leaf spots can be avoided by maintaining optimized light, temperature, and humidity conditions.
Toxicity
The Begonia Tamaya plant contains oxalate crystals, which, if ingested, convert to oxalic acid after diffusion. This plant is toxic for pets and humans. Ingestion can cause severe irritation and swelling in the GI tract, mouth, and throat.
Conclusion
Begonia Tamaya is a dazzling plant that can be developed inside to add excellence to your home. You can fill a space where splendid, roundabout daylight falls upon it.
To care for Begonia Tamaya, maintain a temperature of 200C with at least 60% humidity, place the plant in indirect sunlight, and water the plant twice a week. A low-upkeep shrub doesn't need a lot of support and care.
In the event that you need an excellent blossoming plant filling in your kitchen or living area, this Begonia is your most ideal choice. Happy Gardening!!!
Frequently Asked Questions about Begonia Tamaya
How do you care for begonias Tamaya?
Begonia is easy to care for and suitable for beginners.
How should I water this houseplant?
Water when the top few inches of soil feel dry to the touch, soak through and leave until dry again. Be careful to ensure the plant isn't left sitting in water as it won't like that!
Is this plant toxic to pets?
Yes, this could cause problems if a pet nibbled it.
Is Begonia tamaya indoor plant?
Begonia Tamaya can grow both indoors and outdoors.
What is the rarest Begonia?
Begonia crassicaulis is the rarest Begonia.
Can you propagate Begonia from a leaf?
Propagation of begonias can be done by tip cutting, by seeds, or by leaf cuttings. 
Should you mist begonia maculata?
Sometimes it is recommend misting begonia leaves to increase humidity.