Here comes an exotic plant that you can grow in your garden to create a vibrant and relatively elegant look. Anthurium crystallinum is the best of all, and you can grow it at your place to enhance the worth of your garden. This plant is no less than a magnetizing plant, especially the big leaves! Believe me, the pattern of these leaves and the lush green appearance will get the visitors' attention. Also, the plant's surface is velvety in appearance with a heart-shaped, attractive look.
Anthurium crystallinum comes from an Araceae family and has an Anthurium genus. This plant requires little care and maintenance, and you need to give it some time. It will help in boosting the growth and the plant's development. The good news is that the plant can grow in areas other than the tropics.
If you have this plant at home and want to provide the optimum care and the growing conditions, do not go anywhere.
This guide will provide you with excellent growing tips to increase productivity.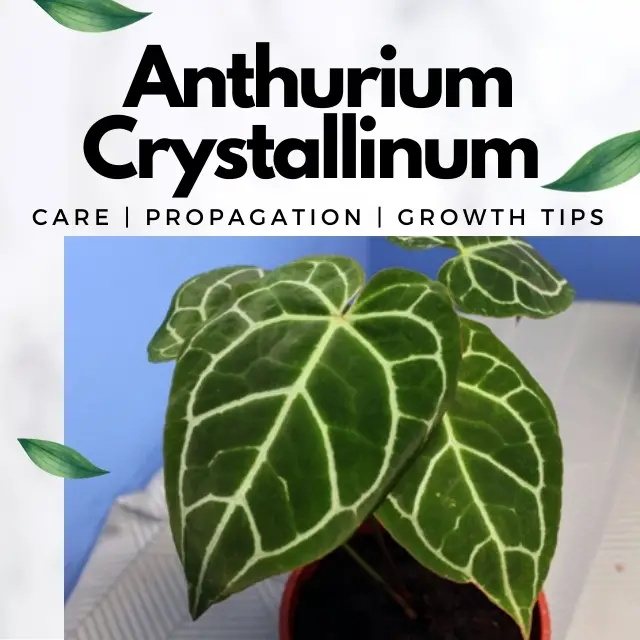 Quick overview of Anthurium Crystallinum Care Guide and its Characteristics
The plant also got the name Crystal Anthurium.
It loves to grow in both the full sun and the partial shade conditions.
The average temperature of the plant is between 60-70 degrees Fahrenheit.
Adequate air circulation contributes to improving the thriving ability of the plant, and it usually needs a higher level of humidity.
The healthy growth of the plant comprises about 0.5 meters every 2 to 5 years. At the same time, the leaves reach a growth of 60 inches.
 Anthurium crystallinum needs more water in summer as compared to winters. It is because the plant grows fast during summers.
It would be best to prune the dead and the discolored leaves for better care and maintenance of Anthurium Crystallinum.
Organic fertilizer will be an appropriate choice to promote the growth rate. Keep in mind that your fertilizer must have phosphorus, nitrogen, and magnesium. These elements contribute to healthy growth and development.
In most cases, your Anthurium Crystallinum can suffer from pests attack, and it is more prone to the mealy bugs, aphids, and the scale.
Anthurium crystallinum has a poisonous nature, so you should keep an eye on your children and pets.
You can also propagate Anthurium Crystallinum using seeds in 70 to 75 degrees Fahrenheit. March is the perfect growing season for your plant.
Anthurium crystallinum Care
Here are some caring tips that will help to grow your exotic plant without any constraints!
1. Humidity:
This plant is native to the tropical rain forests, due to which it loves to grow in higher humidity levels. The average humidity for the perfect growth of your plant is 70% to 80%.
A fantastic growth hack of your plant is to place it near a well-lit window along with the grow lights.
2. Soil preferences:
Anthurium crystallinum is native to Central America and loves to grow on the treetops and the sides of the hills. It reflects that you can grow your plant with or without soil.
If you decide to grow your plant in soil, you need to watch the potting mix. Potting mix contributes to the better retention and fast growth of your Anthurium crystallinum. Choose a porous potting mix and see the results. You can also use organic components to create a rich potting mix. It can also include fertilizer or the broken shells of walnuts or almonds.
Moreover, charcoal and brick bits will also work here. Make sure that the potting mix must have air pockets to let your leaves grow well. It will help in maintaining the drainage level.
3. Fertilizer preferences:
Ensure to use an organic fertilizer with the right amount of nutrients in it. This organic mix will help to improve the growth of Anthurium crystallinum. Add this organic mix to your potting mix and see the magic!
Anthurium crystallinum requires this organic mix in the growing season, i.e., in summers or spring. Fertilizing your plant and providing it with the right growing conditions will help in its growth.
Pro tip:
Chemical fertilizers do always work for your plant's growth, and they can even destroy the plant. If you use these chemical fertilizers, protect your plant by flushing the root ball and deep watering.
4. Light preferences:
Anthurium crystallinum Plant can grow in both the full sun and the partial shade. Continuous exposure to the bright direct light can impact the growth of the plant and can cause discoloration as well. Direct exposure can also bun your Anthurium crystallinum.
The plant requires 70-85% of the sunlight, and outdoors, place your plant under 20 to 40% of the shade. Also, growing Anthurium Crystallinum under the shade of the tree can help. Make sure to provide your plant with enough light in winters, as low light conditions do not let Anthurium Crystallinum grow fast.
5. Temperature preferences:
The optimum temperature required for growth and care of Anthurium Crystallinum is 65 to 75 degrees Fahrenheit. This temperature will boost the growth of your plant. Remember, your plant cannot bear extreme temperature fluctuations
If you are growing Anthurium Crystallinum indoors, then the environment should be heated and well-ventilated.
6. Watering preferences:
Anthurium crystallinum is native to the tropical rainforests, which means that they grow well in moist soil. So, you need to provide your plant with an environment that resembles their natural growing environment.
Moreover, using a drainage pot will help better grow, but you need to water your plant regularly. Watering twice or thrice a week using lukewarm water will help here. So, provide your plant with optimum growing conditions and let it grows fast.
Underwatering can result in Anthurium leaves curling, so keep an eye on the water requirements of your exotic plant.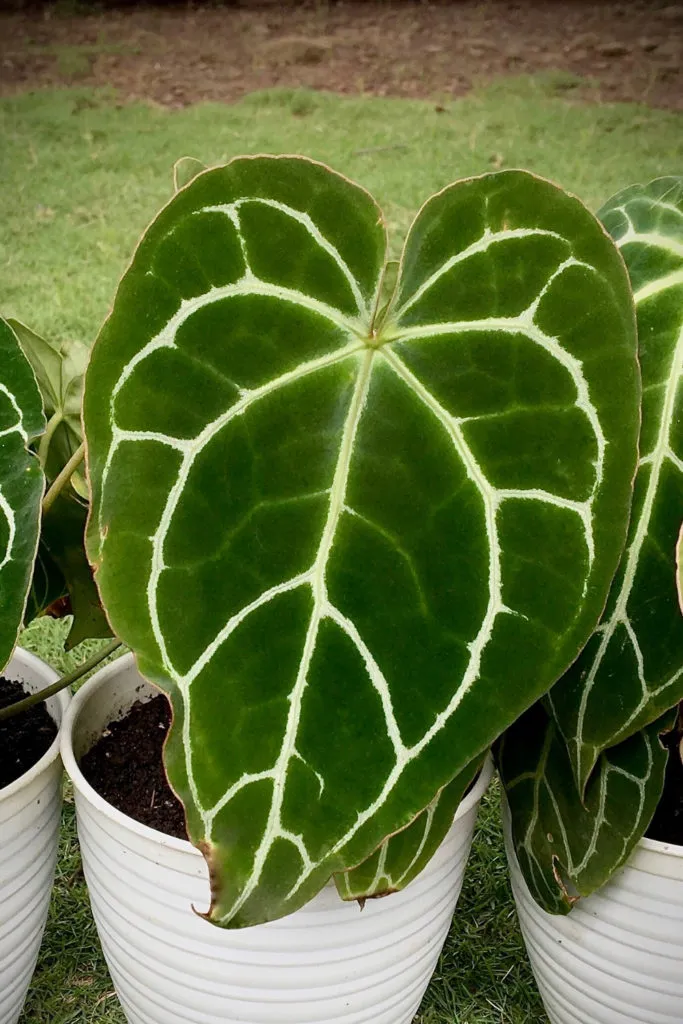 Also Check: Anthurium Warocqueanum Plant Care Guide | Growth Tips
Anthurium Crystallinum Propagation
Anthurium crystallinum is straightforward, and you can quickly propagate your plant. It would be best to decide on the propagation technique for your plant and the balanced growing conditions.
One of the most reliable methods for Anthurium Crystallinum propagation is root separation. Separate the plantlets from your plant's roots and place them in soil or water for further growth. Make sure to place your plant at optimum temperature.
Moreover, you can use seeds for your plant's growth, but it is not a safe method, and there are chances that seeds rot away.
Consider one thing in mind: these plants do not always provide consistent results, and you need to wait for Anthurium Crystallinum's family planning. The following are the steps that you can follow to grow your appealing plant using the root division method:
You must wait for the summers to start, as it is the best time to propagate your Anthurium crystallinum.
After that, separate the plant from the planter. Remove the soil to see a thick stem in the center.
Cut this central stem in two sections, with the top half having left on it and the bottom half with the roots.
Both the sections must have root divisions, and these roots are observable.
Plant both sections into different pots with appropriate potting mix.
The last step to follow is to provide your plant with optimum temperature, humidity and feed it regularly with fertilizers.
You will observe the growth of baby Anthurium Crystallinum within some weeks.
Anthurium crystallinum Growth Tips
Anthurium crystallinum shows relatively slow growth, and only one week grows within 3 to 4 weeks. These plants require lateral space for their growth, showing a self-heading leaf pattern.
Anthurium indoor care is usually suitable, due to which it is better to grow this plant indoors.
The fast-growing tip that can help you out is to use a patio in summers and a greenhouse in winters, especially for those who live in colder regions.
If you live in a warmer zone, you are lucky enough to administer the fast growth.
Manage the plant's potting mix and add the organic mixture to it to let your Anthurium Crystallinum grow well. Wipe the leaves after watering your plant.
Check your roots from time to time to observe any issue. If the roots are creamy or pinkish colored, then it's a sign of your plant's good health. These plants are not heavy fertilizers, and you can use organic soil.
Potting:
Potting can be one of the processes that you can use to grow Anthurium crystallinum. Provides the growers with an opportunity to care for and maintain the development of Anthurium crystallinum.
You need to repot the plant when roots appear to be bound or suffocated with each other. Potting is relatively easy as you need to take your Anthurium Crystallinum out from the previous pot and place it in a relatively shallow pot.
The best organic mix will contribute to boosting the growth of the plant. Make sure to use a diluted fertilizer to let Anthurium Crystallinum grow well.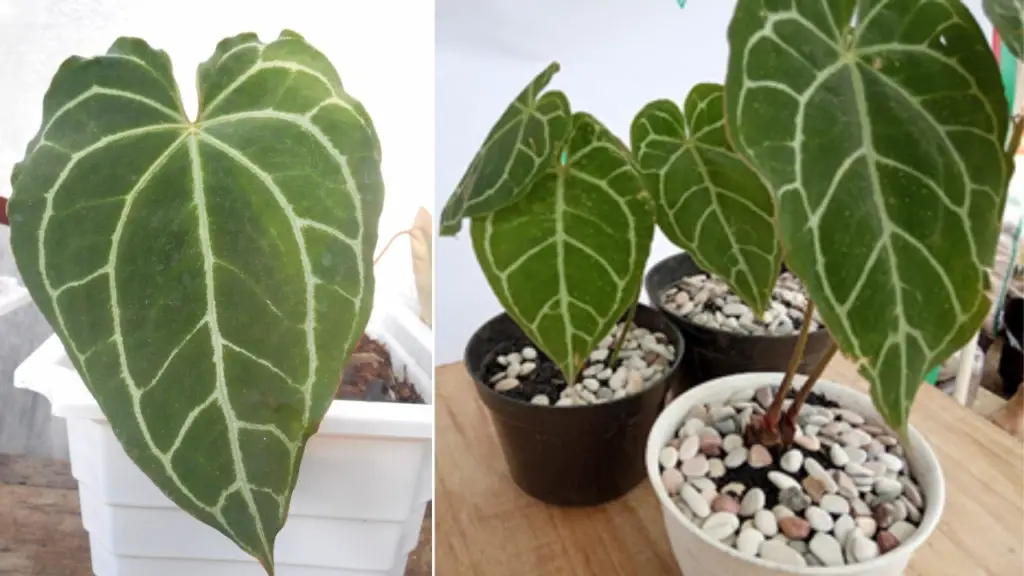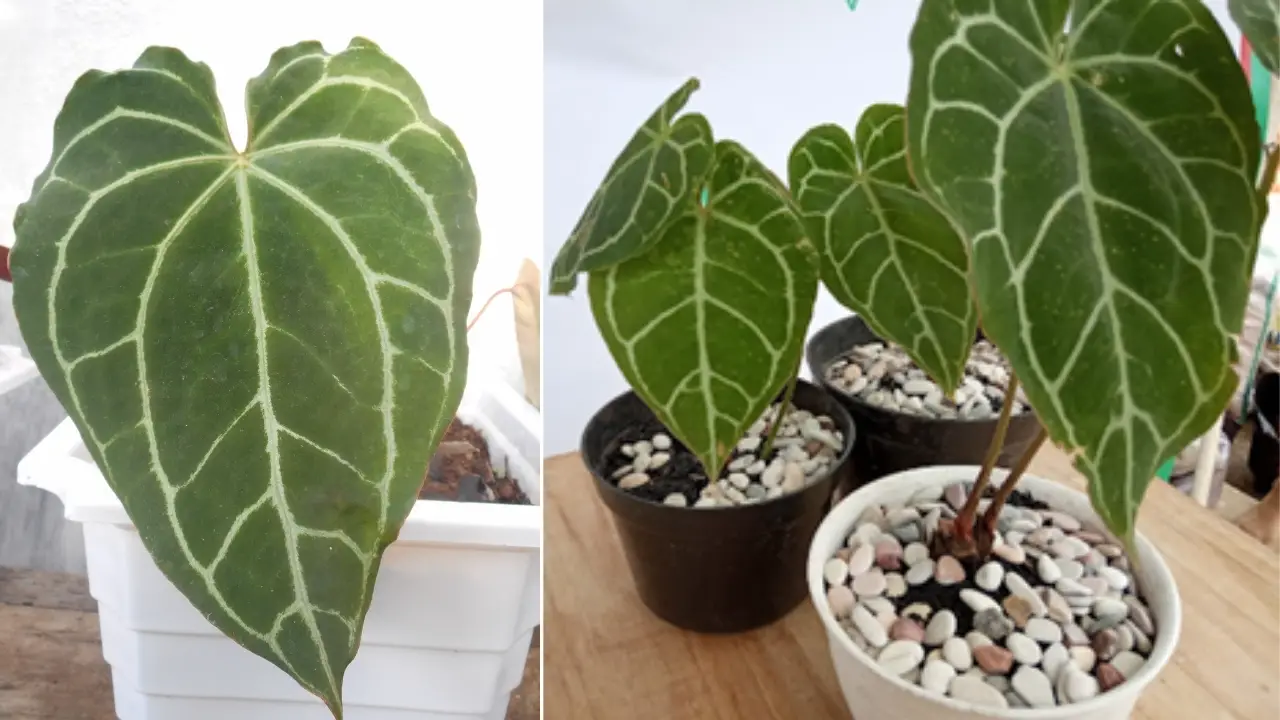 You May Also Like: Jade Plant Dropping Leaves? (Reason + Solution)
Common problems faced by Anthurium crystallinum
Anthurium crystallinum usually faces some problems due to extreme environmental fluctuations and negligence in the care. This section will discuss different problems that your plant can face.
Burning marks:
Burning marks occur due to the overwatering that results in bacterial infection. Also, placing the plant in direct sunlight for a more considerable time can be a reason. These leaves must be removed at the spot; otherwise, they can harm other leaves of the Anthurium Crystallinum as well.
Discoloration of leaves:
The bacterial infection can also result in the discoloration of the leaves. It results in yellowing and browning of the leaves. Besides this, Pythium fungal infection can also be a reason for wilting the leaves and discoloration. The bacterial and fungal attack also results in Anthurium leave curling.
Pests attack:
Although the plant is resistant to pests, pests can still attack, resulting in the stunted growth of Anthurium crystallinum. Mostly aphids, mealybugs, and spider mites can attack your plant. These pests suck healthy nutrients from the plants causing different plant problems.
You can get rid of these issues by using insecticidal spray or alcohol. Also, remove the dead insects from your plant to maintain its healthy appearance. Using this technique will prevent pests problems.
Conclusion:
Anthurium crystallinum is an attractive and perfect plant to grow in your indoors. The beautiful appearance of the plant is relatively catchy and attracts the attention of an extensive range of visitors.
If you have Anthurium Crystallinum at your place, then follow this complete guide to help your plant grow well. This guide will help for the healthy development of your plant.
Frequently Asked Questions about Anthurium Crystallinum
Does Anthurium Crystallinum require time for care and maintenance?
These plants do not require much care and maintenance, and you need to ensure the right growing conditions. Maintain the temperature, humidity, and sunlight to care for your plant.
What techniques can help in taking care of your Anthurium Crystallinum?
Provide your plant with the optimum growing temperature between 65 to 75 degrees Celsius, and use an airy potting mix to let it grow well. Make sure to use the right potting mix with the organic mixture, and you can use perlite, orchid bark, and compost in it. In contrast, Anthurium Crystallinum needs bright indirect light for healthy growth.
Is Anthurium Crystallinum toxic for pets?
Yes, the plant is toxic, and ingesting it can cause health issues for your pests. It is due to the presence of oxalic crystals. Anthurium crystallinum can result in causing issues in the intestinal tract, allergic reactions, irritation in the mouth, and throat issues.
Can misting help in maintaining the humidity level of Anthurium Crystallinum?
Yes, this technique will help in maintaining the humidity level. The plant usually requires a higher humidity level as it is native to tropical rain forests. But do not overly mist the plant as it can cause fungal and bacterial infections.
Does Anthurium Crystallinum show a prolific growth rate?
The plant requires potting after every year and shows a fast growth rate. Anthurium Crystallinum's root determines the potting requirements of the plant. Wait for a year, and if its roots are suffocated, it is the right time to pot your Anthurium Crystallinum