Aglaonema Pictum tricolor, also known as the Chinese Evergreen Tricolor plant, is an indoor ornamental houseplant. These plants are a variegated form of the Aglaonema Pictum species.
The plants are slow-growing sub-tropical shrubs with tri-colored leaves. The leaves are dark green, bright green, and have white spots. Due to the leave pattern, its also referred to as a camouflage plant.
These plants are extremely rare and quite pricey. These plants are ideal for indoor conditions and flourish in normal household conditions, so they are all around cherished houseplants.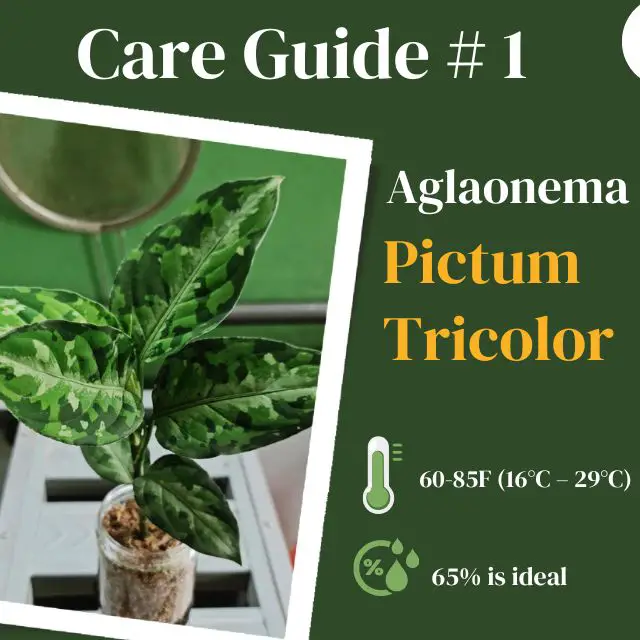 Characteristics of Aglaonema Pictum Tricolor
Aglaonema involves 40 unique species. They have many various cultivars and are available in various varieties. The plant develops at an altitude of 3000 to 6500 feet.
They flourish with the inclines of volcanoes in Sumatra and Nias Island. These characteristics make the Aglaonema Tricolor plant interesting and expensive.
The scientific characteristics of the plant are as follow.
| | |
| --- | --- |
| Scientific Name | Aglaonema Pictum Tricolor |
| Genus | Aglaonema |
| Family | Arceaae |
| Subfamily | Aroideae |
| Species | Aglaonema Pictum |
| Habitat | Nias, Sumatra |
| Common Names | Chinese Evergreen Tricolor, Camouflage Plant |
| Varieties of Aglaonema | Aglaonema Rotundum, Philippine Evergreen, Aglaonema nitidum, Aglaonema 'Siam Aurora', Pink Splash Aglaonema |
Aglaonema Pictum Tricolor Plant Care guide
Watching your plant die due to improper care is most hurtful. So here, all the important caring tips and optimized growth conditions for Aglaonema Pictum Tricolor are discussed. Following this guide, you can keep your plant healthy.
Light Requirements
Aglaonema Pictum Tricolor needs light to maintain the variegation. But direct sunlight is harmful and maybe damage the plant. Indirect bright sunlight is best for the plant to thrive. 
Temperature Requirements
As Aglaonema is a subtropical plant so it loves warmth and does not grow well in cold temperatures. The ideal plant growth temperature range is 60-85F (16°C – 29°C).
Humidity Requirements
The high humidity of about 65% is ideal for the best growth of Aglaonema Pictum Tricolor. 
In low humidity, a humidifier or a pebble tray can be used. Misting the plant is also recommended in case of low humidity.
Soil and Fertilizer Requirements
Well-depleting rich soil comprising a blend of orchid bark, perlite, and peat is best for an Aglaonema pictum tricolor.
Diluted fertilizers are recommended for the Aglaonema Pictum Tricolor plant. Treat the plant-like clockwork in spring and summer. You can look over different fertilizers, for example,
Water-solvent
Quick delivering/releasing
Temperature-controlled slow delivering/releasing
Organic.
The slow-releasing fertilizer must be given to the plant once in a season. However, fast-acting fertilizers may be given twice or more.
Try not to provide fertilizer to the plants in the winter and autumn as they stop their development during those seasons.
Water Requirements
Water the plant only when the top layer of the soil is drying up. Never let the soil go bone dry, and keep it moist for the best growth.
Pro tips
Monitoring the soil is the best way to prevent overwatering and underwatering.
Water less in winters.
Pruning
You don't have to prune your Aglaonema pictum tricolor plant. It inclines toward that you don't!
This is because pruning near the crown can harm delicate tissue. For Aglaonema plants, the crown is where new development arises.
Besides, scaling back excessive leaves can result in a denuded plant for quite a while because of its slow development.
Let yellowing or dead leaves tumble off usually. Indeed, if your plant is infected, most certainly prune it; however, limit the pruning to the impacted region only.
You may need to deadhead the spathes (inflorescence), which won't hurt the plant. This is so the plant can concentrate its energy elsewhere, like developing that rich foliage!
Also Read: Aglaonema Sparkling Sarah Plant Care & Propagation
Repotting Aglaonema Pictum Tricolor
Aglaonema pictum tricolor likes being rootbound and develops slowly, so repotting your plant each 1-2 years is adequate.
The Spring season is ideal for Aglaonema repotting. This gives your plant time to lay down a good foundation in its new pot throughout the late spring months when development is at its peak.
The best way to realize without a doubt that your plant is root-bound is through inspection of the roots. Notwithstanding, a few signs would give you a brilliant thought that an opportunity to report is moving close.
The side effects of a root-bound plant are like that of an underwatered plant. The plant develops substantially more leisurely than expected and has brown or yellowing leaves.
Repotting Emblems
When the Aglaonema Pictum Tricolor plant shows the following signs, it should be repotted immediately.
Your plant shows up as though it never has enough to drink, regardless of the amount you water it. 
Your plant has little roots arising out of the drainage holes' lower part or roots showing up over the soil.
Propagation of Aglaonema Pictum Tricolor
Aglaonema pictum tricolor plant can be propagated by stem cutting, Seeds, and Division. The stem cutting method is the most popularly used. Spring and summer seasons are ideal for its propagation. 
1. Propagation by Stem cuttings
Begin by disinfecting your hardware and apparatuses because you would rather not spread any microbes or diseases. 
Use a sharp edge blade or scissors to cut a stem with a few leaves from the parent plant.
Dry the cuttings before propagation.
Plant them in a pot with wet soil with tips no less than 4 to 6 centimeters under the dirt. Keep the pot at a warm temperature and indirect daylight.
2. Propagation by Seeds
On the off chance that you wish to spread through the plant's seeds, stand by till the plant blossoms in spring or summer and remove fruits from the plant.
Separate seeds from the fruit pulp
Wash the seeds completely
Place them in a combination of equivalent peat and sand mixture
Water it and hold it under ideal developing conditions
3. Propagation by division
The division incorporates tissue culture proliferation, which is likewise called micropropagation. If you want to follow the division strategy, you want to get a couple of segments of the plant that have their underground roots. 
Wait for your plant to develop before division
Propagation by division is done while plant repotting
Plant each segment into its pot
Remove the plant from its pot
Mark at least one area that have their root foundations
Plant them in isolated pots. Utilize little pots that have a seepage opening. Water each new plant
Give the new plants time to adjust and grow
Also Read: Peperomia Polybotrya Care & Propagation with Pro Tips
Aglaonema Pictum Tricolor Common Problems and Solutions
1. Inappropriate Watering
Overwatering the plant can cause the decaying of the roots, which would be risky over the long haul that influences your plant.
Underwatering the plant or allowing its moisture to evaporate for a few days can rapidly kill the plant.
2. Pests
Aglaonema Pictum tricolor plants are prone to aphids, mealybugs, and spider mites. They roam around the soil or hide under the leaves. Spider mites suck the chlorophyll from the plant, causing the leaf to discolor.
Cautiously screen the plant for pest attack. Confine the plant to stop spreading pest attacks to different plants. Pests can't stand dampness.
When you increase the humidity levels around your plant and keep it hydrated, you can keep pests away.
3. Yellow and brown leaves
A few diseases cause root or stem decay. The leaves become frail, brown, or pale-looking. Trim or prune the infected plant.
To tackle this issue, splash some insecticide or fungicide on the plant. Use Neem oil to dispose of pests.
4. Crisp leaves and brown edges
Brown edges and crisp leaves are generally a sign that the Humidity levels are inadequate.
At the point when you see brown-colored spots on the leaves, ensure that the soil isn't excessively dry.
5. Toxicity
Aglaonema Pictum tricolor plant contains calcium oxalate crystals that are toxic to pets and children. If ingested, this plant can cause mild to severe physical symptoms.
Conclusion
Aglaonema Pictum tricolor is an ornamental houseplant. The plants are slow-growing sub-tropical shrubs that are rare and quite pricey. The plant thrives in high humidity, indirect bright sunlight, and 65-80 F. If watered moderately and checked regularly for optimized growth conditions, it is easy to keep the plant happy and healthy. 
Happy Gardening!!
Frequently asked Questions about Aglaonema Pictum Tricolor
Is the Aglaonema pictum tricolor hard to care for?
Aglaonema pictum tricolor is a subtropical plant that fills in rainforests in Sumatra and Nias island. The plant loves warm temperatures and high humidity. The better you copy these conditions, the greater your outcome in focusing on this indoor plant will be.
Does the Aglaonema Pictum Tricolor need high maintenance?
Aglaonema Pictum tricolor is a subtropical plant, and they genuinely do require legitimate consideration. They need warm temperatures, high humidity, and proper care.
Can the Aglaonema plant grow in the shade?
Aglaonema Pictum Tricolor can fill in low light. Notwithstanding, to assist with keeping up with its dynamic cover variety, the plant needs splendid light.
Is humidity significant for this plant?
Aglaonema Pictum Tricolor fills in the subtropical locale. The plant needs a high degree of humidity.
What is the best way to clean Aglaonema plant leaves?
When you see any residue or grime on your leaves, wipe the leaves with a damp cloth. Keeping the leaves clean will likewise help your plant to photosynthesize better.
Can Aglaonema plant root in water?
The response is yes. You can establish an Aglaonema in water by putting the cutting in water and allowing it to develop. Be that as it may, the water-established roots won't do very well whenever they are moved to the soil.
Can the Aglaonema plant grow outside?
The Aglaonema Pictum is an indoor plant. They can't develop outside the house. Splendid and direct daylight can hurt the plant. The equivalent is the situation in winter. This plant cannot endure cold weather.
Does the Aglaonema growth bring good luck?
In Chinese culture, the Aglaonema Pictum is an image of favorable luck. It is a fortunate plant.